2010 Honda Wave Dash 110 Ride Review: Yes, you can judge it by its look!
Date posted on November 28, 2019
Share this
Buyers with a keen eye for sportbikes know why the Honda Wave Dash is one of the most coveted sports underbone in the local market.
When Honda Philippines, Inc. (HPI) presented to us their new Wave Dash 110 2009 in a press conference at HSDC, we were immediately impressed with what we saw and predicted that it will be a strong seller. After almost half a year later, HPI is still catching up to meet the demand.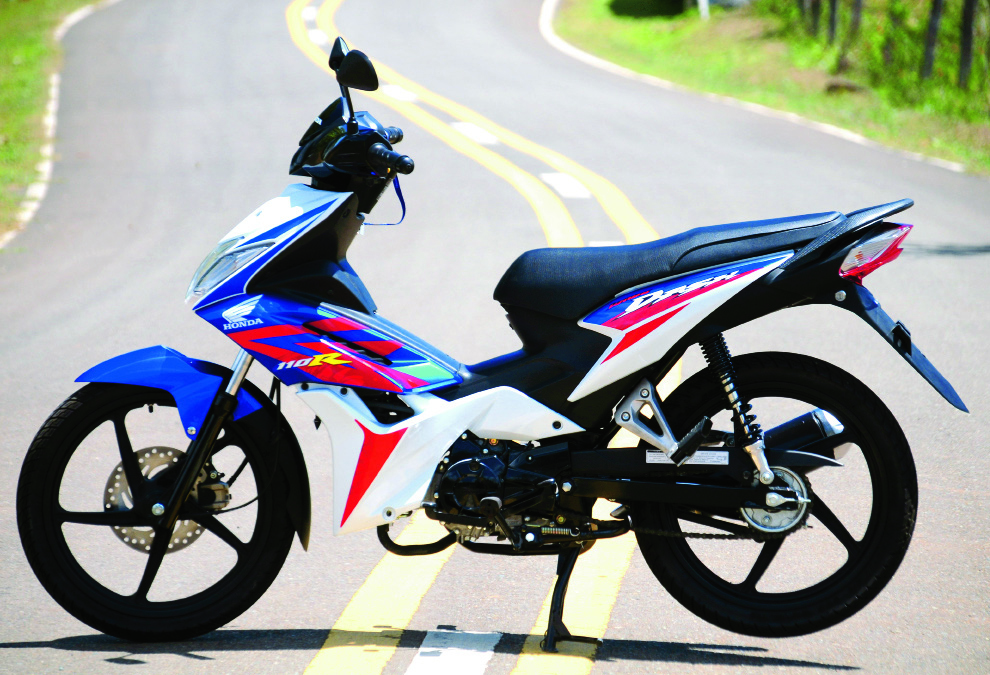 The fuel tank is under the seat for mass centralization, the engine is mounted low to the ground, advance engine technologies such as reverse oil jet engine cooling system, Exhaust Emission Control System (ECCS) and an off-set cylinder and crank center line position that produces 16% more power and torque for its displacement while lowering fuel consumption, a "Centralized Triangle Frame" design concept that lowers the center of gravity for more stability.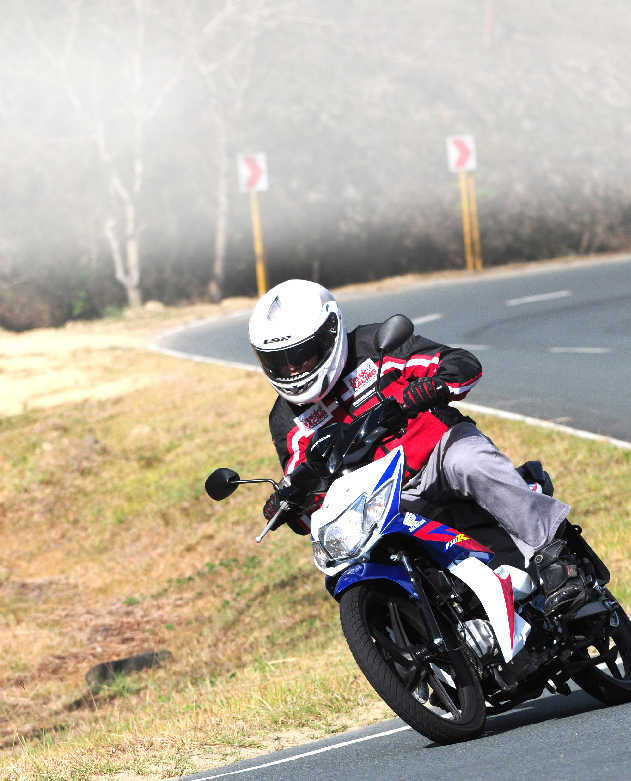 The preceding paragraph would not be out of place if it were to describe one of Honda's superbikes like the CBR1000RR. But actually, it was a description of the Wave Dash 110 based on the presentation and press materials we received. Launched in Thailand, Honda has obviously put a lot of engineering into it and brought it here except for the PGMFi feature (which we think will eventually come).
Its 4-stroke 110cc engine is clothed by eye-catching bodywork with a front cowling design and sleek side panels that mimic the CBR superbike. The three dimensional leg-shield encloses the front portion of the bike. The wide angle multi-reflector headlight with integrated turn signals, sporty front fender design, sporty graphics and color combinations compliment the black magwheels, blacked-out engine and oval muffler to give the Dash a sophisticated "mini-CBR" appeal.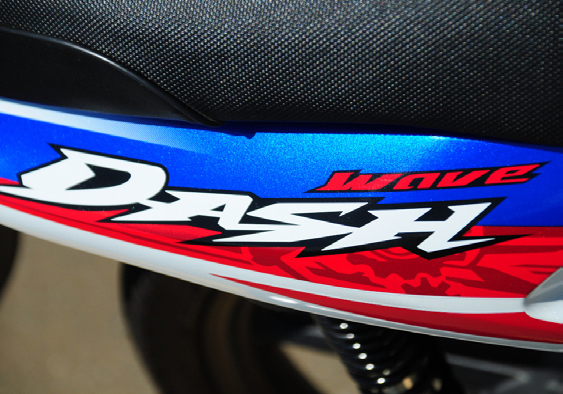 Unfortunately, Honda also had to build the Dash to a target price. Hence, there is no EFI, no monoshock rear suspension, no rear disk brake, no twin-piston front disk brake and no fat tires. Still, we think it is a tightly built package that is appealing and sporty enough to make underbone riders salivate. In other words, it's delightful!
During the press conference, we were able to ride it around the HSDC grounds and we already felt the light handling and peppy engine. But we still yearned for a longer ride on real roads. Unfortunately, because of the aforementioned high demand for the Dash, HPI could not immediately lend us a test unit.  Until one day, they provided us one and even gave us the color that we think looks the best. What better way to enjoy a "mini-sportbike" than in the twisties of Marilaque in Rizal. While we were not aiming to beat any elapsed time record, we went there to have serious fun!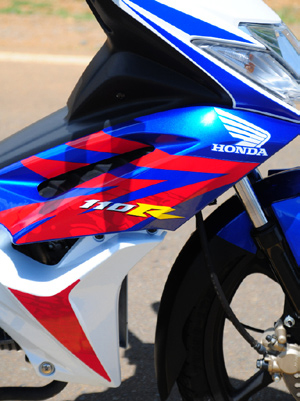 After a few trips up and down the marvelous stretch of local "canyon roads," we all raved about the light and precise handling, impressive front brake, and strong engine that made maneuvering around traffic effortless. However, it was a mixed bag regarding the front and rear suspensions. They were soft and very comfortable for trundling on rough roads at slow speeds but they also lack damping and make the bike too bouncy when the speeds go up.
The light and precise handling probably is a result of the Dash being almost 5 kilos less and 5mm shorter in wheelbase compared to that of the Wave 125. However, the Wave 100 is still lighter and shorter but it does not handle as quick as the Dash. Maybe the narrow 70/90 and 80/90 tires have something to do with it.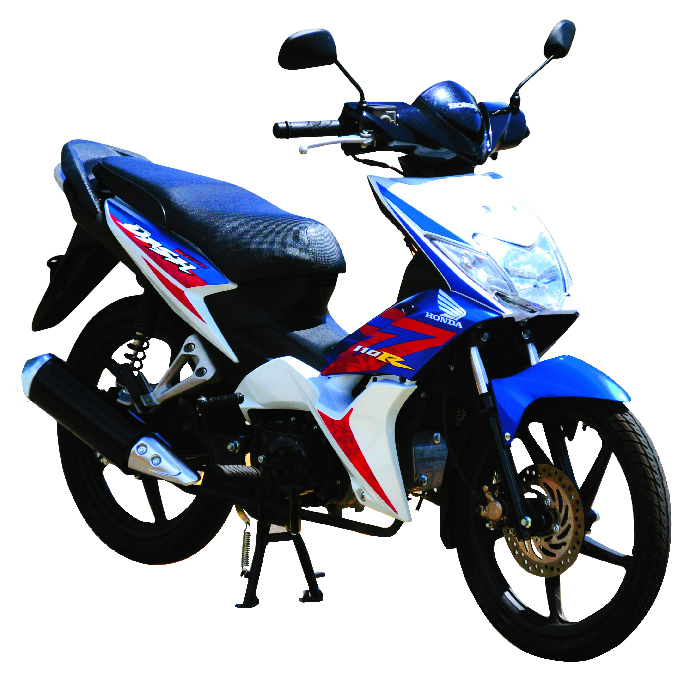 The front disk brake caliper may only have one piston, but maybe one is all it needs as the Dash's braking performance is excellent. We never felt that the front brake was lacking stopping power during our test. In fact, the braking feel was so good that we can trail brake into corners with confidence. Upon closer inspection, you realize that the single piston is larger than any one of a typical double piston brake caliper normally found in underbones. Most importantly, it has the famous six letters, "NISSIN" stamped on it, same as the ones found on most Japanese and European big bikes. Nissin has a long history of designing and manufacturing motorcycle brakes for Honda, Yamaha, Kawasaki, Suzuki, Harley-Davidson, Buell and other motorcycle companies. Ask any motorcycle enthusiast about motorcycle brake quality and performance and the name "Nissin" will immediately be in the conversation.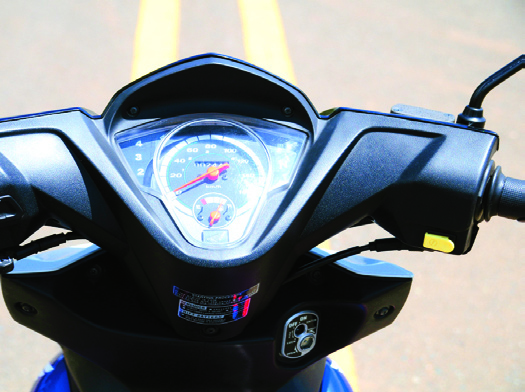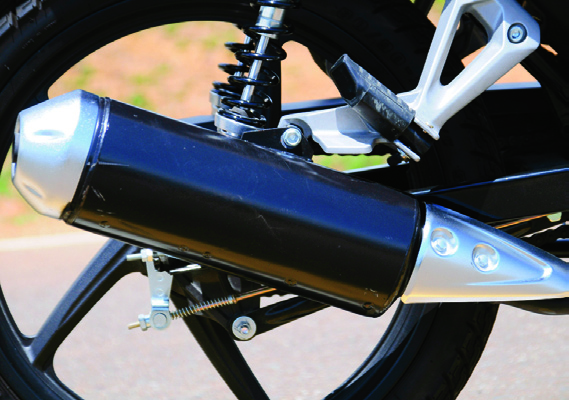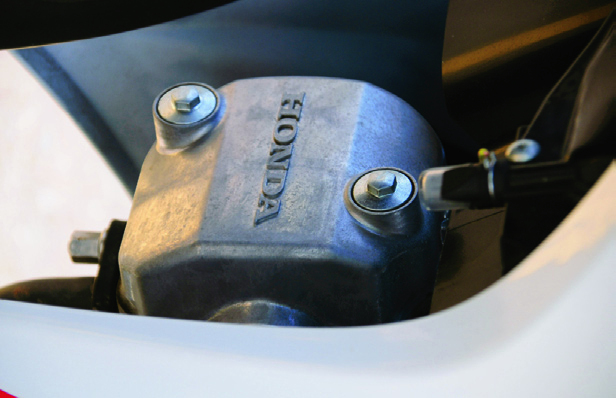 The offset cylinder and crank center increase power as the Dash pulled strong and actually felt like a 125. Also the engine is quite unique as its cylinder head is lacking any cooling fins! We loved the sound of the engine. We thought the lovely oval muffler was just for show but it actually makes the Dash sound sporty. While standing beside the road, it was nice to hear the Dash's engine revving as it approaches you.
Aside from the twitchy and bouncy high speed ride experience, we found very little to improve on the Dash. If we are being too meticulous, we'll say that it's hard to fit a wider tire under the front fender or there is not much storage space under the seat. But as it is, it's a highly desirable motorcycle especially with its suggested retail price of only P59,800. Clearly, it's a hot cake! No wonder the test unit came late.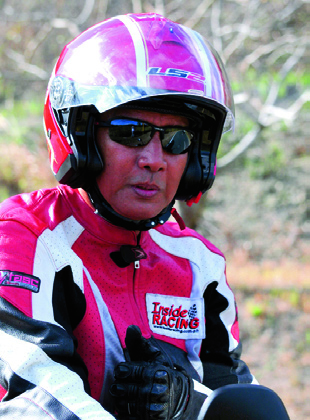 RICCI ABRINA: "In the handling department it gets a C plus from me, because of its too soft suspension and it bounces a lot. We lessened the air in the tires so that it could compensate for the high cornering speeds. If your tire doesn't have the right pressure, you'd bounce around like a rag doll. Brakes are totally Honda, it's very good! Gear shifting is superb as usual. You can downshift or upshift with breeze and you can easily do that while turning or while banking into a corner. You don't have to think about stalling the engine right in a middle of a turn. The brake's feeling is so nice. It's responsive! You can use the brakes going into a turn. The bike is very cute. The Dash is small and maybe that is why the handling is twitchy. The colors that we tested today are very eye-catching. It's very patriotic like the Philippine flag: red, white and blue and with the yellow "R." The whole design of the body is very unique and modern. I also like the hand grab at the back. It's very comfortable. The design and sound of the oval muffler is so nice, it sounds like a bigger machine, more of a 125. I guess Honda would be proud of this product. And I'm sure they'll make a killing again in sales."
*This article was published in InsideRACING's  Volume 8 Number 3  2010 issue.