HONDA Zoomer-X Chromium : the Stretched-out Hyper Show Scoot from Cebu City
Date posted on December 18, 2018
Share this
A modified Honda Zoomer-X has been shaking up the bike show scene in Cebu City. The bike is owned by Mr. Rockstell Alerta, a freelance architect based in Cebu City.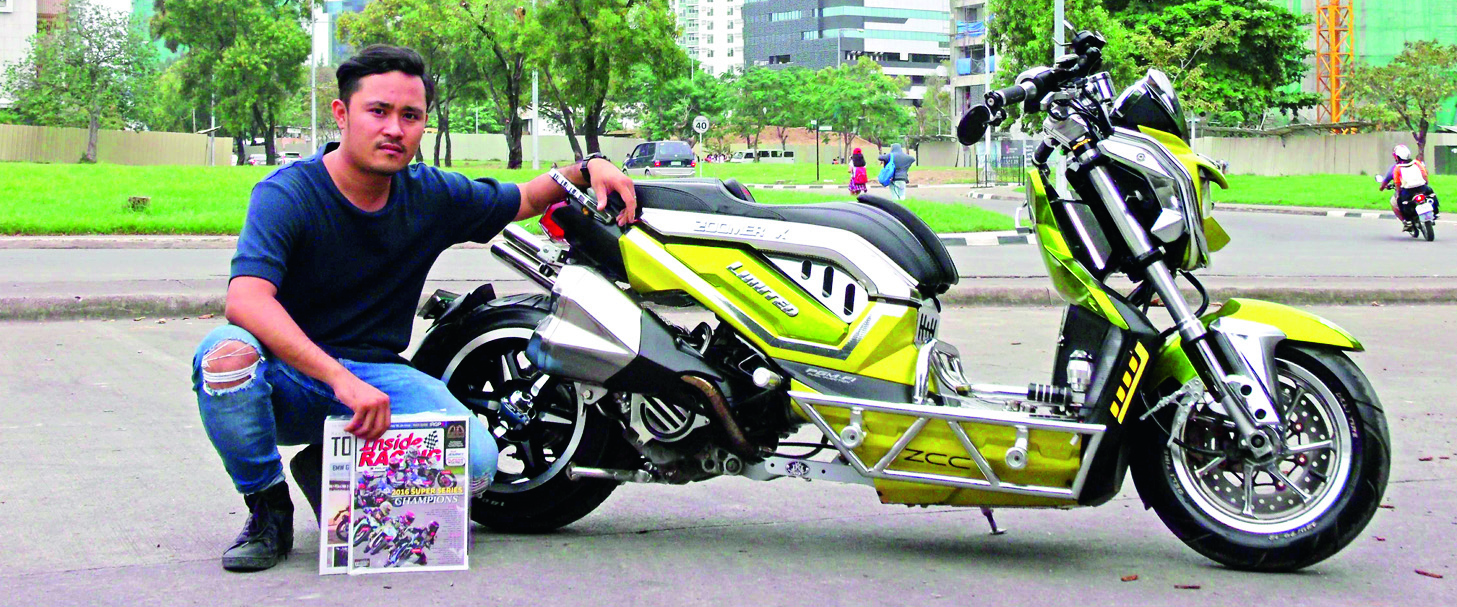 The scoot sports a metallic green finish accentuated with chromed parts and accessories. "I wanted a fully-functioning futuristic motorcycle and I also wanted it to be easy to clean and maintain so I went with a chrome and metallic green finish combination. It looks attractive and dynamic but more importantly it has a durable and long-lasting finish," said Rockstell. The scoot started out as his gift to his father but the Zoomer did not suit him as it was only used as a tool carrier since his father is into construction. So he got the scoot back and bought another bike for his dad. Rockstell then joined the Zoomer-X Club Cebu wherein he got the inspiration to modify his scoot into something special. "Zoomer-X Club Cebu is the team behind my bike. It is headed by Smarkies Anthony Moreno who is my adviser/consultant and all team members are my inspiration. Even though we're few, I learned a lot from them because they're not only badass riders but also professionals. Paul of Paul works Moto X Mode helped me build my bike. He did the overall setup from installation of parts/accessories to lighting," Rockstell added. Modifying the scoot did not come easy, Rockstell shared his unforgettable experiences in building the scoot, "The most unforgettable experience I've had during building my bike is when I reach Thailand to buy some of my bike's accessories. I paint color scheme which dictates its overall futuristic look.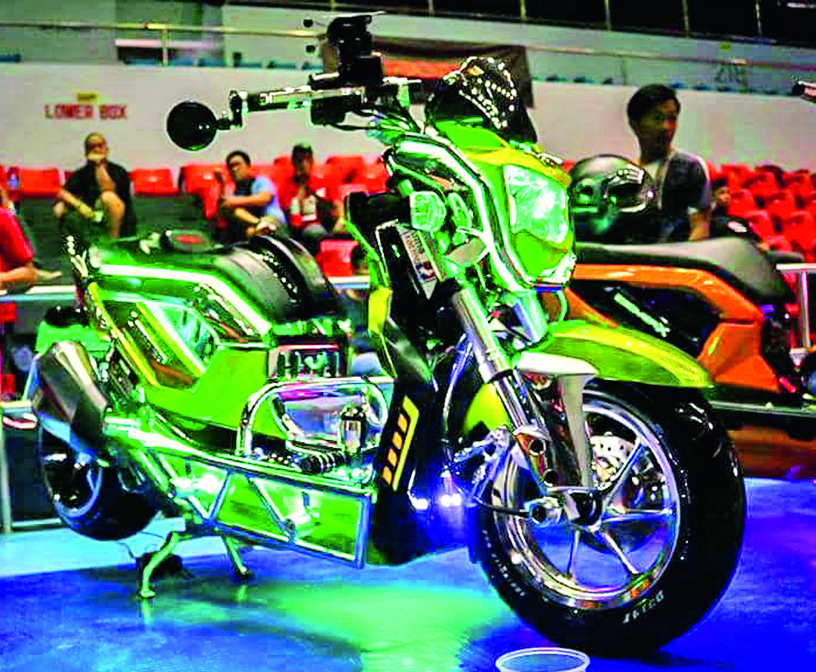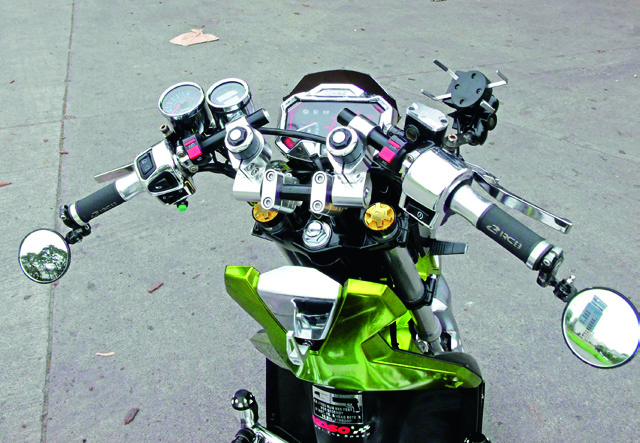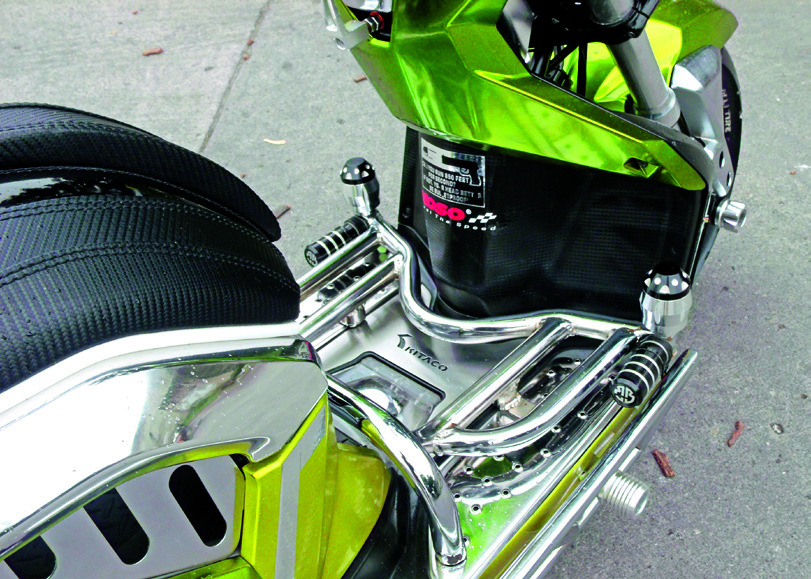 One of the key features of the scoot would be the super wide mag wheels. It uses STI 12×7 US mag wheels. Another is the custom-made chrome crash bars. To boost the performance, he also had a custom-made air filter shaped like a secondary exhaust pipe. It looks like the cool futuristic motorcycles used in the "Final Fantasy" movie. It is machined from stainless steel and it was custom-built for this scoot.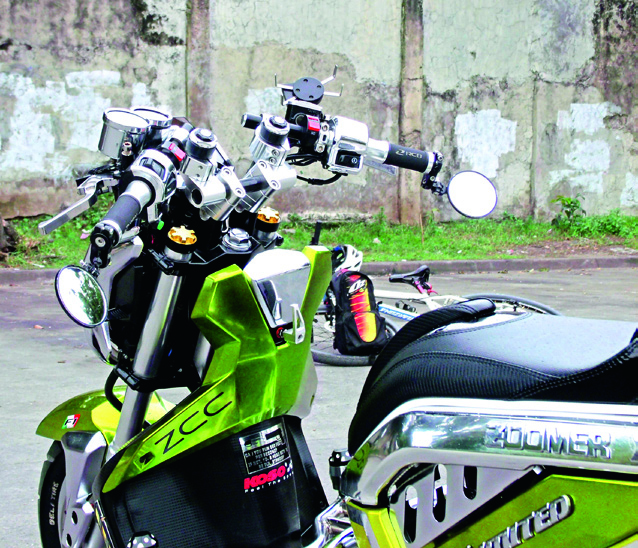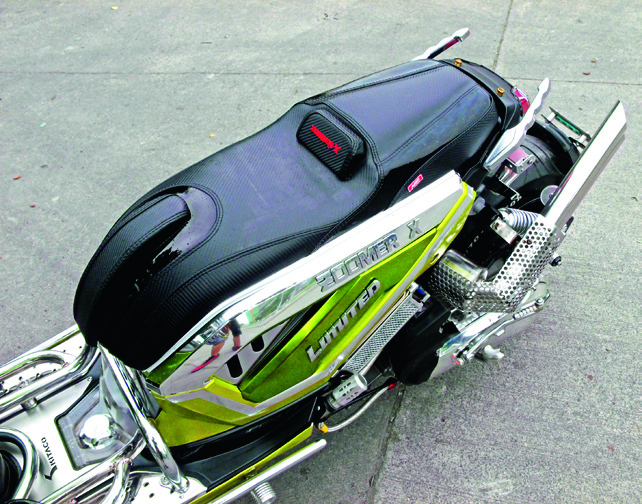 To get that stretched-out look the team utilized a custom built 14" swing arm extension by JKL. What truly sets this scoot apart is the custom-fabricated exhaust system. It uses a Kawasaki Z1000 muffler with custom-made stainless steel exhaust manifold to integrate it seamlessly into the scoot. "I would say this bike is a "head turner". People who see it would really appreciate it and I can hear them under my helmet. Bikers are asking questions at stoplights while some are giving me a thumbs up. Some foreign people asked if it's for sale especially when it is displayed at motor show events. And the best thing is that even the police and high way patrol guard love it. Those are the advantages of having a Zoomer-X. The only disadvantage is that I can't just park it anywhere I have to be careful when choosing a parking spot as it also attracts thieves and vandals," Rockstell shared during the interview when asked about the positive attention that the scoot attracts. Rockstell has this message to close ourinterview: "I would like to thank Zoomer-X ClubCebu (ZCC) and all the suppliers. Thank you also to our very supportive Club President Smarkies Anthony Moreno and Vice President Aries Martin.Thank you to Jorge Gasis for my swing arm extension and mag wheels, Paul my mechanic, Cholo and shout out to my fiancée Malona Taneo. Thank you to InsideRacing Magazine for this opportunity."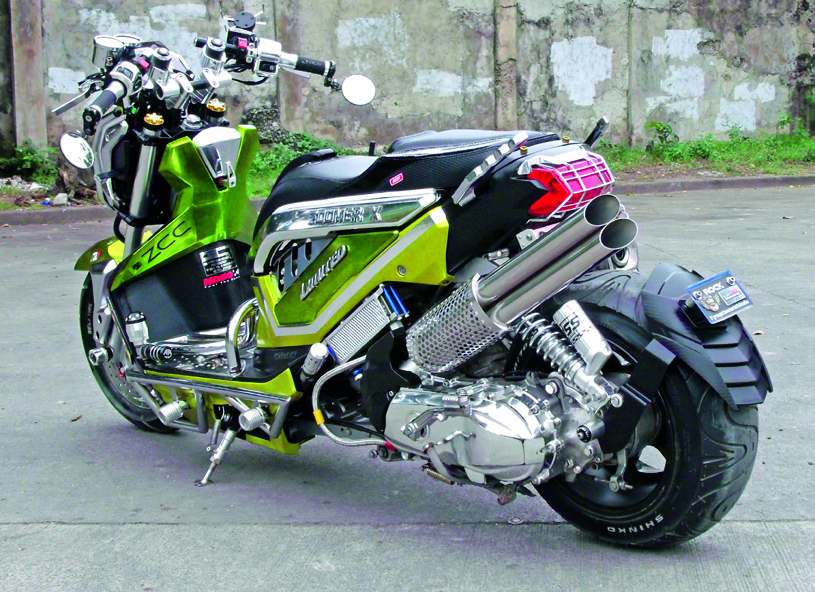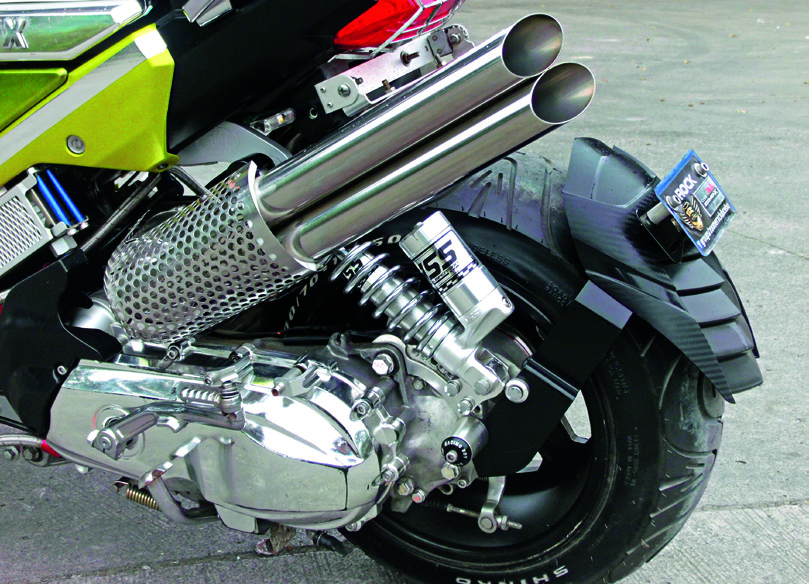 MODIFICATIONS  Honda Zoomer -X
Parts And Accessories Used:
Chrome plated Nui brake lever
Chrome plated front mags
Chrome plated center stand
Chrome plated Muttaruubox cover
Chrome plated engine fan cover
Chrome plated bullbar footrest
Chrome plated custom-built bullbar crash guard
Chrome plated Muttaru grab bar
Chrome plated kickstart
Chrome H2C Speed cover
Chrome switch cover
Chrome tail light mesh cover
Chrome Thai body garnish cover
Chrome engine cover
Chrome Koso rpm and voltmeter guage
Chrome Kitaco foot rest cover
Chrome headlight u-guard
Chrome gas tank cover
Chrome visor
Silver Muttaru crash guard
Silver Thai handlebar
Silver Cnc version round bar end side mirror
Silver Muttaru cable holder
Silver cnc helmet hook
Racing Boy hand grips
Custom headlight cover
NoiZoomer-X seat cover
Shark version 2 mudguard
H2C transparent gas cover
Rizoma signal light
Mojin oil cooler
Stainless steel custom-build air filter
Z1000 Kawasaki muffler
Custom-built 14" swing arm extension by JKL
STI 12×7 US mags