Hubless Intercooler Turbo Charged Yamaha MIO Sporty
Date posted on September 2, 2019
Share this
Well I have said it before but I shall say it again. "You Gotta See This." Those were the first words that came to my mind when I first saw a preview of this bike a few months ago via e-mail. I was so excited to see the real thing, and when I finally got a chance to see the bike up close a few weeks ago, I was awestruck. This bike just hits you like a bolt of lightning. Combining a unique blend of engineering savvy, insane engine mods, dazzling lighting works and killer graphics, this bike will surely catch your attention.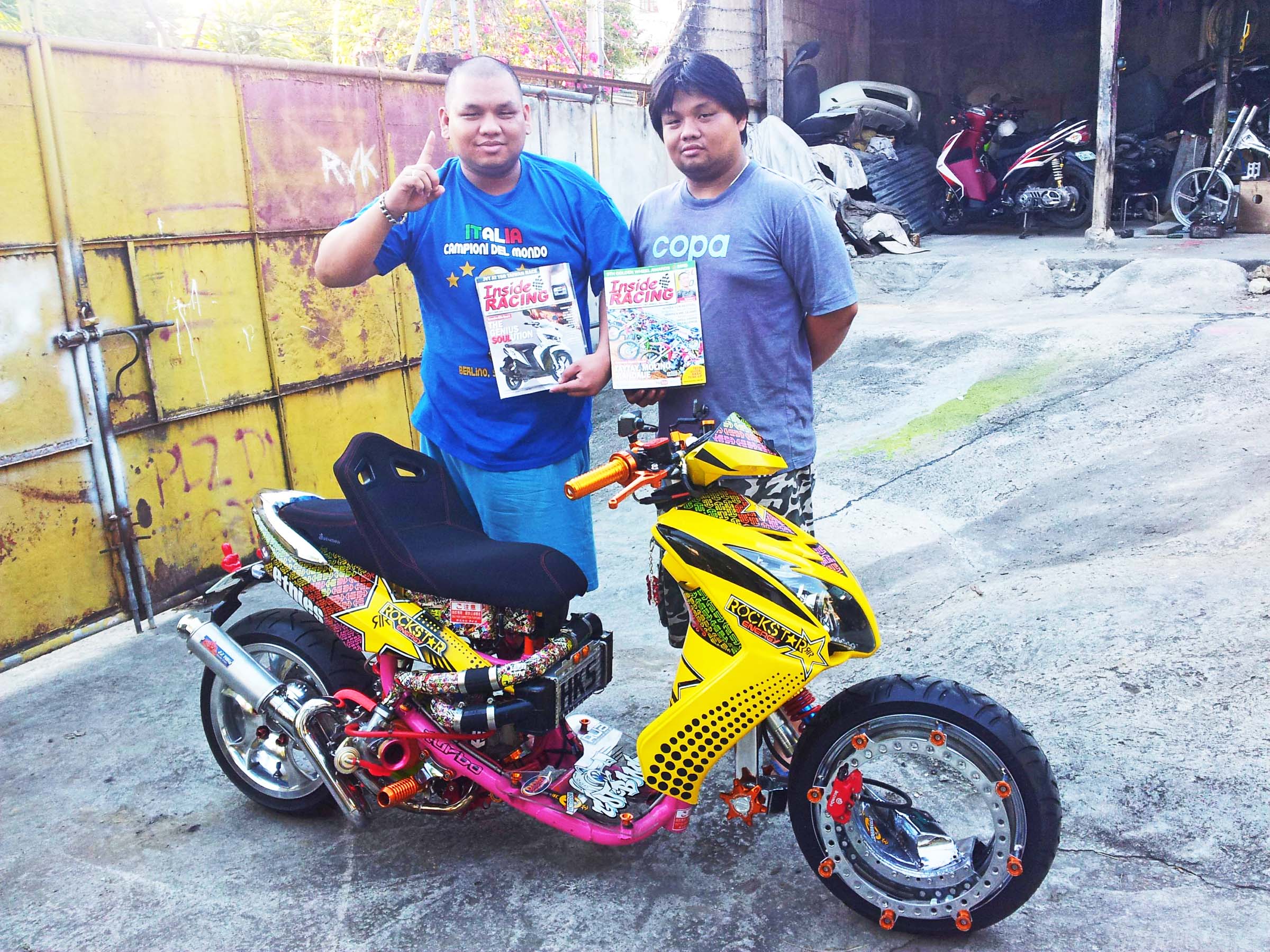 The bike was built by brothers Roel and Rosel Kong of Cebu City. The brothers wanted to build a bike that was truly unique and challenging so they decided to make a hubless scooter. Roel spent countless hours in research, design and development together with the crew at C&N Engineering who have never tried this before. Sheer determination on Roel's part guided the team to come up with a custom machined hubless front wheel assembly which was developed from multicab rims. The single side lefty swing arm assembly was entirely made from scratch to accommodate the wheel. Its disk rotor and caliper assembly was specially machined to go hand in hand with the design. It is certainly a testament of Filipino ingenuity in finding ways to bring bright and complex ideas into reality.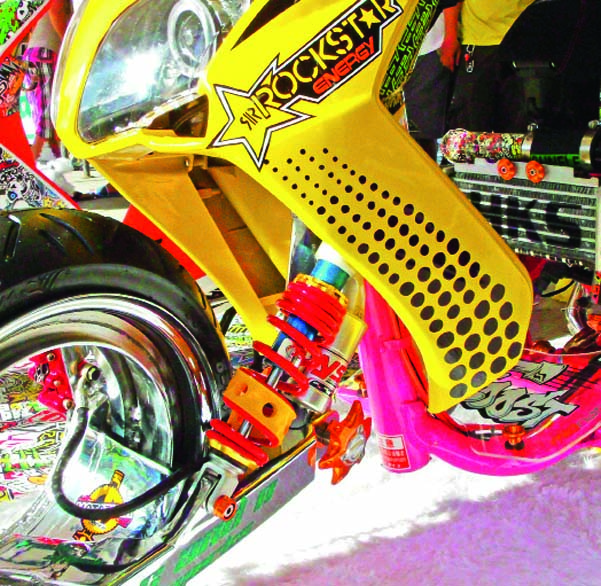 Modifications did not stop there as the brothers were not content with off-the-shelf upgrades to the engine. They installed an ATV turbo charger system imported from the UK and custom machined the components to fit their engine setup. To keep the high performance engine cool, they installed a custom machined intercooler from a car to compliment their turbo system. For the rear suspension, the brothers did a custom-made monoshock system specially designed for their bike. For the exhaust system, they had the exhaust manifold specially made to accommodate the ball bearing turbo assembly and the exhaust canister is from YYPang Exhaust.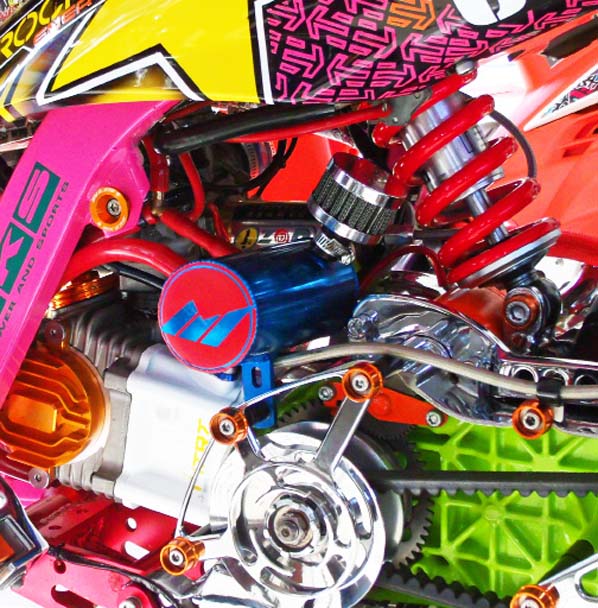 The brothers would like to thank R.U.A Motorparts, Genwin Concept Motorparts, Motowerks City Customs, Mio Nation and DDM for helping them secure the parts needed for their bike.
The brothers certainly pushed the engineering boundaries with their creation which was no easy accomplishment. A lot of time, effort and good old fashioned hard work was invested in their bike and its certainly a bike they can be proud of knowing that despite the obstacles they encountered during the bike build, they accomplished something never done before and that they were pioneers in creating a whole new level in underbone and scooter customization in our country. So from InsideRacing, this is for all the underbone and scooter customization enthusiasts out there.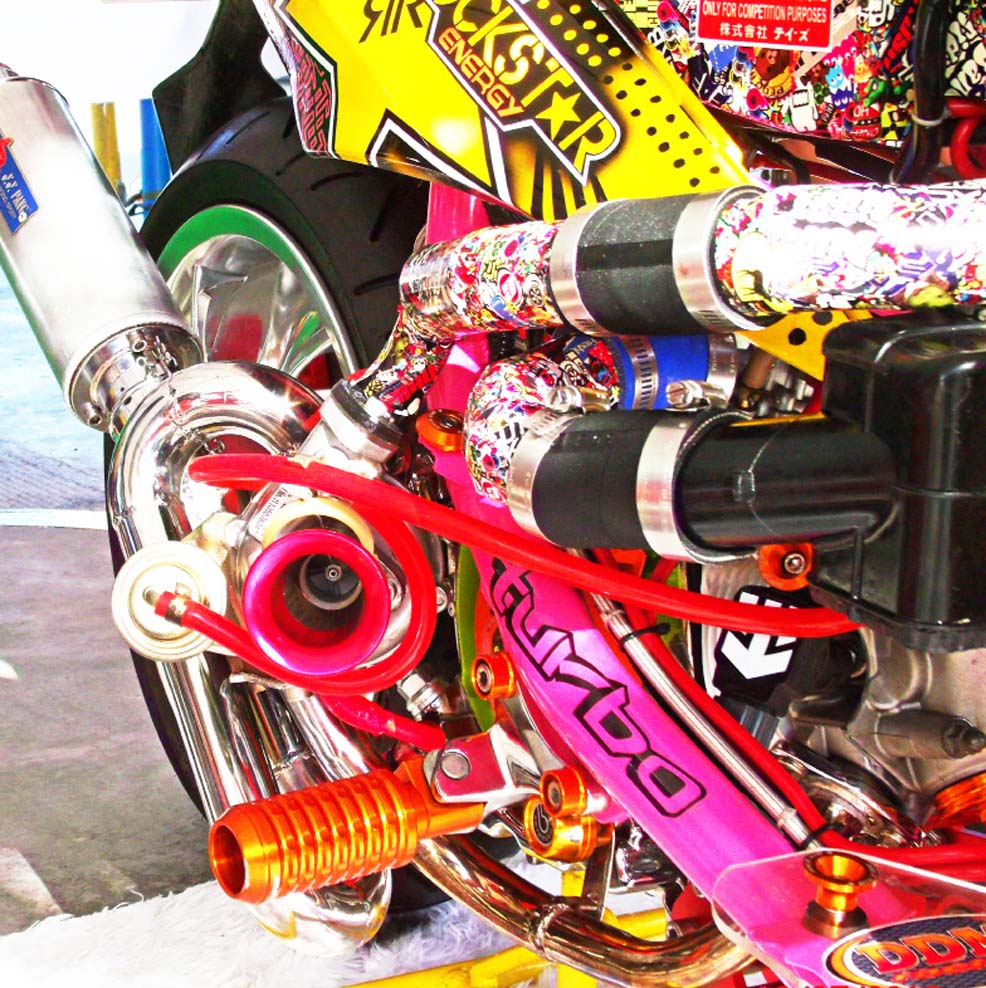 '09 Yamaha Mio Sporty Converted to Mio Soul MX
Owner: Rosel & Roel Kong
Club: Motozoom
Parts' Details:
Chromed crankcase
Gaz-i Sniper rear monoshock with canister
Yss G-series shock with spring damper (front)
YYpang racing exhaust system
Koso digital gauge for Mio Sporty
MTRT racing crankshaft, 63mm steel bore block, big valve cylinder head, ver. 2 racing cam, racing springs and retainers, intake manifold, breather cover, pulley with Yamaha driveface, pulley weight ball rollers, racing clutch set and springs, center spring, gearings 14/41, clutchbell, brake lever customized to fit rear brake with master, throttle cable, oil pump.
AP gear, torque drive, quick throttle cover
OkO 28mm racing carb
NCY direct ignition coil
BRT racing cdi
Panom 300cc starter
POSH oil catch can, catch can small filter, velocity stack, tire valve cover
Custom aluminum extended swingarm
Solcar ignition switch with customized .38 revolver key holder
SPS valve cover, chain tensioner, crankcase cover chrome platted
Bikers oversize handle grip, front axle protector, oversize step nut, center bolt fitted to X1-R handle bar, brake master clamp holder left and right, brake reservoir cover, key chain, small screws washer front
Yoshimura sidemirror holder
Carbon fiber small side mirror
Trusty medium screws washer rear
VTek helmet hook
Brembo brake caliper front and rear
Earls transmission breather hose with active clamp holder
Devis tail plate holder with two MTRT dirty fingers
2 Projector angel eye headlights inside the mx headlight with HID
Mecatec 220mm rear slotted disc plate
Chrome sporty rear grab bar and step nut holders
Chrome plated rear 5-inch power mags with 5 lugs and swallow tires
Chrome plated front 5-inch mags from car customized made to hubless
Customized the chassis to center the wide rear tire and painted it pink
Custom-made plastic step board and rear fender eliminator by Roel
Custom-made stretch front and rear brake hoses
Custom-made daylight lighting on the headlight by Roel
Custom led lightings on the motorcycle so it can glow in the dark were also done by Roel
Custom-made rear inside disc brake system by Roel
Custom machined hubless front wheel by Roel and the crew of C&N Engineering.
Custom-made lefty front arm suspension
Custom made 14 inch rotor disc break
Turbo charger system for ATV motorcycle bought by Roel in the u.k. then customized it
Custom exhaust manifold wth YYPang Exhaust canister
Customized Surplus intercooler from a car, cut and machined to fit the Mio.
X1-R steering assembly
Custom center monoshock assembly and mounting fixture for the rear suspension
Graphic paintings were all done by Roel and everything on it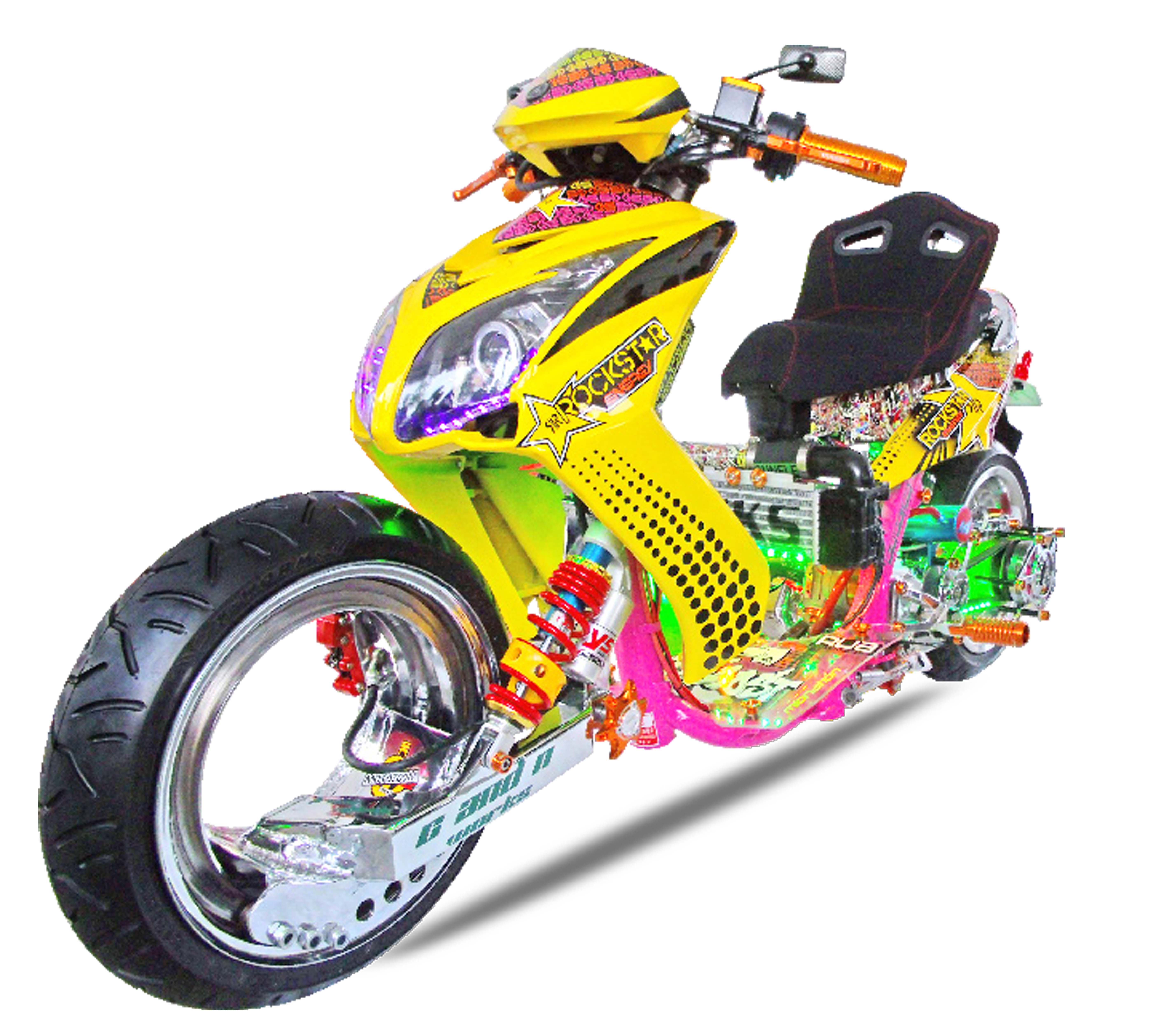 *This article was published in InsideRACING's  Volume 10 Number 11  2012 issue.