INGUITO AND ADAPON UBK 3RD LEG VICTORS
Date posted on July 14, 2015
Share this
The third round of the 2015 Philippine Underbone King Championships sanctioned by USRA and sponsored by FDR Tires took place on July 5 at the Clark International Speedway.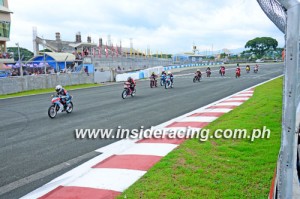 Maiko Adapon of Team ASV prevailed in the 115cc Novice class. Liqui Moly-YY Pang-RK-Nibbi Racing Team riders James Aeron Amporias and polesitter of 115cc group Lorenz Villanueva placed second and third. After the third leg, Adapon is on top of the 115cc Novice standings with 68 points while Villanueva has 62 and Amporias has 60 points.


In the main 150cc Open class, John Emerson Inguito of Team Yamaha-Spec V took the win. It was a close 6-lap west course race as second placer Herbert Lopez crossed the finish line 0.468s only after Inguito. Masato Fernando who also races for Spec V finished third. With 72 points, Inguito is the current leader in the 150cc Open point standings. Lopez is second with 63. Spec V riders James Mendez and Fernando have 58 and 54 points respectively.