Insideracing.com.ph – ESGUERRA, SUBA, PAZ and INGUITO are 2014 IR CUP SERIES CHAMPIONS!
Date posted on August 22, 2014
Share this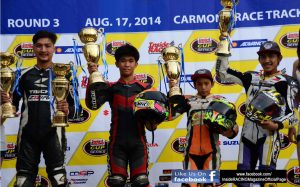 The fifth season of the IR CUP Series came to a close last August 17 at the Carmona Race Track in Cavite. Presented by Shell Advance, there were five class over-all championships at stake in the underbones and scooter categories.
After the races, the biggest winner was MLW Racing-ZEBRA rider Dustin Esguerra from Taytay, Rizal who took two automatic or scooter championships in the 160 Open and 180 Open.
MBF young rider McKinley Kyle Paz also of Taytay took the 130 Automatic Open championships.
Meanwhile, in underbone, JVT scooter's John Emerson Inguito took the fastest 150 Open Underbone championships while NHK-Racewell's  Vrei-ar Suba was again the 130 Open Underbone champion.
These IR Cup Series champions will once again be honored at the Golden Wheel Awards Night to be held in 2015.
The 3-race 2014 IR CUP Series Championship Presented by Shell Advance is also supported by Honda, Suzuki, Motoworld, Racing Boy, Spyder, Motoactive, Stanley and SUM RACING. Now on its fifth season, the championship is organized by InsideRACING and sanctioned by the Underbone and Scooter Racing Association (USRA).
Media Partners include Stoplight TV, Motorsiklo Xklusibo Radio, Pinoy Speed Channel, InsideMotoring Radio, PinoySpeed Tabloid, InsideRACING Magazine, MotorcyclePhilippines.com, The Racing Line TV, and InsideRACINGTV.
More detailed reports and photos to follow in InsideRACING magazine.
See also