insideracing.com.ph -FUJIWARA QUICKEST IN WET AUTOPOLIS
Date posted on August 16, 2014
Share this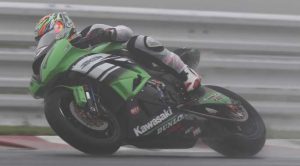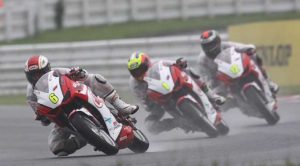 Japan's Katsuaki Fujiwara did not let the rain and dense fog stop him from topping the SuperSports 600cc opening practice ahead of Malaysian, Ahmad Fuad Baharudin as Round Three of the PETRONAS Asia Road Racing Championship went underway at the Autopolis International Race Course in Japan on Friday.
 
The BEET Kawasaki Racing who has won all the races here bar one since 2011 posted the quickest lap in the second practice (FP2) with 2'04.334s after the morning session (FP1) was cancelled due to extreme poor visibility.
 
Meanwhile Fuad of PETRONAS Hong Leong Yamaha Malaysia delivered the next best effort in 2'05.467s with Thai Honda Racing Thailand's Ratthapong Wilairot third with 2'05.657s. T.Pro Yuzy Honda's Satoru Iwata and Fuad's teammate, Yuki Ito completed the top five with 2'06.416s and 2'06.534s respectively.
 
"Visibility was very low so we could not do much today. In total we completed just 10-laps and it was quite hard for the engineers to extract any relevant data. Nevertheless, we are still pleased to come out on top on the timesheets," said Fujiwara.
 
"Additionally I got to understand the characteristics of the new wet Dunlop tyres introduced in this round. I can't say much at the moment because we only did a handful of laps but it is a big improvement from the previous model. Hopefully the weather will be better tomorrow so we can test it's limits," he added.
 
Fuad also echoed Fujiwara's statements, "We got a full 40-minute session but the weather was very unpredictable switching between the fog and the rain. Hopefully the weather improves tomorrow so we can start looking for a good setup for our bike."

MASAKI HUNGRY FOR ANOTHER PODIUM
 
An eager Kazuki Masaki is looking to replicate memories of getting on the podium here last season and the young local rider is off to a good start when he took charge of the Underbone 130cc practice sessions with 2'21.226s.
 
The Team Honda RSC rider produced the impressive lap time in FP2 that was shortened from 40 minutes to 18 minutes due to unfavourable weather conditions, similar to the premiere SuperSports 600cc class.
 
Gupita Kresna of Kawasaki KYT Rextor Manual Tech who leads the Underbone 130cc title chase posted the second best lap in the combined results with 2'32.954s followed by Harian Metro Y-TEQ SCK Honda Racing's Norizman Ismail third, 2'33.494s.
 
Rounding up the top five quickest Underbone 130cc riders were Hokky Krisdianto of Motul Yamaha YY Pang and T.Pro Yuzy Honda's Taiga Hada with 2'33.547s and 2'33.722s.

KHAIRUL, MORI AND KUROGI TAKES CHARGE

Asia Dream Cup championship leader Khairul Idham Pawi was once again the dominating factor in the 2014 edition of the talent development programme as he dominated the first day of practice with his best lap of 2'22.646s.

With all the riders changing to the new CBR250RR 2014 model, Japanese duo Syunya Mori and Reitoku Kurogi were also quick to adapt. They clocked up 2'22.935s and 2'23.158s respectively to end the day as the second and third fastest riders.
Indonesian rider Aditya Pangestu Hanafi and Taiwan's Chuang An-Yu completed the top five with 2'23.158s and 2'24.509s respectively.
 

Practice Results
SuperSports 600cc
1.Katsuaki Fujiwara (Kawasaki) 2'04.334s 2.Ahmad Fuad Baharudin (Yamaha) 2'05.467s 3.Ratthapong Wilairot (Honda) 2'05.657s 4.Satoru Iwata (Honda) 2'06.416s 5.Yuki Ito (Yamaha) 2'06.534s
 
Underbone 130cc
1.Kazuki Masaki (Honda) 2'31.226s 2.Gupita Kresna (Kawasaki) 2'32.954s 3.Norizman Ismail (Honda) 2'33.494s 4.Hokky Krisdianto (Yamaha) 2'33.547s 5.Taiga Hada (Honda) 2'33.722s

Asia Dream Cup
1.Khairul Idham Pawi (MAS) 2'22.646s 2.Syunya Mori (JPN) 2'22.935s 3.Reitoku Kurogi (JPN) 2'23.158s 4.Aditya Pangestu (INA) 2'23.962s 5.Chuang An-Yu (TPE) 2'24.509s
See also