insideracing.com.ph – FUJIWARA TAKES PSYCHOLOGICAL ADVANTAGE
Date posted on August 16, 2014
Share this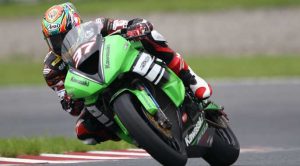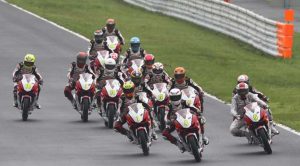 Japanese rider Katsuaki Fujiwara continues to hold a psychological advantage over the field by claiming pole position in the PETRONAS Asia Road Racing Championship qualifying session at the Autopolis Circuit in Japan.

Fujiwara of BEET Kawasaki Racing almost lost the pole position to Jakkrit Swangswat (AP Honda Thailand) but reclaimed it with a last minute effort of 1'55.158s. A product of the developmental Asia Dream Cup, Jakkrit stunned the grid when he earned the right to park his bike second on the grid with 1'55.800s while Tomoyoshi Koyama (T.Pro Yuzy Honda) locked out the front row with 1'56.022s.

Mitsunori Okamura (RS-ITOH & ASIA), Makoto Tamada (Musashi Boon Siew Honda Racing) and Ratthapong Wilairot (Thai Honda Racing Thailand) took control of second row.

Fujiwara who was pleased to get back his form after a disappointing campaign in the first two rounds this season commented, "I'm very happy with the qualifying results. There was a lot of competition towards the end and we had to push really hard to get pole. The weather was quite unpredictable too and we anticipate the same scenario for tomorrow. But I'm not worried because the team has already prepared a setup suitable for both wet and dry conditions. Hopefully we can continue Kawasaki's winning streak here."

Mohd Zaqhwan Zaidi (Musashi Boon Siew Honda Racing) came close to securing a front row start, posting his quickest lap time of 1'56.737s just half a second slower than Fujiwara for most parts of the 40-minute qualifying session. 

Unfortunately, luck ran out on the 19-year old when he was pushed down to seventh (third row) with six minutes left on the clock by his Thai and Japanese rivals.

Zaqhwan's teammate, Mohd Zamri Baba who has been struggling with a new chassis will also start the race from third row with 1'57.022s. Sandwiched between the two Honda riders is Makoto Inagaki of Akeno Speed Racing with 1'56.950s.



T.PRO YUZY RIDERS STORM TO TOP OF TIMESHEETS

In the Underbone 130cc, T.Pro Yuzy Honda's Mohd Amirul Ariff Musa and Mohd Rozaiman Mohd Said secured the top two starting positions with 2'18.654s and 2'19.271s respectively. Championship leader Gupita Kresna Wardhana also successfully placed himself on front row when he clocked third fastest with a time of 2'19.321s.

"I have yet to miss a podium here at Autopolis but this time around I am under a lot of pressure because this is my first time starting the race from pole. Adding on to the pressure, we will be racing the full course for the first time. But no matter what, I will still try my best," said pole sitter Amirul.

Meanwhile, early leader Ahmad Fazli Sham, defending champion Hadi Wijaya and Fazli's younger brother Ahmad Fazrul Sham will fill up the second row with times of 2'19.598s, 2'19.665s and 2'19.989s respectively. The top six riders in the Underbone 130cc class were the only ones who were able to break through the 2'20s barrier.


ADC RACE 1 GOES TO KHAIRUL DESPITE STIFF COMPETITION FROM NAGOE-MORI

Malaysian rider Khairul Idham Pawi's winning streak in the Asia Dream Cup class continues, picking up his fourth win of the season at the Autopolis International Race Course. The 16-year-old rider won Race 1 of the Asia Dream Cup class despite stiff competition from Japanese duo Teppei Nagoe and Syunya Mori who tried to tag-team their way to lead the pack at the front of the grid.

Despite Nagoe and Mori working together, Khairul managed to thread his way past their blockade during the final two turns of the 8-lap race, winning with a total time of 19'08.625s. 0.164s behind Khairul, Teppei Nagoe was disappointed to finish second with 19'08.789s while Syunya Mori ended the race in third place with 19'08.789s.

"This has been the toughest win for me this season. Nagoe and Mori really did put up a tough battle and the rain at the end of the race made the racing conditions even tougher," said Khairul.

"I had almost given up on the win, cautioning myself that picking up points to maintain my championship lead would be more important. But when Nagoe made a few mistakes in the last two laps, I grabbed the opportunity to put myself in the lead," added Khairul who now extends his championship lead with a total of 120 points.

Nagoe stays in second overall with 85 points while Aditya Pangestu Hanafi, who finished fourth in Race 1, is third overall with 70 points.
See also