Insideracing.com.ph – IR CUP SERIES BY SHELL ADVANCE ROUND 3 WINNERS
Date posted on August 22, 2014
Share this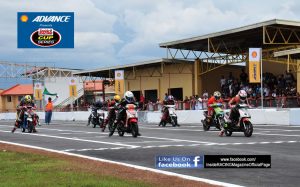 This year's successful 3-round IR Cup Series Presented by Shell Advance concluded at the Carmona Race Track last August 17. In the underbone classes, winners were NHK-Racewell's Vrei-ar Suba who prevailed in the 130 Open Underbone and John Emerson Inguito of JVT who emerged victorious in the 150 Open Underbone class. In the Automatic classes, riders who scored wins were McKinley Kyle Paz in the 130 Automatic Open, MTRT's Paul Mark Doblada in the 160 Automatic Open and Nicolo Ramos in the 180 Automatic Open categories. Jason Baguasan ruled in the 135 Open Backbone while Jade Lazaro won the 180 Open Backbone class. After three rounds, IR Cup overall champions were Vrei-ar Suba (130 Open Underbone), John Emerson Inguito (150 Open Underbone), McKinley Kyle Paz (130 Automatic Open) and big winner Dustin Esguerra (160 and 180 Automatic Open).The third and final round of the 2014 IR Cup Series was presented by Shell Advance and sponsored by Racing Boy, Motoworld, Stanley, X-pot, Sum Racing and Spyder. Event partners were Honda BeAT, Honda Wave Dash, Suzuki Nex 115 and Suzuki Raider J 115 Fi.

The 3-race 2014 IR CUP Series Championship Presented by Shell Advance is also supported by Honda, Suzuki, Motoworld, Racing Boy, Spyder, Motoactive, Stanley and SUM RACING. Now on its fifth season, the championship is organized by InsideRACING and sanctioned by the Underbone and Scooter Racing Association (USRA).

More detailed reports and photos to follow in InsideRACING magazine.
See also

Notice: Undefined variable: tag_arr in /home/iruser/web/insideracing.com.ph/public_html/wp-content/themes/insideracing-v16/library/bones.php on line 239