Insideracing.com.ph – MOTORSIKLO XKLUSIBO CELEBRATES 5TH YEAR MILESTONE AT TAGAYTAY ON AUG 24
Date posted on August 9, 2014
Share this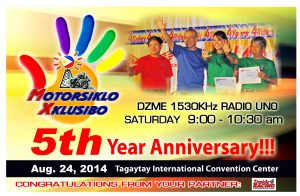 The country's only radio show dedicated to the motorcycle industry and community anchored by Edwin Go will celebrate its milestone 5th anniversary on August 14 at the Tagaytay International Convention Center.
The grand event Presented by SHELL ADVANCE will be a treat to all riders as no less than 8 motorcycles and scooters from its partners and advertisers will be raffled. Plus many more items like cell phones, watches, helmets, accessories, InsideRACING magazines and even a racetrack memberships.
Champion Filipino motorcycle racers will likewise grace the event to support Edwin Go since he has been very active in promoting local motorcycle road racing in the past three years.
Motorsiklo Xklusibo would also like to thank its Dealer Partners: Motortrade Nationwide and Motorsiklo Trading, its Media Partners Inside Racing Magazine and toplight TV, and its Industry Partners: MDPPA , CHAMMP and MDAP.
Motosiklo Xklusibo si aired every Saturday from 9:00 am to 10:30 am on Radyo UNO DZME 1530. The program engages with the riders and industry players and mainly tackles current issues and problems of the industry and community.
Below is a partial list of prizes as of today with many more expected to be added.
A) PMRC- Super 138 Scooter
B) Motorstar- Idol 125 Cc
C) Grandstar- Kvs Apache-180 Cc
D) CPI Taiwan- Dtr 150
E) Suzuki Phils- Thunder 150 Cc
F) Kawasaki Phils- Ct 100 100cc
G) Yamaha Phils- Sz16
H) Honda Phils- Scoopy
I) Inside Racing- Secret
J) Bank Of Makati- 10 Savings Account, 3k/Acct
K) ARQ Curtains- Curtains And Pillows
L) Guanzon Merchandising- Samsung Cellphone
M) Guanzon Merchandising- Rudy Project-Wrist Watch
N) Vee Rubber Tires- 10 Sets Size 17
O) RK Chains And Sprocket
P) Never Flat
Q) Jm Mirasol-5 Gc Worth 1,500 Each
R) Clark Int'l Speedway-3 2015 Membership
S) Batangas Racing Circuit- 3 2015 Membership
T) ODM Moto Products- Bags And Balaclav
U) MTRT
V) Cycleseal- 1 Master Box Of Cycleseal
More detailed reports and photos of the event to follow in InsideRACING magazine.
See also