Insideracing.com.ph – Paz wins IR Honda Wave Dash Fun Cup Championships
Date posted on August 22, 2014
Share this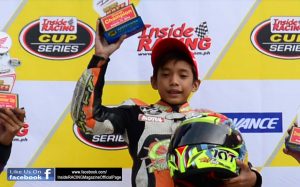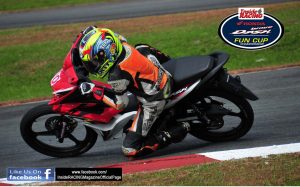 Young rider McKinley Kyle Paz was the victor of the Honda Wave Dash Fun Cup of the third and final round of the IR Cup Series at the Carmona Race Trace held on August 17. Gian Carlo Mauricio took the second place while Maiko Adapon finished third.

It was a big win for Paz who likewise won in the first and second round. Paz was the overall champion of the 2014 IR Honda Wave Dash Fun Cup with a total of 75 points. MBF rider Lorenmar Villanueva was second overall while Mauricio placed third overall after three races.

The final round of the 2014 IR Cup Series was presented by Shell Advance and sponsored by Racing Boy, Motoworld, Stanley, X-pot, Sum Racing and Spyder. Event partners were Honda BeAT, Honda Wave Dash, Suzuki Nex 115 and Suzuki Raider J 115 Fi. The HONDA Fun Cups are sanctioned by the Underbone and Scooter Racing Association (USRA).
More detailed reports and photos to follow in InsideRACING magazine.