insideracing.com.ph – Ramos and Mauricio leads Shell Advance MotoIR Youth Cup Shoot Out this Sunday at Carmona
Date posted on August 16, 2014
Share this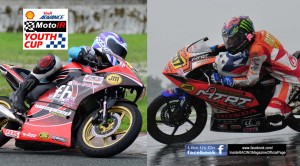 15-yo MTRT-Honda's Robert Matthew Ramos and FB Racing's 13-yo Gian Carlo Mauricio leads the candidate for the guaranteed slots to represent the Philippines in the Shell Advance Talent Cup Selection Days to be held in Sepang Malaysia right after the Malaysian MotoGP event in October.
The Shell Advance MotoIR2 Youth Cup (SAMYC) started this year was open ONLY for MotoIR2 riders with ages 14‐18 years old in the MotoIR2 cChampionships. The top riders in the SAMYC after round 6 held last on August 3 qualifies for the SAMYC Philippine Shootout In Carmona during the final round ofthe IR Cup Series on August 17.
The SAMYC Shoot‐Out will consist of five (5) individual timed laps per rider using their own MotoIR2 bike used in the championship just before the MotoIR race. The top two (2) riders with the FASTEST TIME will win the Shootout.
The two winners will have a GUARANTEED SLOT in the DORNA organized Shell Advance ASIA Talent Cup Selection Day in Sepang , Malaysia in October after the Sepang MotoGP. It is where they will choose who will qualify for the 2015 Shell Advance ASIA Talent Cup series, a series using Honda NSF250 Moto3 race bikes.
The Shell Advance Asia Talent Cup is an exciting new competition that started  from 2014, which acts as a feeder series to the world of motorcycle racing. The project aims to give riders from the Asian region a formal path into competitive road racing.
Led in‐part by renowned and successful talent scout Alberto Puig, responsible for such talents as Casey Stoner and Dani Pedrosa and the leader of the successful MotoGP™ Academy, the competition will see Asia's stars of the future participate in an eight‐race series (in 6 events) in 2014 on Honda NSF250R Moto3 machines.
Run by Dorna, the organizers of the MotoGP™ World Championship and the eni FIM Superbike World Championship, as well as co‐organizer of the Red Bull MotoGP Rookies Cup, the competition will provide a spotlight for the most talented young riders in Asia.
The 22 young riders came from Malaysia, Japan, Indonesia, Thailand, China, Singapore and the Philippines' own Ralph Kenneth Torres who made it through the pre‐selection event at Malaysia's Sepang International Circuit last October 2013 .
Aside from the two MotoIR Youth Cup winners, other candidates below 20 years may apply at www.asiatalentcup.com between August 1 until September 5.

See also

Notice: Undefined variable: tag_arr in /home/iruser/web/insideracing.com.ph/public_html/wp-content/themes/insideracing-v16/library/bones.php on line 239