insideracing.com.ph – SUZUKI DOMINATES SENTUL KYT INDOPRIX
Date posted on August 14, 2014
Share this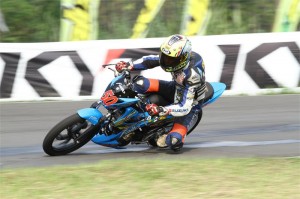 Team Suzuki Press Office –

Suzuki riders dominated the third round of the Indoprix Championship at Sentul International Karting Circuit in Indonesia with a one-two-three in the 150cc Sport class. 

With two rounds remaining in the hotly-contested series, Suzuki Indonesia's Rafid Topan holds a 46-point lead over fellow Suzuki riders Harlan Fadillah and Ocvan Irfana – who all filled the podium in the opening race aboard their Satria FU150s. 

Topan topped Saturday's qualifying timesheets with a lap-time of 57' 310 with Fadillah second on 58' 541 and Irfana just behind in third with a 58' 728 lap. 

Sunday's opening race saw Fadillah take the lead early on, but a small slip-off on lap five handed the lead to Topan, although Fadillah remounted to climb back into a podium position in third behind Irfana after an exciting three-way fight for victory. 

Race two saw more exciting and close racing between several Suzuki FU150 riders including Fadillah and Irfana as Topan was positioned in sixth until a mystery technical issue forced the race-one winner out on the eighth lap. The race was eventually won by Suzuki privateer Nico Julian with Fadillah second and Irfana third. 

The Satria FU150, which was ideally-suited to the circuit because of its light weight, agility and quick acceleration from its powerful 150cc DOHC motor, took the top four positions in race two and also hold the top-five positions in the Indoprix Championship that moves on to the penultimate round, at Sentul again, on September 13-14th.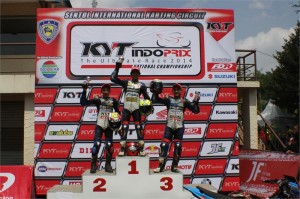 See also