Insideracing.com.ph – SUZUKI FUN CUP FINALS AT CARMONA ON AUG 17
Date posted on August 9, 2014
Share this
The race is on to become the first Suzuki champion on the racetrack since 2011 as the final leg of the 2014 Suzuki NEX115 Fun Cup and 2014 RaiderJ 115Fi Fun Cup will be held on August 17 at the Carmona Race Track during the final round of  2014 IR Cup Series Presented by Shell Advance.

The SUZUKI NEX115 Fun Cup and SUZUKI RAIDER J 115Fi Fun Cup championships are open to all riders from Beginners to Experts. There is NO ENTRY FEE and riders are required only to pay the standard P100 USRA license and P400 accident insurance.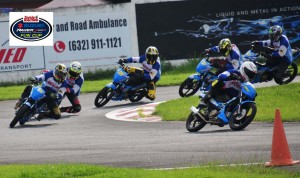 Suzuki Philippines (SPH) officially returned to racetrack competition last July 13 at the Carmona Racing Circuit. Sanctioned by the Underbone and Scooter Racing Association (USRA), the Suzuki Fun Cups attracted a record total combined 76 entries from all rider grades.  According to Suzuki's Ms. Zhele Acorda, it was the most number of entries so far received in a single event for Suzuki.  SPH offered free use of Suzuki raider J115 Fi and Suzuki NEX 115 race bikes to registered riders while the organizer IR Cup Series provided free entry fee. This is to encourage more riders to try the racetracks
At stake will be P4,000 cash plus jacket and trophy for the over-all champion, P2,000 cash plus jacket and trophy for the vice champion, and P1,500 cash plus jacket and trophy for the 2nd over-all.
Leading the championship in the SUZUKI RAIDER J 115 FI FUN CUP is Vrei-ar Suba (NHK-Racewell) followed by  Mokoy Ancheta (JVT) and  Juver Mirasol (Team JM Mirasol)
Meanwhile in the SUZUKI NEX 115 FUN CUP,  EJ Sobretodo of  MBF is ahead of  Masato Fernando (Spec V-FDR) and  John Paul Suba (NHK-Racewell)
The SUZUKI fun Cups are sanctioned by the Underbone and Scooter Racing Association (USRA).
More detailed reports and photos to follow in InsideRACING magazine.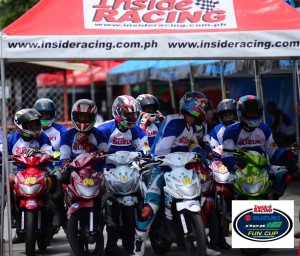 See also