insideracing.com.ph -WHEELTEK 40th Year Celebrations starts!
Date posted on August 16, 2014
Share this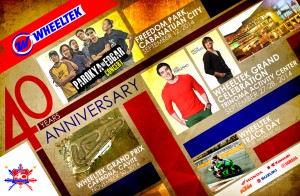 Wheeltek Motor Sales Corporation, one of the largest nationwide chains of multi-brand motorcycle dealerships in the Philippines, is celebrating its 40th year Anniversary this 2014. They sell Honda, Kawasaki, Suzuki, Yamaha and TVS bikes as well as Suzuki and Kawasaki premium big bikes.
In September 18, 1974, Wheeltek Motor Sales Corporation was established and began its operations under the name of Peer Marketing, one of the pioneers in the industry distribution of motorcycles in Central and Northern Luzon area.
During 1988, the success of the company kicks off that signal for readiness of the business to expand through the excellent management of the founding couple, Dr. Reynaldo B. Odulio and Ms. Rosario Teresita OL. Odulio the company has become enormously bigger and gave birth to the rest of its subsidiaries. Now, WHEELTEK has grown with 134 branches about 1,500 employees nationwide.
Wheeltek motor Sales Corporation pays much attention to quality products and services. The company predominantly continues to operate in the fulfillment of quality of life for its employees and their respective families by offering employment to thousands of jobless Filipinos in bringing and creating source of livelihood for millions of low and average-income earners
The kick-off celebrations started last  March during the InsideRACING Bike Festival and Tradeshow at the SMX International Convention Center followed by a series of Mall activities all over the country.
Other Major events will be
Sept 12 – for a Concert by Parokya ni Edgar to be held at the Cabanatuan Freedom Park
Sept 27-28 – Wheeltek Grand Celebration at the TRINOMA Activity Center in Quezon City
Nov 30 – Wheeltek Grand Prix at Carmona Race Track organzied by InsideRACING
Dec TBA – Wheeltek Trackday for bigbikes
There will also be activities in Cebu and other areas.
See also

Notice: Undefined variable: tag_arr in /home/iruser/web/insideracing.com.ph/public_html/wp-content/themes/insideracing-v16/library/bones.php on line 239