IR MotoGP Update: Dovizioso tops the first day of the Shell Malaysia Grand Prix at Sepang.
Date posted on October 27, 2017
Share this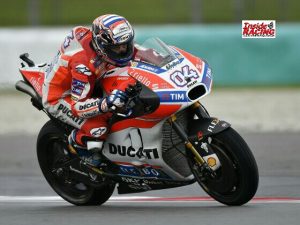 Andrea Dovizioso got off to a great start in the Malaysian GP, the penultimate round of the 2017 MotoGP World Championship held this weekend at the Sepang circuit. The Italian rider set the quickest time in both the dry morning session and the afternoon run, which was held in the rain.
Tenth place went to Jorge Lorenzo, who this morning lapped in 2'01.189, around half-a-second slower than his team-mate, and the Spanish rider was then a positive third quickest in the afternoon on the wet track surface.
Andrea Dovizioso (Ducati Team #04) – 2'00.671 (1st)
"Today was a very positive day because we were quickest both this morning in the dry and in the afternoon in the wet, and it was very important to start in this way at Sepang. We know that there's still a lot of work to do, especially in the dry, and we hope to have some sessions with the track in a good condition tomorrow, so that we can prepare the best settings for the race. In any case it was good that we confirmed out pace in the wet and today went even better than last year, so I'm very satisfied: my Desmosedici goes really well in the wet, we've got excellent grip and it was quite easy for me to go quick."
Jorge Lorenzo (Ducati Team #99) – 2'01.189 (10th)
"It wasn't an ideal day to make a lot of progress, but at any rate it was quite positive. In the wet we were quick and in the dry we ended the session half-a-second from Andrea. Pity about it starting to rain in the afternoon because after FP1, I wanted to continue to improve and we had some interesting things to try out. Luckily in the end we were in the top 10, so if it rains tomorrow morning we are sure to be in Q2. We still have to work to improve the bike for the dry and the wet because we have to be ready for every situation, because here in Malaysia the weather conditions are really unpredictable."
Credit : DucatiMotoGP