IR News: Ducati Philippines' TJ and Troy Alberto Back to Dominance with 1-2 Finish
Date posted on August 9, 2017
Share this
The Final race of the Pirelli Philippine Superbike Championships' Round 4 saw a fantastic 1-2 finish for Ducati Philippines' TJ and Troy Alberto as the two dominated the 9-lap race.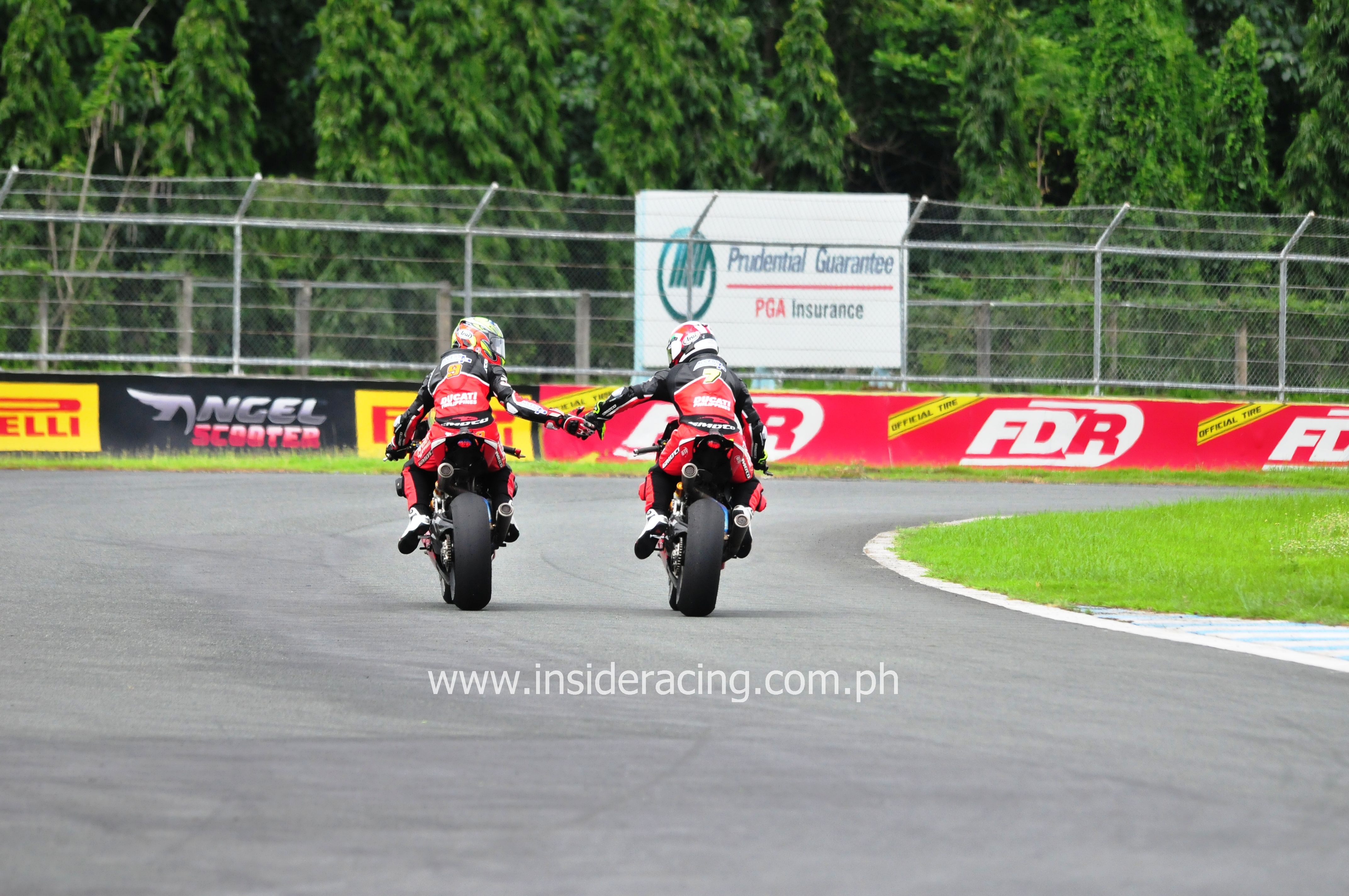 The teams had to decide which tire to use for the race as the track got wet before the race. Ducati Philippines and BMW Motorrad Philippines opted to use slick tires while the Kawasaki race bikes of Dashi Watanabe and Raniel Resuello had rain tires. It was drizzling at the start of the race but the track dried up immediately and the teams' decision on the tire to use proved to be crucial.
Resuello of the RGutz-Wheeltek Racing Team Fueled by Clean Fuel Powered by Kawasaki led the race from the start but as the track dried up, he wasn't able to hold on to the lead. TJ and Troy Alberto of Ducati Philippines on their Ducati Panigale R race bikes immediately got in front.
Marvin Mangulabnan of BMW Motorrad Philippines got the second position from Troy and went on to chase TJ. But the Ducati Philippines' young guns were impeccable in the race as Troy regained the second position from Mangulabnan. The BMW Motorrad Philippines rider rallied back and overtook Troy who was able to get the better of Mangulabnan and finally secure the second position.
TJ Alberto went on to win the race with his younger brother Troy finishing second for a 1-2 result for Ducati Philippines. Mangulabnan finished third in the Expert and Open classes. Fastest lap time of the race was 1:53.539s by Troy Alberto.
Aside from the Open and Expert categories, TJ Alberto also excelled in the Intermediate class with Troy placing second and Jericho Arnaiz finishing third. Ian Mortimer ruled in the Novice group and joining him in the podium were second placer Jason Park and third placer Lawrence Macalinao of BMW Motorrad Philippines. The winning streak of Jolet Jao in the Master class ended as Toti Alberto of Ducati Philippines topped the said class. John Defensor and Manuel Chu finished second and third.
After the fourth round, Mangulabnan still leads the Expert class standings with 183 points and the Rider of the Year rankings with 178 points. TJ Alberto is second in the Expert group with 170 points while third is Troy who has 149. In the Rider of the Year standings, TJ is likewise in second place so far with 163 points and Troy is third with 142. TJ Alberto also leads the Intermediate class with 181 points. The Novice class is currently led by Ian Mortimer who has 177 points. With 186 points, Jolet Jao despite missing the podium, is still number one in the Master class standings.
Round 5 of the PSBK is on September 2-3 at the Batangas Racing Circuit. The PSBK is part of the 2017 ENEOS Philippine Motorsports Championships. It is sanctioned by the Superbike Racing Association of the Philippines.