IR News: First IRGP Title Finally Taken by Soyangco
Date posted on November 23, 2017
Share this
Bulacan's pride Tracy Soyangco clinched his first ever IRGP title in dominant fashion as he and teammate Niño Fabian secured the first and second positions in the Castrol Power1 Underbone GP EFI.
The two have shown impeccable riding skills on board their powerful underbone race bikes. JVT had a strong showing in IRGPXI.



Soyangco is one of the veteran and respected riders in the country and has been participating in the IRGP since the race event's maiden year which was 2007. Through the years, Soyangco has bagged podium finishes and awards but missed the championship title. Finally, at the Phoenix Premium 98 11th InsideRACING Grand Prix (IRGPXI), Soyangco who races under the support of JVT won his first IRGP plum.
Fabian who also hails from Bulacan is an expert rider who bagged the Philippine Underbone King title in 2013.

Third to finish the race was Clifford Bacus of Honda Racing. The Manufacturer's Award was bagged by Honda Philippines.
Castrol Power1 Underbone GP EFI result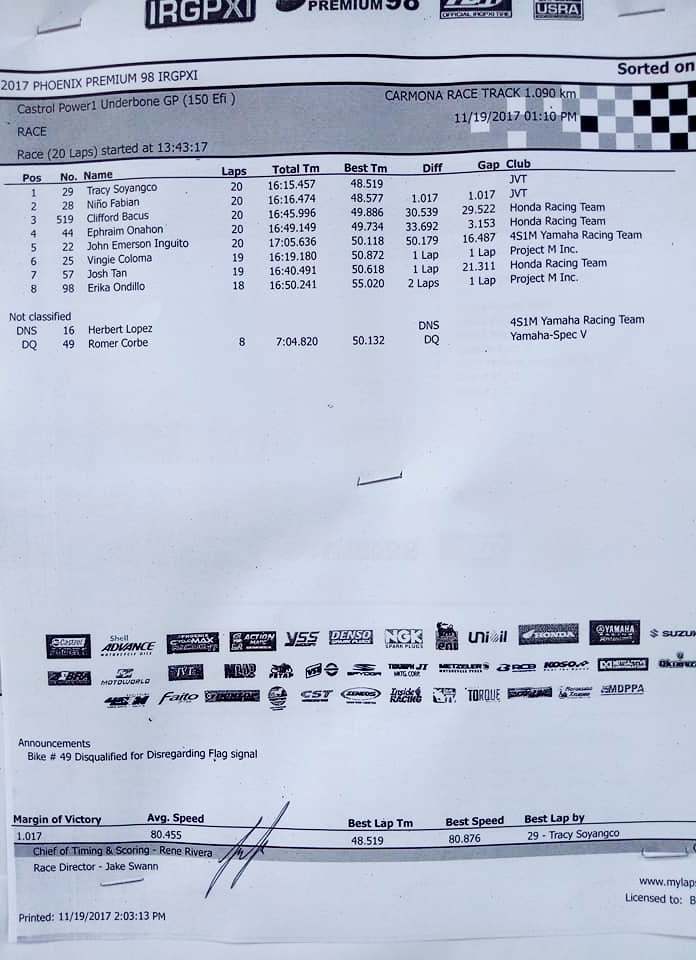 Castrol Power1 Underbone GP EFI
1st – Tracy Soyangco (JVT)
2nd – Nino Fabian (JVT)
3rd – Clifford Bacus (Honda Racing)
Zebra Helmet Pole Position – Tracy Soyangco
Motoworld Fastest Race Lap – Tracy Soyangco
JVT Fastest Privateer -Tracy Soyangco
Manufacturer Award – Honda Philippines
The Phoenix Premium 98 IRGPXI is sanctioned by the Unified Sports and Racing Association for Motorcycles, Inc. (USRA).
Full report in InsideRACING Magazine.