IR News: Motorstar Cafe 400 launched at Motobuilds Pilipinas
Date posted on June 11, 2016
Share this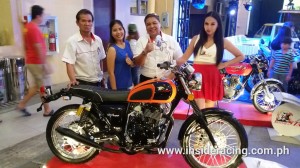 Pasig City- After more than nine months since Motorstar allowed us at IR  to test the first prototype, the the Cafe 400 was officially unvieled to the public today June 11 at the Motobuilds Pilipinas event in Tiendesitas.
The 400cc Cafe is officially the cheapest brand new motorcycle on the market that is expressway legal. Priced at only P140,00 SRP with a special price of P126,000 for cash buyers, the Motorstar Cafe 400 is truly a dream come true for many riders dreaming of travelling far via our ever expanding expressway roads.
It's also great news for builders and retrobike enthusiasts looking for an accesible and affordable base bike for customization. The French designed Cafe 400 has classic lines akin to classic British bikes which make it an ideal choice.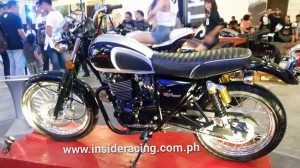 Mr. Bobby Bayon of Eastworld  Motor Industries Corp. the distributor of Motorstar in the country, said that the final specs included improvements to correct some issues that we found during our initial testing. "The engine vibration and response is better and the rear suspension more robust.  It also has minor changes like a single blacked out exhaust system and new colors, " said Mr. Bayon.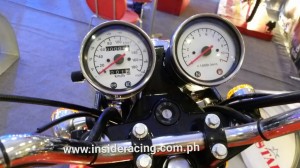 Motobuilds Pilipinas organizer Mr. Zac Lucero od Radio Republic was the first customer and was able to customize the bike in time for the show. "It's so easy to customize this Motorstar! And for the value for money panalo!," he said.
You can read all about our first impression on the bike in last year' s October issue.