IR News: Tight Race Won by Paz as Teopengco Reigns in MotoIR2 Again
Date posted on August 11, 2017
Share this
Round 4 of the 2017 Shell Advance MotoIR Championship in partnership with Yamaha was another thrilling race from start to finish. Held on August 6 at the Clark International Speedway, the 6-lap full track race saw McKinley Kyle Paz, Masato Fernando and Rizaldy Canare in an exciting fray to the finish line.
Early in the race the three were joined by Tracy Soyangco, Vrei-ar Suba and James Mendez in the lead pack. 2013 and 2014 MotoIR champ Canare, Fernando and Paz had their turns in leading the race but in the end, the one who excelled and crossed the finish line first was Paz who races for Phoenix-Yamaha-KOSO-Faito. Fernando of Yamaha-Spec V came 0.095s after and finished second. EGV racing team's Canare came third, finishing the race 0.0679s after Paz. Just like in the third round, differences in the times of the three were very slim, indicating the very close race among them. Best lap time of the race was 2:21.180s courtesy of Fernando.
Soyangco of EGV at some point battled for the second position and stayed with the lead pack all throughout, finishing in fourth place, 0.842s after the first placer. Vrei-ar Suba of Phoenix-Yamaha-KOSO-Faito placed fifth followed by Mendez of Yamaha-Spec V, Herbert Lopez of 4S1M-BRT-Yamaha and Romer Corbe of Yamaha-Spec V. Paul Mark Doblada who races for 4S1M-BRT-Yamaha was hounded with bike problems which made him unable to keep up with the other MotoIR riders and he settled for ninth place.
4S1M-BRT-Yamaha's Jeff Teopengco was relentless in the MotoIR2. This was his fourth consecutive win. Super RR racing team's RR Espiritu finished second and came 7.360s after Teopengco. Phoenix-Yamaha-KOSO-Faito's Niel Jan Centeno finished third. Jacq Buncio of YRS-Kojie San placed fourth and Justinne Bethany Tolentino of Phoenix-Yamaha-KOSO-Faito finished fifth.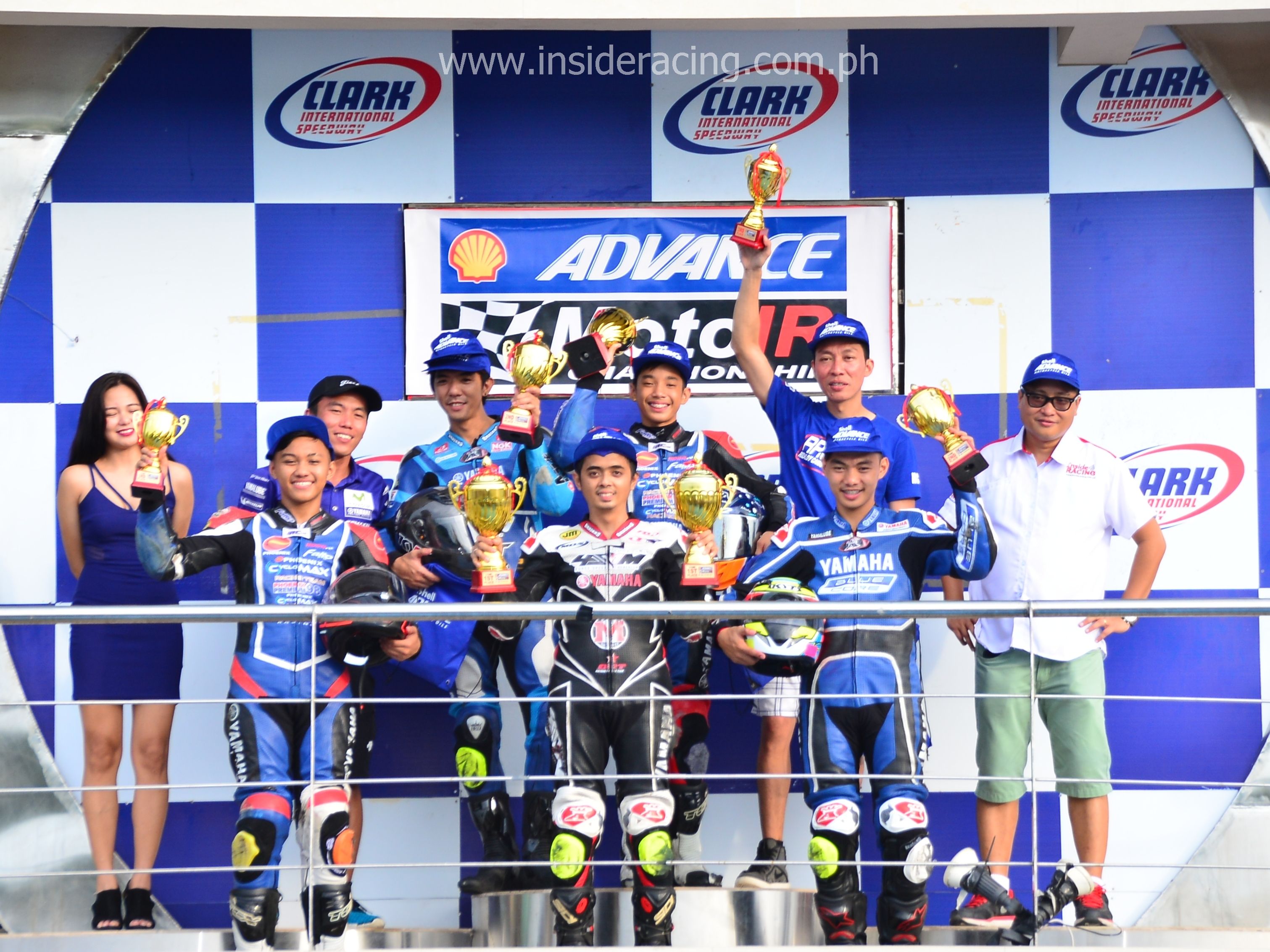 After Round 4, Fernando and Paz were tied at the MotoIR point standings as they both have 90 points. Soyangco has 61, Canare has 42, Doblada, Lopez and Mendez all have 39, Corbe has 26 and Suba has 21 points. In the MotoIR2 point standings, Teopengco is the leader with 100 points. Espiritu has 80, Buncio has 52, Tolentino has 44, Centeno has 42 and McDon Dave Sande has 32 points.
The Unified Sports and Racing Association for Motorcycles, Inc. (USRA) sanctions the Shell Advance MotoIR Championship in partnership with Yamaha. The series is organized by InsideRACING Rounds 5 and 6 are on October 1, at the Clark International Speedway.