IR Update: Aljon Valencia Claims Second Super Scooter Victory
Date posted on August 26, 2016
Share this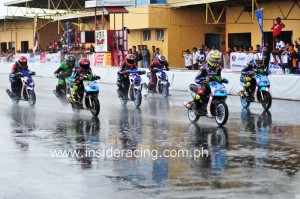 Yamaha-Spec V rider Aljon Valencia from Antipolo, Rizal is back on top of the podium of the Shell Advance Super Series Nationwide Championships' Super Scooter category. Valencia won the said class in the opening of the series last May in Davao and claimed his second victory last August 21 at the Carmona Race Track. The Cavite GP was the 5th round of the Super Series.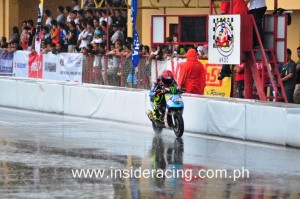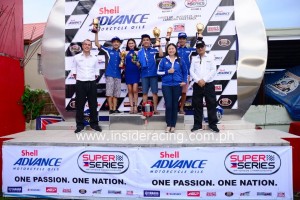 Valencia secured the victory in the 8-lap wet race. His teammates John Emerson Inguito and Masato Fernando finished second and third, respectively. Team Yamaha-Spec V once again showed their strength as a powerhouse team with a 1-2-3 finish.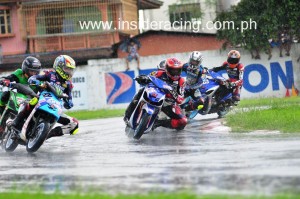 Other riders who joined the race were Dan Carlos, Vingie Coloma and Garry Cañeda Jr. of Yamaha-MW 323 that travelled all the way from Mindanao to participate in the Super Series Cavite GP and Dustin Esguerra from Taytay, Rizal who races for Zebra-Pertua-RK-MTRT-MLW.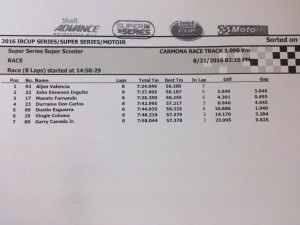 The Super Series is supported by Shell Advance, FDR Tires, Yamaha Motor Philippines and Suzuki Philippines. It is sanctioned by the Unified Sports and Racing Association for Motorcycles, Inc. (USRA). The series is organized by InsideRACING from Luzon and VisMin organizer The Racing Line. For more updates and info about the Super Series, visit insideracing.com.ph and www.facebook.com/InsideRACINGMagazineOfficialPage. The 6th round of the Super Series is on September 24 at the Cebu Kartzone.

Full Report in InsideRACING Magazine.