IR Update: Doblada Rises after Unfortunate MotoIR Round 3; Espiritu Back-toBack Win in MotoIR2
Date posted on August 26, 2016
Share this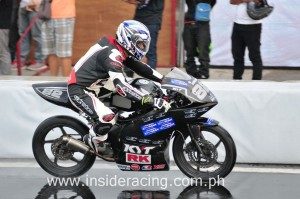 Phoenix Cyclomax-4S1M rider Paul Mark Doblada made up for his disastrous third round by securing the win in Round 4 of the Shell Advance MotoIR Championship Presented by Honda and sanctioned by USRA.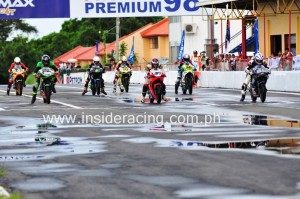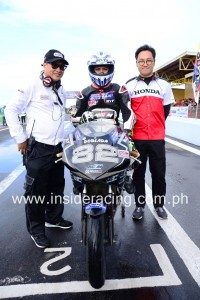 Doblada wasn't able to start and gain points in the third round due to chain problems. Starting on pole again, the Phoenix Cyclomax-4S1M rider made sure to redeem himself in the fourth round which also had 8-laps. Leading the race all throughout, Doblada won the race with third round winner Dustin Esguerra of Zebra-Pertua-MRT-RK-MLW finishing second this time. Robert Matthew Ramos of Honda-MTRT placed third.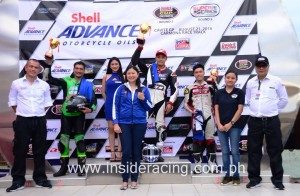 RR Espiritu of Spec V had double wins in the MotoIR2 last August 21 at the Carmona Race Track. He was victorious in the third round and continued his winning form in Round 4. Carlo Calderon finished second again for MotoTan-SEC. This time it was MBF-YRS-SGK Racing's Rafael Lance Ortiz who got the last podium spot as lady rider Jacq Buncio of Top 1 Oil-MBF-YRS-Kojie San settled for fourth place.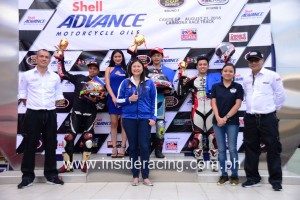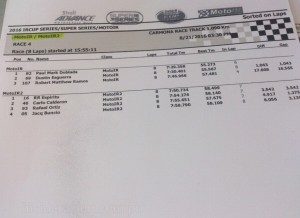 After four rounds Ramos has taken the top spot in the MotoIR standings with 81 points. Esguerra is second so far with 74 and Doblada fell to third place with 70. Herbert Lopez of 4S1M-Sum Racing has 29 points. Espiritu has 95 points and leads the MotoIR2 rankings. Buncio is second with 67 while Ortiz is third with 61 points. Calderon who has 60 points is currently fourth in the MotoIR2 standings .
For more updates and info about the MotoIR Championship, visit www.insideracing.com.ph and www.facebook.com/InsideRACINGMagazineOfficialPage. The fifth and 6th rounds of the MotoIR Championship are on September 4 at the Batangas Racing Circuit.