IR Update: IRBFTSX on Apr 2-3 gathers record number of exhibitors!
Date posted on February 24, 2016
Share this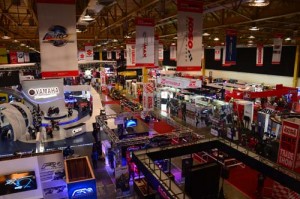 So far, 84 leading companies and brands related to motorcycles will join THE LARGEST EVER GATHERING OF RIDERS and industry people in the country!   It will be the biggest pure 100% motorcycle motorshow in the country and probably in the region.
It will happen on April 2-3, 2016 at Halls A,B,C & D of the World Trade Center Manila! DON'T MISS IT!
The event will also feature the 2nd TORQUE Art & Passion Exhibit, the 3rd IR nationwide Custom Bikeshow Competition, the 2nd IR Nationwide Stuntshow competition and the 1st Biker Builds Exhibition.
There will also be many public launchings of new motorcycles and products, test rides, big discounts, games and raffles everyday!
The annual IR Bike Festival and TradeShow (IRBFTS) was established in 2007 and has grown every eyar since. From its humble beginning at the Silver City Mall in Tiendesitas Pasig , the event  moved on to the bigger venues like the Mega Tent  and  the SMX Convention Center before finding its way to the largest and most prestigious world Class  Exhibition venue the World Trade Center Manila.  It has been the largest pure 100% motorcycle motorshow event of its type  in the country and probably in the region.
IR Bikefest X: The PHILIPPINE MOTORCYCLE SHOW
1              Honda
2              Yamaha
3              Suzuki
4              Castrol
5              Motoworld
6              Petron
7              Wheeltek
8              Kawasaki
9              Motorstar
10           Shell Advance
11           Minton
12           NHK
13           Harley Davidson of Manila
14           Kymco
15           Phoenix
16           BMW
17           Ducati
18           Indian  Motorccycles
19           Pirelli
20           TVS
21           Quickcycle Trading
22           Spec V
23           FDR Tires
24           YSS
25           SSS
26           KOSO
27           IRC Tires
28           OKIMURA
29           APC tires
30           SYM
31           Euro motors
32           Swallow Tires
33           Triumph JT
34           Spyder helemts
35           Access Plus
36           CST Tires
37           Halden Galway (Microtex)
38           Corbridge (Black Mamba)
39           Shell V-Power
40           PTT Oil
41           Hexagon Distributing Corp.
42           Luxuriant Phils. ENI Oil
43           Zebra
44           Sum Racing
45           Imarflex
46           Pirelli Tires
47           Racingboy
48           Denso
49           Option1
50           Triumph JT
51           NGK
52           DID Chain
53           Bendix
54           Sun by Jix
55           BKK
56           Top1 Oil
57           Megatech
58           Road Runner
59           Zebra
60           JM Mirasol
61           Easton (Faito)
62           Easton (RK)
63           Eneos
64           Consumer Care
65           Motul
66           JVT
67           Gulf Oil
68           Motoactive
69           Hitch Pro
70           Dunlop
71           DK Racing
72           Cardinal Racing
73           Threebond
74           Bell Powersports
75           Mark@Work Chrome
76           OBR
77           Moto Garage
78           Pioneer
79           Marketall
80           SEC Helmet
81           Pertua
82           Star Eye (Sorrento)
83           Weird Cycles / Abus MC Locks Products
84           DEUS Manila