IR Update: Mangulabnan and Singson Won for BMW in the Prefinal Race of Pirelli PSBK's Leg 2 in Batangas
Date posted on June 14, 2016
Share this
Rosario, Batangas – Marvin Mangulabnan of Team BMW Motorrad Philippines from Baliuag, Bulacan took his first Pirelli PSBK victory of the 2016 season in a drying track at the Batangas Racing Circuit last June 12.
The PSBK Prefinal race which started at 10 am in the  morning was declared a wet race and the riders were required to change to rain tires. The rain actually stopped when the green flag fell and the track started to dry as the race progressed. Mangulabnan made good of his pole position and led the field going into turn 1 to lead from flag to finish. Mangulabnan won the Expert class and was able to manage his tires on a quickly drying track to finish comfortably ahead of runner-up TJ Alberto of Ducati-Bacchus and Paul Mark Doblada also of Ducati Manila.

Meanwhile, Mangulabnan's BMW teammate Ronald Singson finished ahead of Ducati-Bacchus'  Toti Alberto and won the Masters Class.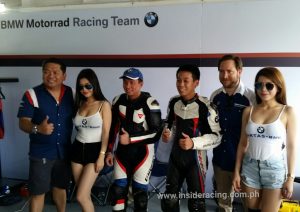 The win was celebrated by the team with BMW Motorrad Phils Director Mr. Gil Balderas and special team guest BMW Motorrad Asia Director Mr. Miguel Llabres-Phol. It was Mangulabnan's second superbike win for BMW as he  also won at the Clark International Speedway last year.
TJ Alberto was thew winner in the Intermediate class while Paul Mark Doblada topped the Novice category in the Prefinal race.