IR Update: Mascardo claims historic first Pole Position by a Filipino
Date posted on June 4, 2016
Share this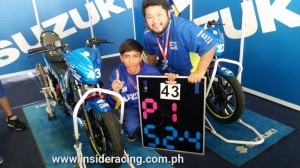 Suzuka, Japan – April King Mascardo of Mindanao and Team Suzuki Pilipinas made history today when the 19 year old rider captured the Pole Position for the 3rd round of the Suzuki Asian Challenge here at Suzuka Circuit in Japan.
The reigning RUGP rider of the year and Super Suzuki Super Series Race winner at the Pampanga GP in Clark Speedway last May delivered on his promise yesterday to improve.
After sitting in 2nd position in yesterday' s morning practice Mascardo suffered minor mechanical issues and dropped down the standings. But today, he never lost his confodence and after effective gearing adjustment by his crew Manuel Chein,  he made history by being the first Filipino to sit on Pole position in am ineternational road race competition. He was able to beat yesterday's fastest rider Jefri Tosema from Indonesia by a big 0.481 seconds!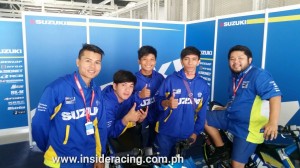 Meanwhile, Rookie EJ Sobretodo from Luzon  qualified 7th which was an impressive result for a Suzuka  first timer. Sobretodo also finished 2nd in the Super Suzuki Super Series race held in Clark last May.
Mario Borbon of Visayas qualified 6th and was part of the lead pack in the early part of the 20 min qualfying Session.
You can watch the videos of the session and rider interviews on our Facebook page.
Race 1  will be run later at 12:20 pm Manila Time. You can also catch it live at Insideracing Facebook Page.