IR Update: Mascardo, Sobretodo and Borbon Jr. of Team Suzuki Pilipinas in the Top Ten of SAC Round 4 Practice 2
Date posted on August 6, 2016
Share this
Practice 2 of the Suzuki Asian Challenge Round 4 in Indonesia was on August 6 and Team Suzuki Pilipinas riders were included inside the top ten of the second practice session.
April King Mascardo was 5th with a time of 2:00.168s followed at 6th place by Eane Jaye Sobretodo and his 2:00.873s output. Meanwhile, Borbon Jr. was 8th with a time of 2:01.666s.
Mascardo slid down two places as he was 3rd in yesterday's Practice 1 while from being 10th Sobretodo improved his rank and Borbon Jr. was steady at 8th place. All three Team Suzuki Pilipinas riders have faster lap times in Practice 2 than their results in the first practice held on August 5.
Just like in Practice 1, Malaysian Muhd Rozaliman Zakaria emerged as the fastest out of the 15 competitors again with a best lap time of 1:59.515s this time.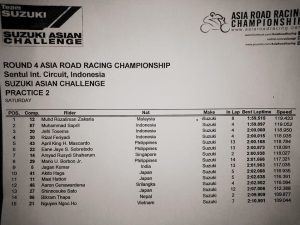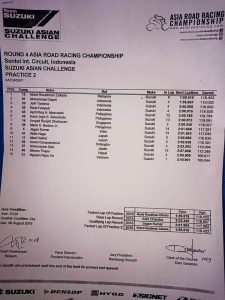 Qualifying of the Suzuki Asian Challenge is also being held today, August 6, at the Sentul International Circuit. Go Team Suzuki Pilipinas!