IR Update: Ramos Ousts Doblada in MotoIR's Second Round; Buncio Takes First MotoIR2 Win
Date posted on June 14, 2016
Share this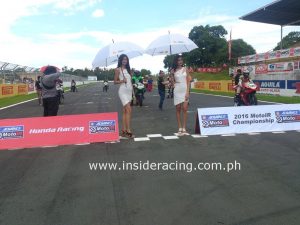 Round 2 of the 2016 Shell Advance MotoIR Championship Presented by Honda was at the Batangas Racing Circuit last June 12. Robert Matthew Ramos of Honda-MTRT who started on pole position prevailed over defending champion and round 1 victor Paul Mark Doblada in the 10-lap race. Doblada settled for second place and crossed the finish line just 0.093s after Ramos. Zebra-Pertua-RK-MTRT-MLW rider Dustin Esguerra finished third while Herbert Lopez ended up at fourth place.
In the MotoIR2 class, it was a historic victory for Jacq Buncio, the only female rider in the MotoIR Championship. Buncio was on pole in her class and continued to impress in the race proper by steadily riding her MotoIR2 race bike up until the checkered flag. RR Espiritu, the first round winner, finished second this time. Rafael Lance Ortiz of MBF-YRS placed third.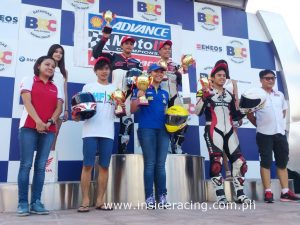 After the second round, Ramos and Doblada both have 45 points in the standings. Both Esguerra and Lopez have 29 points. Espiritu leads the MotoIR2 standings with 45 points while Buncio is second so far with 38. Ortiz has 32 points and Calderon has 20.
The Shell Advance MotoIR Championship Presented by Honda is sanctioned by the Unified Sports and Racing Association for Motorcycles, Inc. (USRA). Rounds 3 and 4 are on August 21 at the Carmona Race Track.