IR Update: Yamaha enters PSBK with SPEC V
Date posted on December 10, 2015
Share this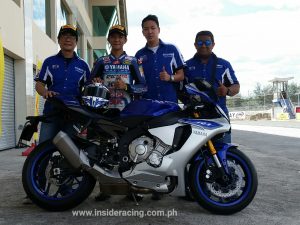 Yamaha Motor Philippines (YMPH) and Team SPEC V formally announced today that they will compete together in the 2016 Philippine Superbike Championships (PSBK).
Team Yamaha Spec V has just recently concluded a succesfull 2015 racing season with championships in the Phil. Underbone King(UBK), Philippine Scooter Championships (PSR), Yamaha GP, IR Cup series and dominated the recent IRGP9.
The partnership that started only this year proved to be a good match which prompted YMPH to move up to the top Superbike Championship coinciding with the launch of their  big bike business.
The team , which will use a brand new 2016 Yamaha R1, made their first public appearance today during the Pirelli Tire Test at Clark Speedway.
Team Principal Charlie Ong and Team Manager Mark De Leon are very excited as well as rider Masato Fernando who now becomes a fully pledged factory racer for Yamaha. " All my years of loyalty to Yamaha paid off! I'm  very happy!"  he said.
The team will start practicing next week. Yamaha joins Ducati, BMW, Kawasaki and KTM in the PSBK Championships.