IR Update: Yamaha-MW 323 Shows Strength Again
Date posted on August 5, 2016
Share this
Led by Bukidnon's Dan Carlos, Yamaha-MW 323 racing team showed a dominance performance in the Super Scooter category of the fourth round of the Shell Advance Super Series Nationwide Championships in Bacolod. Carlos led all throughout the 12-lap race against top scooter riders from all over the country. Garry Cañeda Jr. from Cebu and Davao's Vingie Coloma placed second and third for an all Yamaha-MW 323 podium.

Other scooter racers who joined the Super Scooter class in Bacolod last July 31 were John Emerson Inguito, Masato Fernando and Aljon Valencia from Luzon team Yamaha-Spec V, Team RPM-Sum Racing rider Ephraim Onahon, Rhowell "Bornok" Mangosong of Suzuki-ZIC-BMR, and Bacolod's Kirby Caparon and Noel Lee Debulgado.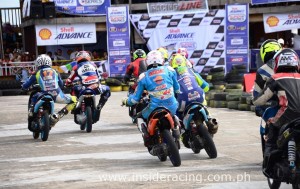 The Shell Advance Super Series is the first nationwide championship series for motorcycle racing. It is supported by Shell Advance, FDR Tires, Yamaha Philippines and Suzuki Philippines. The series is sanctioned by the Unified Sports and Racing Association for Motorcycles, Inc. (USRA). The fifth round of the Shell Advance Super Series will be in Luzon on August 21. The venue is the Carmona Race Track in Cavite.