IR Update: Yamaha's Jorge Lorenzo Will Be Here this January 30
Date posted on January 15, 2016
Share this
The 2015 MotoGP champion will visit the country in line with the inauguration of the Yamaha flagship shop relocated in Greenfield District, Mandaluyong City and the brand's big bike segment in the country. Lorenzo is the fourth MotoGP rider to come to the Philippines in recent years. Other MotoGP stars who have visited were Alvaro Bautista, Andrea Iannone and Valentino Rossi.
Yamaha Motor Philippines, Inc. (YMPH) is all set to welcome the 2015 MotoGP Champion Jorge Lorenzo in the country. After a 2015 campaign that saw him walk away as the sport's best, the Top-Tier rider is in for another honor by being the special guest for the grand launch of the Yamaha Flagship shop and official launch of the Big Bike business.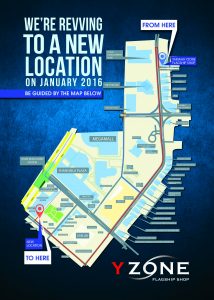 This will be the first time of "X-Fuera" to visit the Philippines; and he brings with him a record of 3 racing Championships and is the most decorated Spanish rider of the MotoGP. A special program for his arrival will take place at the Greenfield District Plaza where legions of fans will be waiting to catch a glimpse of the Superstar who is celebrating the Yamaha Triple Crown award, his Championship, Yamaha's MotoGP Team award, and Manufacturer award for 2015. In addition to that,entertaining the crowd for the night will be local rock icon Bamboo. During the day, Lorenzo will be at the Carmona Race Track for the opening of the Yamaha Grand Prix 7.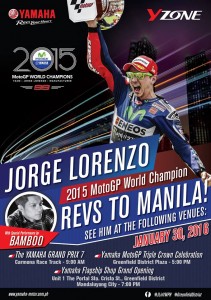 2016 is off to an exhilarating start with a world-class racer at the helm and a new center of motorcycle excellence now open to the public. Being revved for a New Year and YMPH is just getting started.
credit: YMPH