JDM Sports Car -Inspired Yamaha Sniper 150 MXi from Cebu City
Date posted on January 3, 2019
Share this
For this issue we are featuring a JDM Sports Car-inspired Yamaha Sniper 150 MXi. The bike is owned by Louie Abueva, a Software Engineer and also a part-time seller of motorcycle accessories based in Cebu.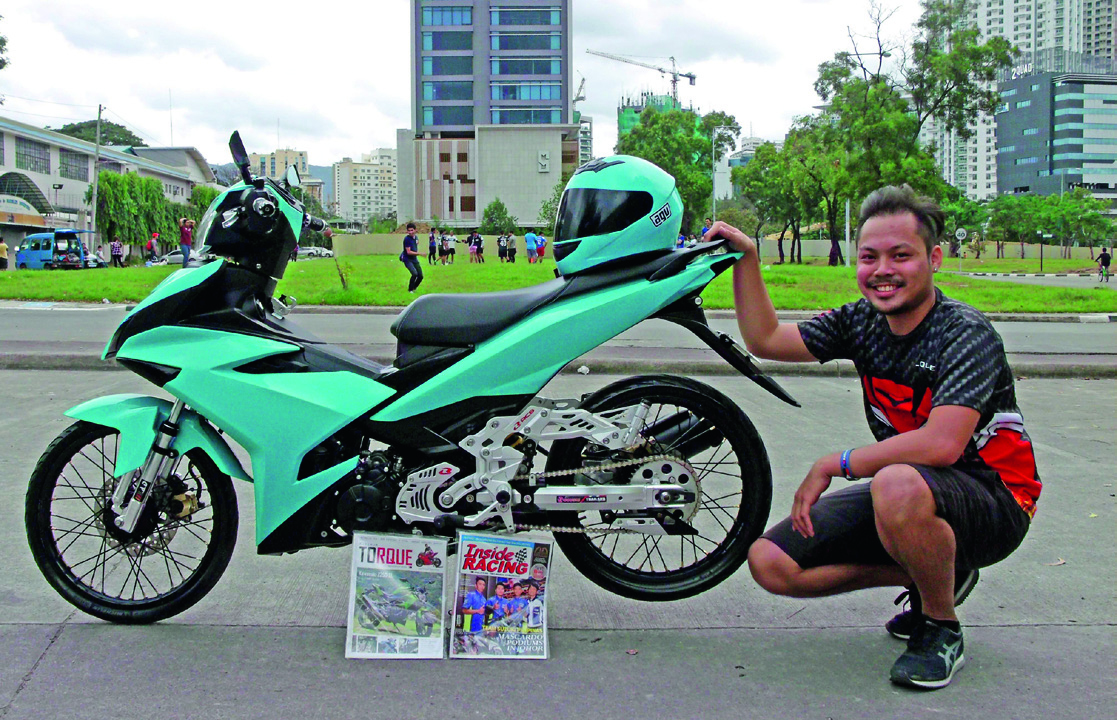 Louie wanted to make the bike "simple but unique" so he opted to take inspiration from JDM sports cars. He admired the simple and sleek colors which are not too loud nor too obscure, that you would fail to notice. He wanted it to be easy on the eyes so he opted to use a cyan and black combo reminiscent of the two-tone Japanese sports cars that you would find during "Hot Imports Night" or in "SEMA Auto Show". Louie shared his journey in modifying bikes and how he got started with this hobby. "It all started when I was in college. I didn't know much about motorcycles then, but because of my club, Carolinian Bike Riders or CBR (first university motorcycle club), I learned a lot about different things like loading and accessorizing. That was what the club was about – sharing ideas, brotherhood and camaraderie. I was the former President of the Carolinian Bike Riders (CBR), co-founder of Bosconian Riders Club (BRC), co-Founder of Josenian Riders Club (JRC), co-founder/Organizer of United University Riders Club (UURC) and one of the admins of Club Sniper MX150i Cebu (CSMC). I love exploring new places, going on rides and adventures. From then on I have been actively modifying my bikes. My first bike was an XRM110, which I still have. The second one was an MX135, followed by a Scoopy and Raider 150 and finally, the Sniper MX150i," shared Louie. The bike sports a varied array of Thai and Malaysian parts and accessories all of which amalgamate seamlessly with the overall theme.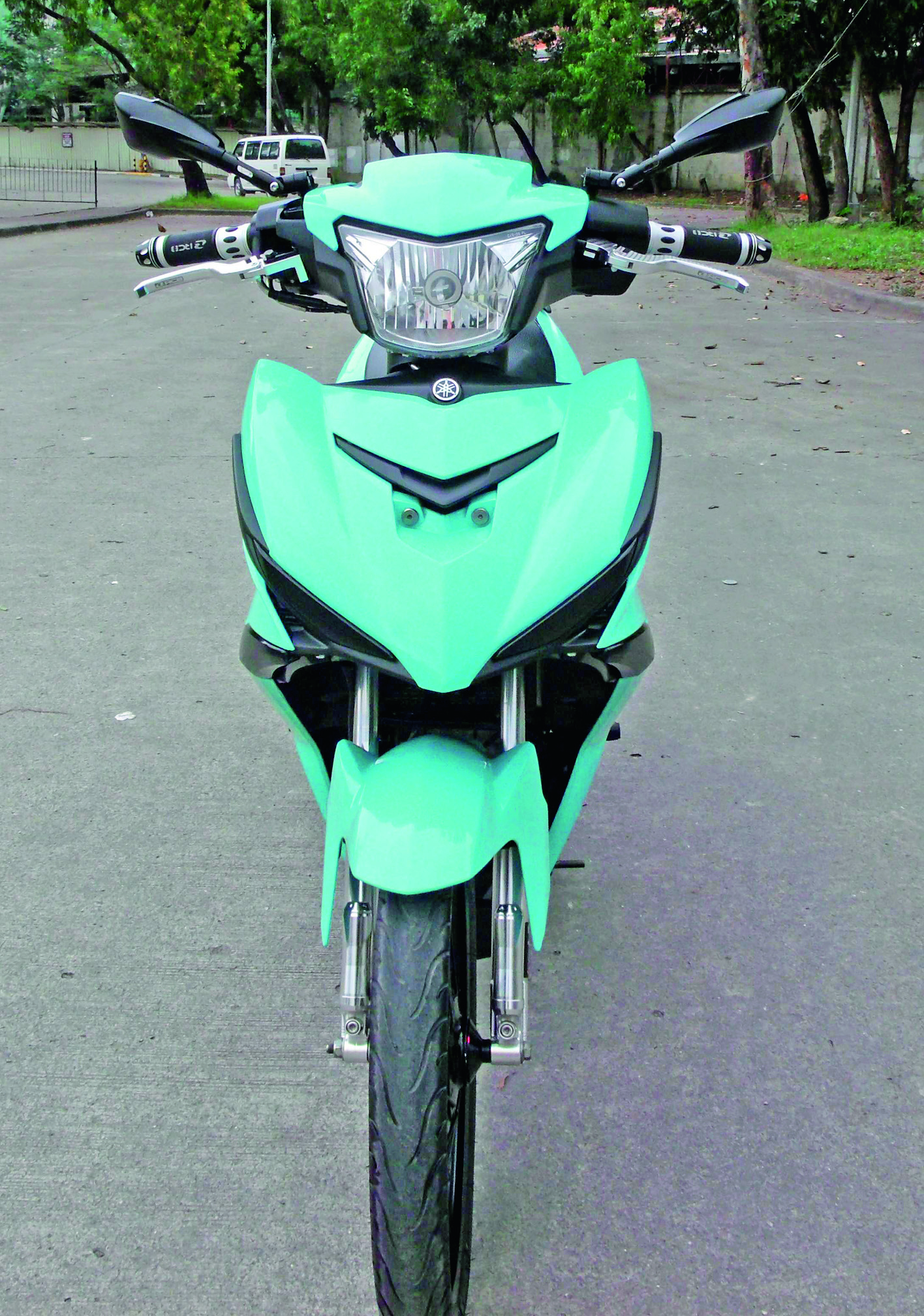 Louie made sure that all the parts he put in would integrate well with the overall look or concept of the bike. "What satisfies me the most with this hobby is finding the right accessory to match the entire concept. When modifying my ride, I make sure to stick to the theme, which makes it both challenging and satisfying,"Louie added. Louie wanted to use rims for the bike but there are no ready-made kits for the Yamaha Sniper 150 MXi so he sought the help of Micheals Motoshop for the conversion of the rim set. They used X1R front and rear hubs, Comstar Rims and Osaki spokes. For the sleek paint job, he tapped the expertise of Kevin Dunn James Palao, the owner of Madz Creation. For the bike's aesthetics, Louie used Option1 side mirrors, Racing Boy handgrips, bar ends and rear set. He also upgraded the front suspension to BAD front shock assembly. Louie also used Boushi swing arm V2. Aside from that he also had the rear fender custom-made. For the electrical mods, he opted to use Mody5 rear signal lights which complement the minimalist look of the bike. "It was really challenging to find the parts that I wanted in Cebu so majority of the parts had to be shipped from Manila," Louie said. Louie has this message to close our interview: "First, I'd like to thank God for guiding me and for continuing to bless me. I'd also like to thank my girlfriend, Mishael Mendoza, for her support and guidance.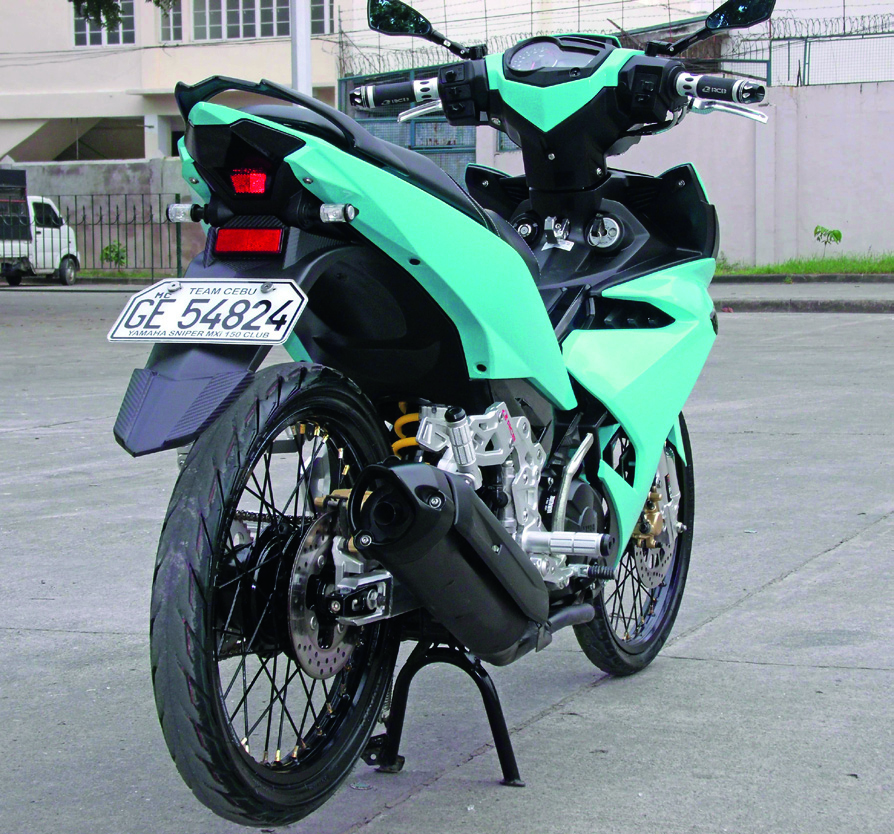 Thank you to my family, my parents Maximo Luis and Jocelyn Abueva and my siblings Michelle Louise and Marc Lawrence who have been extremely supportive. Most times, they pay for the entrance fee for the motor shows and help me bring the bike to the show. I would also like to thank Joshua Alsado, the owner of Wawerks, for installing my accessories; Titing of Type E for working on the electrical wirings; Final Drive for the quality tint; KhenJhun Whu for the customized and unique design of my winker; Micheals Motoshop for the conversion of the rim set; Kevin Dunn James Palao, owner of Madz Creation, for doing the paint job and maintaining it; Jujit Espiritu of JL Trading; to my team, Insik Inside; and my club Carolinian Bike Riders and Club Sniper MX150i Cebu for their undying support. If you're looking for real estate properties, you may contact Michelle Louise Abueva, owner of MLAbueva Real Estate Ventures. If you're looking for motorcycle accessories, you may contact me through Facebook, just search "Louie Abueva". I am the owner of LA Motoshop. Thank you very much to InsideRacing Magazine for featuring my bike.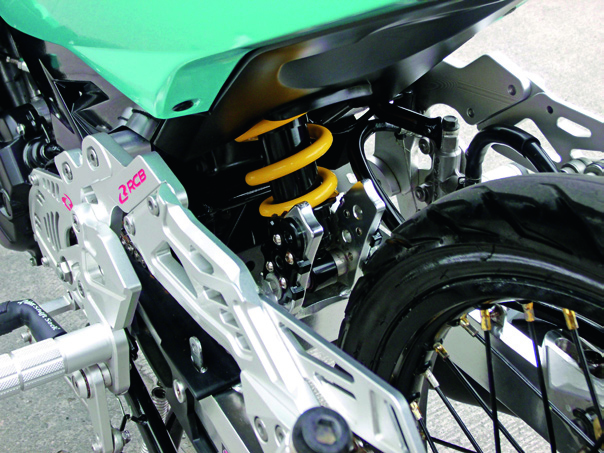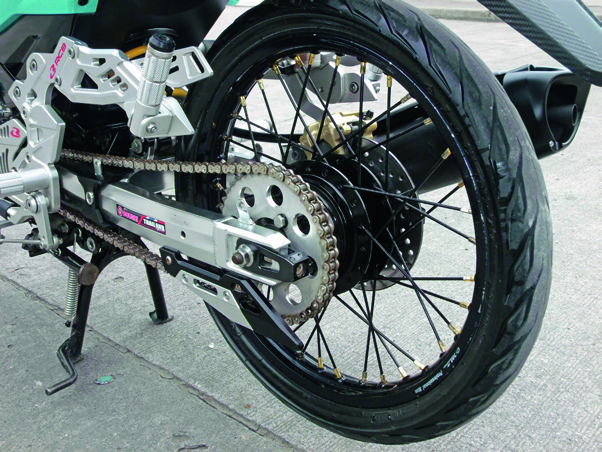 "What satisfies me the most with this hobby is finding the right accessory to match the entire concept. When modifying my ride, I make sure to stick to the theme, which makes it both challenging and satisfying." – Louie Abueva
MODIFICATIONS
YAMAHA SNIPER
Parts And Accessories Used:
Option 1 side mirror
Racing Boy handgrip
Racing Boy bar end
Rizoma helmet hook
BAD front shock assembly
Boushi swing arm V2
RCB rear set V6
Mody5 rear signal lights
Customized rear fender
Nitex Rad cover
X1R front and rear hubs
Osaki spokes
Comstar rims
Osaki engine and chain
SSS rear chain