Joker Inspired Yamaha MIO Scooter
Date posted on December 2, 2019
Share this
For this issue we are having a double feature the bike and the owner/artist behind it. The bike is owned Franco "Cocoi" Harbay Jagape it is a modified Yamaha MIO with a Joker theme.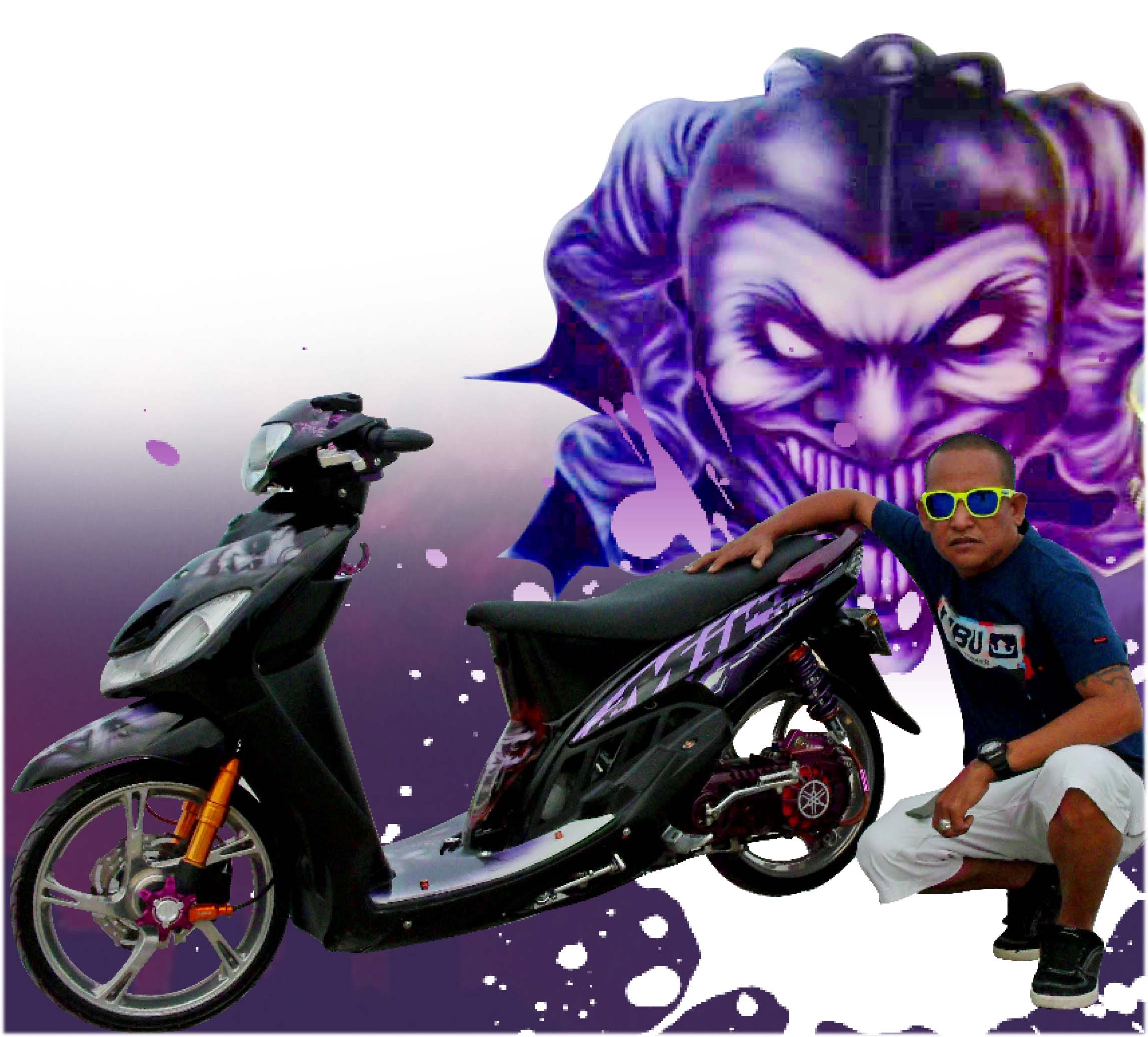 Cocoi as he is popularly known in Visayas and Mindanao is a rising airbrush artist based in Cebu. The bikes that he has worked on have been a steady fixture in the bike show scene in Cebu and reaching competitions as far as Mindanao.
Cocoi traces his humble beginnings in his hometown Medina Misamis Oriental he finished college in Don Mariano Marcos Memorial Polytechnic State College in CDO.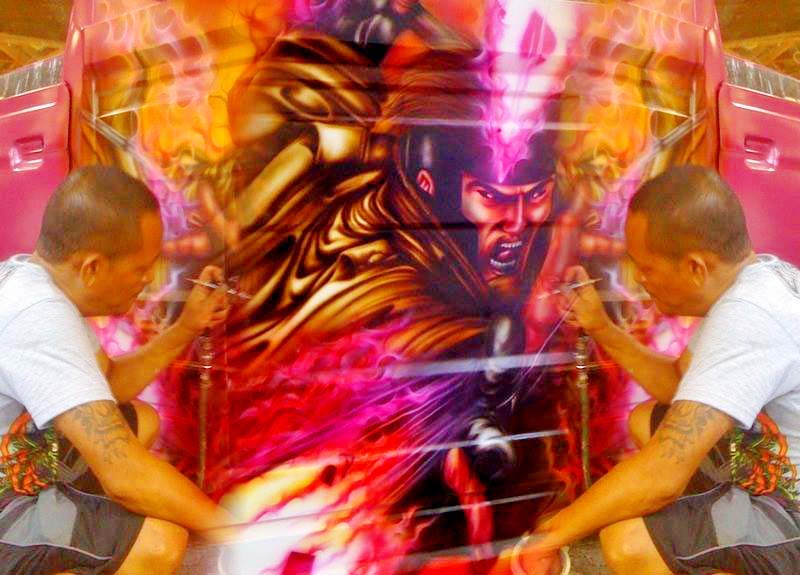 During that time he was already into contemporary art but his canvas of choice during that time was way far from the motoring world.What really got him started as an airbrush artist was his friend the late Larry Nelson an Ex US military who retired in Cebu. He gave Cocoi his first set of airbrush while he was working in Cebu Yacht Club. Larry convinced and encouraged Cocoi to pursue the path of being an airbrush artist.  He started with Yachts, Kayak's, Jetski's, Powerboats then as time went on he progressed to jeeps, cars, custom trucks, helmets and then custom motorcycles.
Now going into his modified Yamaha MIO. Cocoi wanted the bike to look dark and sinister just like the Joker so he used dark colors and deep violet colors to emphasize the theme. He also selected the parts he put on the bike carefully so that it would integrated seamlessly into the overall theme.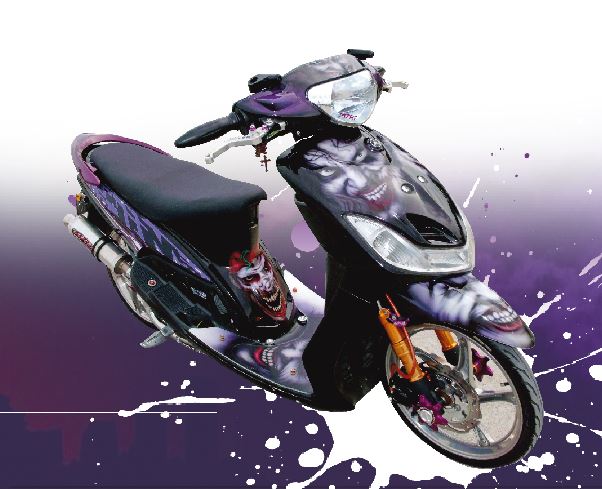 The bike also sports mean engine mods without sacrificing fuel economy. It has an 59mm MTRT Block with MTRT Valve, JVT pulley and clutch spring. It also sports a HI-Speed Muffler. For the brake and crankcase he uses Morin hoses. For the suspension he uses Combiz front shocks with Panom lowering adaptor and RGS rear shocks. The bike also uses Bikers front and rear axle end locks. He built the bike with the help of his good friend Michael Parba who helped him with the electronics and building the bike.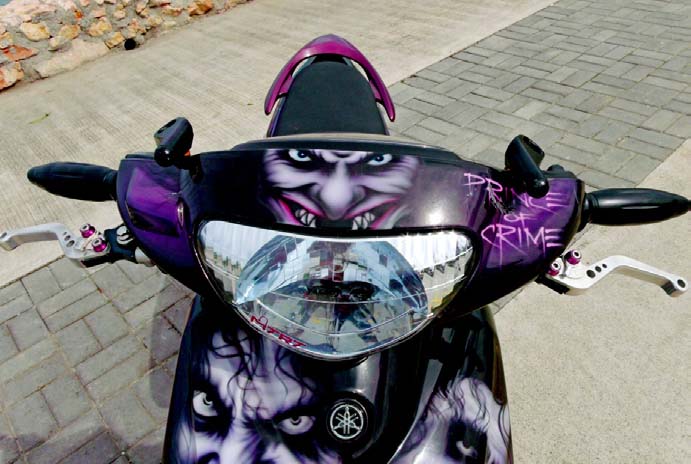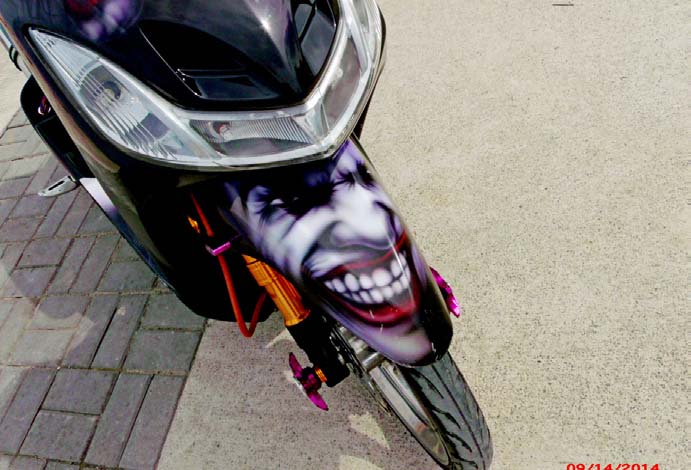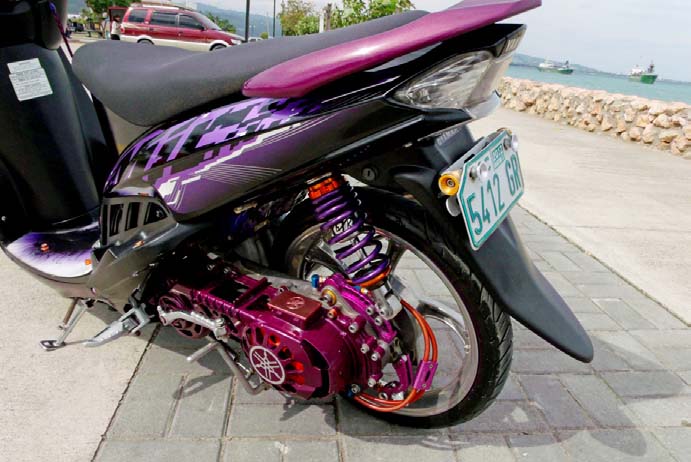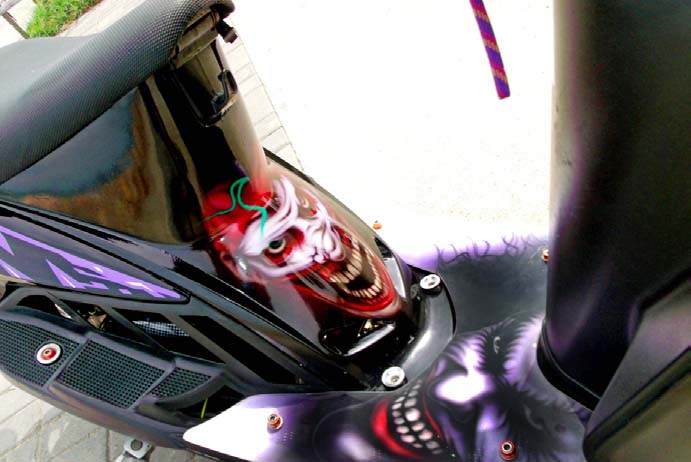 Yamaha MIO Scooter Modifications
59mm Mtrt Block
Mtrt Valve Spring
Mtrt Clutch Spring
Hispeed Muffler
Morin Brake Hose
Morin Cranckcase Hose
Panom Lowers Hock Adaptor
Panom Brake Arm
Bikers Front Axle End Lock
Bikers Rear Axle End Lock
Jvt Pulley
Dbs Front Disk Plate
Rgs Rear Shocks
Combiz Front Shocks
Buffed Original Alloy Rims
Quick Tires
*This article was published in InsideRACING's  Volume 12 Number 11  2014 issue.