JV Ejercito: Barrier is A Symbol of Unnecessary Over Regulation
Date posted on August 9, 2020
Share this
The barrier shield mandated by the IATF for backrides coming from the same household has continued to garner criticisms among riders, manufacturers, engineers and motorcycle experts.
In a tweet early Sunday sent to IR Nation, former Senator JV Ejercito said,

"While the effort of Angkas to come up with a barrier made of good materials to make it 'safer', this barrier has become a symbol of unnecessary over regulation. Hindi na po talaga kailangan ito! 'Wag na tayo gumawa ng regulasyong dagdag pahirap!"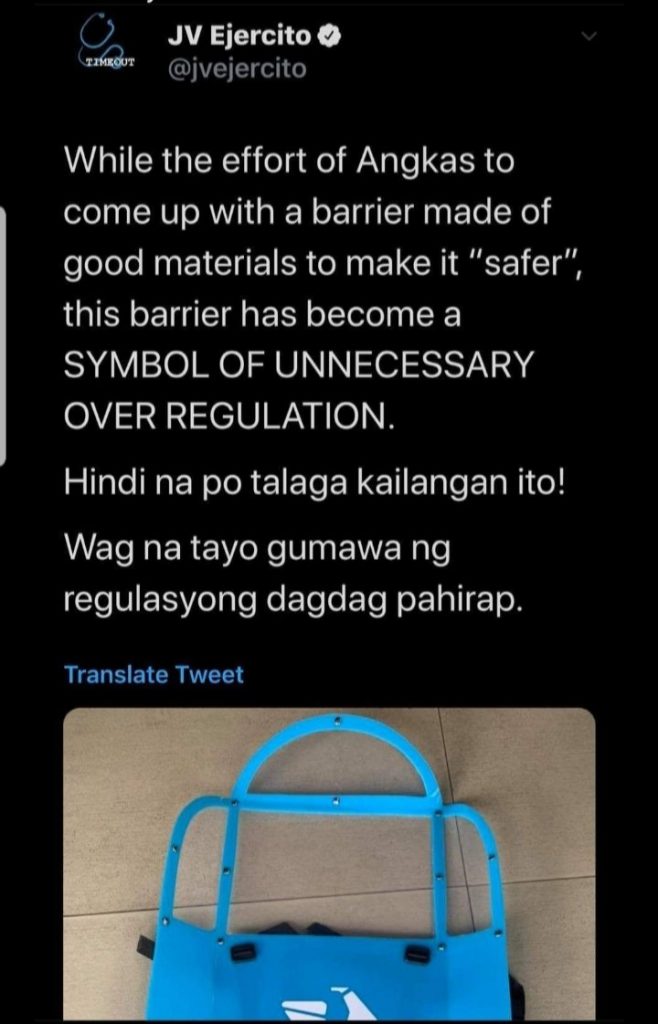 He was referring to one of the two types of prescribed barriers by the IATF.
While the effort of ANGKAS, a motorcycle hailing app, was done in good faith, many riders, including the former Senator who is an avid motorcyclist, see it as helping to further the cause of the barrier policy.
Aside from the additional financial burden that it will cause ordinary riders, the barrier has been deemed unsafe that may cause accidents by the manufacturers, engineers and riding community experts.

The national group Riders of the Philippines (ROTP) has released an official statement that their position against the motorcycle barrier shield has not changed.

Also last month, the four Japanese manufacturers Honda, Kawasaki, Suzuki and Yamaha have officially stated that there is no scientific proof that the installation of the barrier can prevent the spread of COVID 19. Therefore, the dangers outweigh the perceived benefits.
Furthermore, according to some members of he medical community, the riders' jacket, gloves and helmets with shield and face mask can already be considered as Personal Protective Equipment (PPE), and with the added measure of hand sanitizers, motorcycle back riding for couples comibg from the same household can be safe without resorting to barriers.
In defense, the IATF said that the accidents were caused by improper installation or using unapproved barrier designs. IATF said that riders should also follow the speed limit to avoid accidents. They also told motorcycle enthusiasts and experts to leave the pandemic prevention measures to the government.
Once again, leaders of the community are kindly seeking reconsideration from the government.
Since August 1, the PNP has began apprehending riders not using the prescribed barriers.