JVT Scooters Fastest Privateer Award
Date posted on November 19, 2012
Share this
The "JVT Scooters Fastest Privateer Award" will be given to the highest finishing rider in their respective racing classes during Sunday's Races.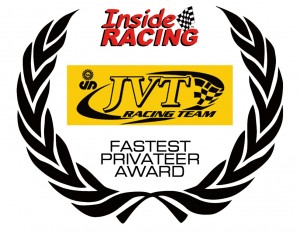 The "Motolite InsideRACING Grand Prix" is the biggest annual year-end tradition for the country's motorcycle road racing fans as it aims to provide a "GP" style race event to the local racers and teams. It is a prestigious annual event where top local racing teams and riders participate. It is sanctioned by the Underbone and Scooter Racing association (USRA).

JVT Scooters started participating in the IRGP races since the introduction of the automatic classes in IRGP2, taking part in the glory and unforgettable moments the prestigious race event is known for. Last year in the IRGP5, JVT was a proud sponsor and provided the Fastest Privateer and Manufacturers Awards in all the race classes. This year, JVT is again in full support of the IRGP6 providing the Fastest Privateer Award in all race categories.


The team headed by Mr. Abid Chou has been a powerhouse bagging two championships (160cc and 180cc Automatic PSR class) in the 2012 FDR Tire Philippine Scooter Racing Championship wherein the team dominated most of the races with its riders more than once submitting an all-JVT podium cast as well as double wins in the three-category race. JVT riders also performed well in the 2012 IR Cup Series. JVT also aims to enhance our local riders' riding skills by giving them international exposure to race with foreign riders and learn things to improve their racing abilities. In line with this, two JVT riders were sent to the Taiwan Summer Race last July and they proudly represented and competed for our country. With the strong performances the team is showing in every race they took part in, JVT Scooters is a force to be reckoned with in the IRGP6 and they are one of the teams to watch out for in the celebrated race event.