JVT Scooters' Inguito is the new 2014 Underbone King
Date posted on October 8, 2014
Share this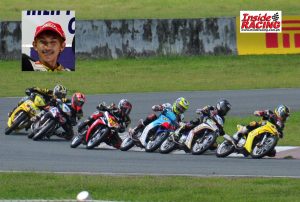 The finals of the 2014 FDR Philippine Underbone King Championships last October 5 at the Clark International Speedway has been thrilling just like its previous races and after a 10-lap battle, JVT's John Emerson Inguito emerged as the new Underbone King after topping the standings in the main 150cc Open UBK class.  The race was onceof the most exciting as the duel between Inguito and main championship rival Herbert Lopez lasted until the final lap.
It was JVT Scooters' second underbone championships having won the IRGP7 Master Trophy last year with Johnery Enriquez.
NHK-Racewell's Tracy Soyangco won the tight race with Inguito finishing second and Herbert Lopez placing third. John Lery Enriquez, who is now racing again after suffering from an injury early in the season finished fourth. Masato Fernando of Team Spec V was fifth in the race while Niño Fabian, the outgoing 2013 Underbone King, settled for sixth place. The difference between the total times of these riders was very small, proving how close the race has been.
The FDR Philippine Underbone King and FDR Philippine Scooter Racing Championship are organized by BRCA and sanctioned by the Unified Sports and Racing Association (USRA) for Motorcycles, Inc. The six round national championships were held in Batangas Racing Circuit and Clark International Speedway. The champions will be awarded at the prestigious Golden Wheel Awards in 2015.
More detailed reports and photos to follow in InsideRACING magazine.