2014 Kawasaki ZX 10R Track Ride Review: The Legend at its Best Ever!
Date posted on December 5, 2019
Share this
The 30th Anniversary Ninja ZX-10R is the best ever Ninja motorcycle on the planet, but surprisingly, one  the easiest to ride fast.
From the eighties till the early 2000, the superbike market has always been dominated by the Japanese giants with the exception of Ducati, whose world superbike track success was translated into sales.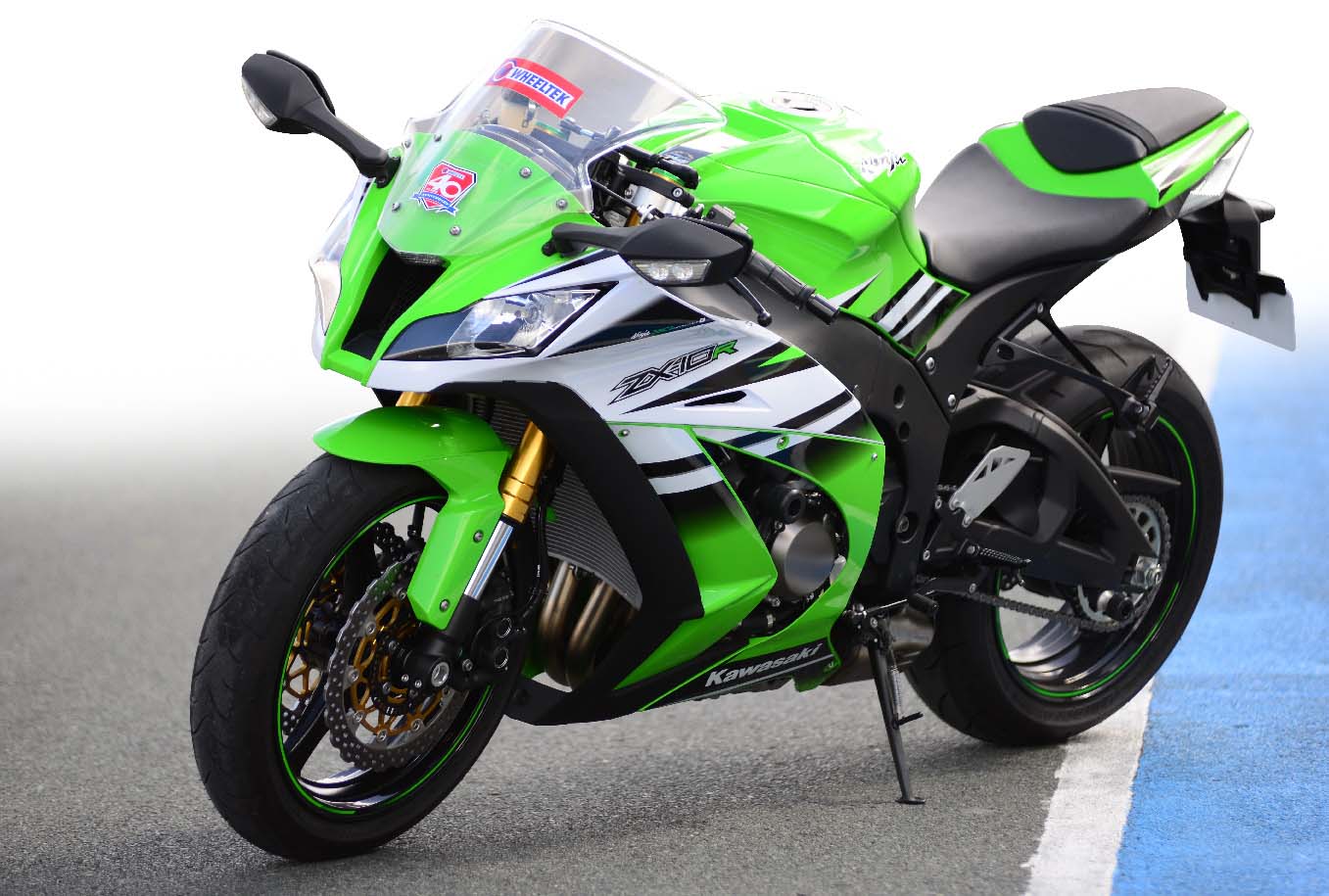 It all started in 1984 when Kawasaki introduced the mighty Ninja 900 that Tom Cruise rode in Top Gun.  Since then, Suzuki's GSX-R models, Yamaha's R1 and R6, Honda's VFR, VTR and CBR and of course, Kawasaki's Ninja lineup,  have all dominated the racetrack and showroom floors worldwide for nearly two decades both in the open and middleweight segments.
That all changed sometime in 2008 when the global economic recession hit the global big bike market hard. The super sport market imploded and the biggest losers were the more affordable mainstream Japanese brands.  It was also an opportune time for the Europeans to take hold of this segment as buyers of premium brands were generally less affected. It did not hurt that BMW introduced the ground breaking S 1000 RR, Aprilia its highly effective RSV4 and MV Agusta even renewed and upgraded the F4. Meanwhile, the Japanese, more or less, decided to hold their guns and regurgitate existing models with minor changes in colors or specs to wait out the sales slump.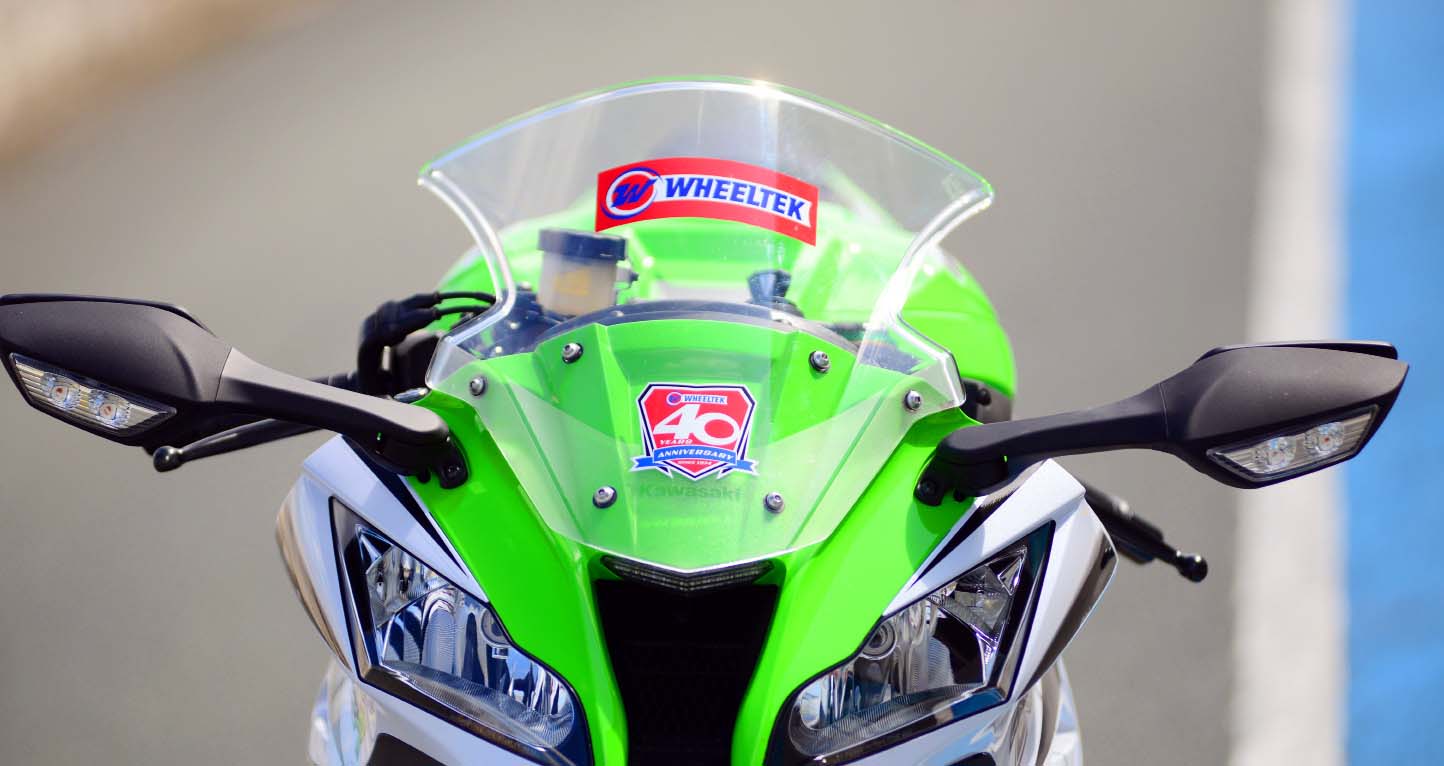 However there was an exception, the Kawasaki Ninja ZX-10R. After pulling the plug on its MotoGP program, the company wisely decided to focus its scare resource on production bikes and was rewarded both in sales and in racing as it managed to win the Superbike World Championship in 2013 with rider Tom Sykes, the year of the Ninja's 30th anniversary. The ZX-10R with its advance electronics and track focused design was the only Japanese bike able to go toe to toe with the mighty BMW S 1000 R, Aprilia RSV4 and Ducati Panigale when they were introduced. First introduced in 2011, the 10R was competitive right off the showroom floor and was well ahead of its Japanese rivals. It was further enhanced in the past years culminating in the bike track tested here.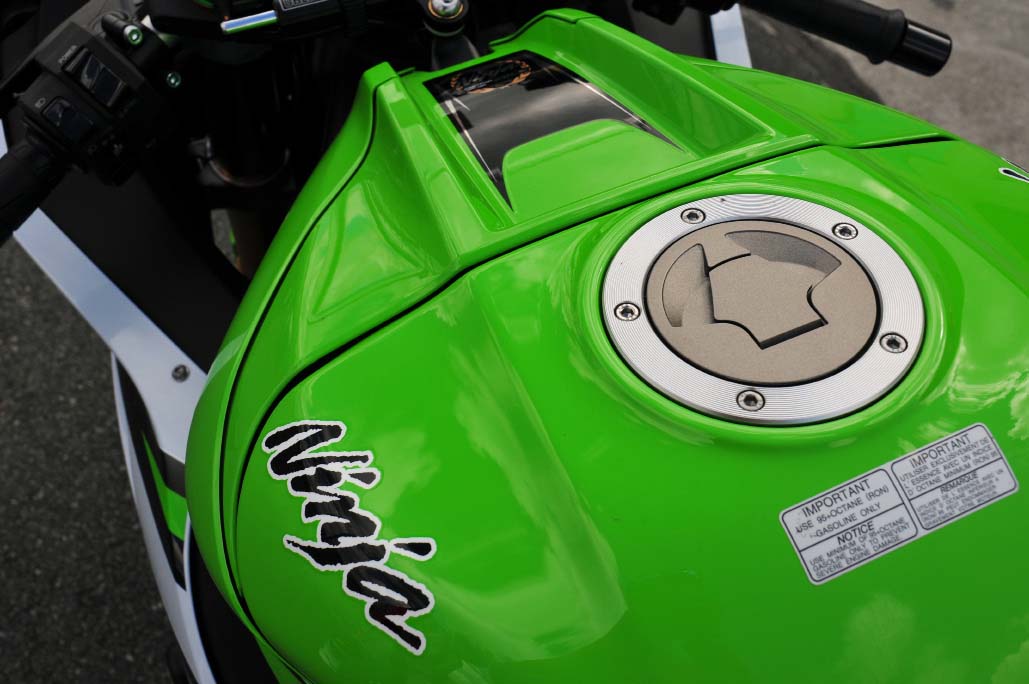 Kawasaki celebrated both the world championship and three decades of the Ninja brand with the Ninja ZX-10R 30th Anniversary edition model.  It has a special graphics featuring Lime Green/Pearl Stardust White paint with 30th Anniversary badges on each side of the fairing. Under those special graphics is a 998cc inline four-cylinder engine, with its 76mm x 55mm oversquare bore and stroke dimensions producing over 200hp and sends it to the rear wheel by means of a six-speed transmission.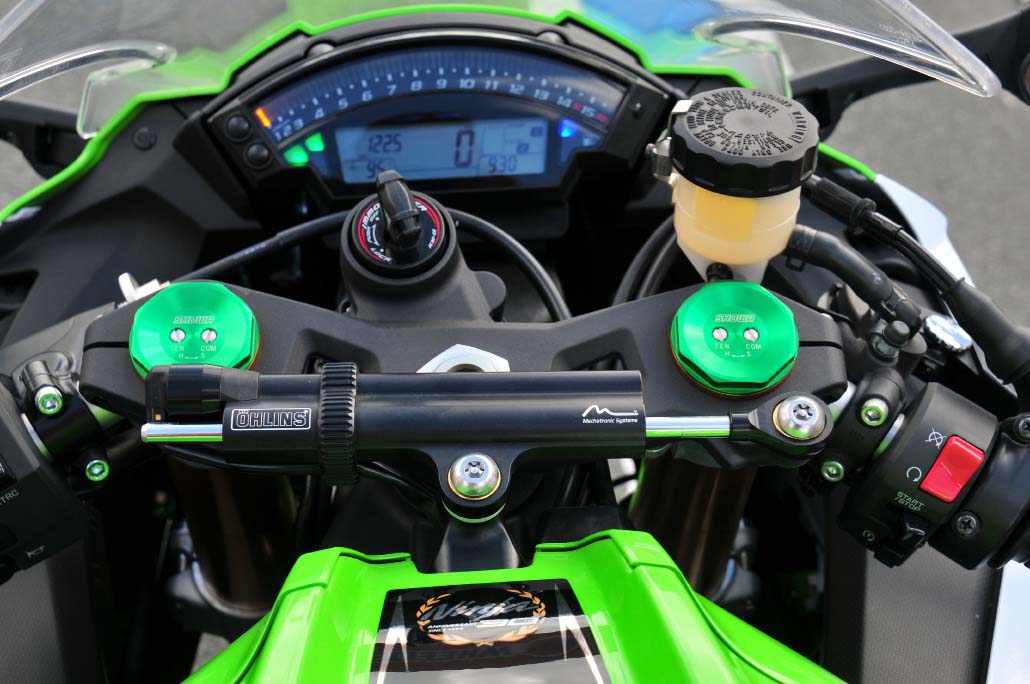 Key features of the ZX-10R is the  aluminum-frame, Öhlins-Kawasaki electronic steering damper; three-spoke cast aluminum wheels; Sport-Kawasaki Traction Control (S-KTRC); Advanced Kawasaki Intelligent Antilock Braking System (supplied by Bosch); a Power Mode selector; a Showa Big-Piston Fork; a slipper clutch (to prevent wheel hop under extreme deceleration); a titanium exhaust; race-oriented LCD instrumentation; and footpegs that can be lowered an additional 15mm for street riding our touring.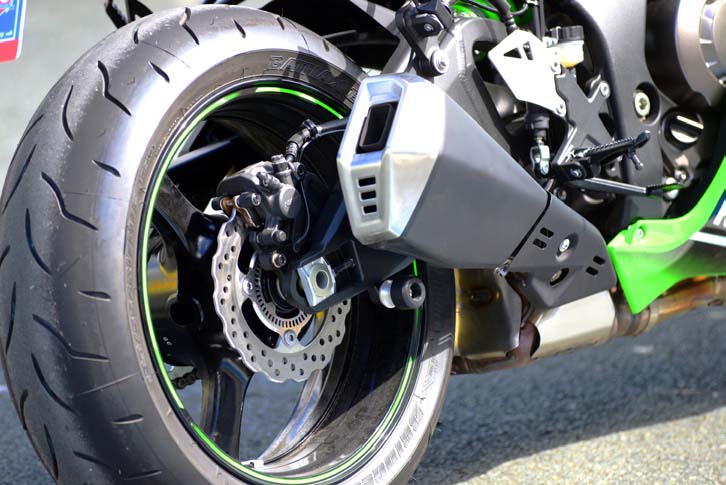 With Clark International Speedway (CIS) as our playground, WHEELTEK, let us loose on the mighty ZX-10R! Our test team got to sample a world-class superbike with the latest electronic gizmos and it was indeed a treat and actually surprised a couple of us.
One of the biggest surprises is that the big ZX-10R was not at all intimidating to ride on the track. The combination of Kawasaki Traction Control, Power Mode Selector and slipper clutch gave so much confidence to the rider that allows him to ride faster and safer.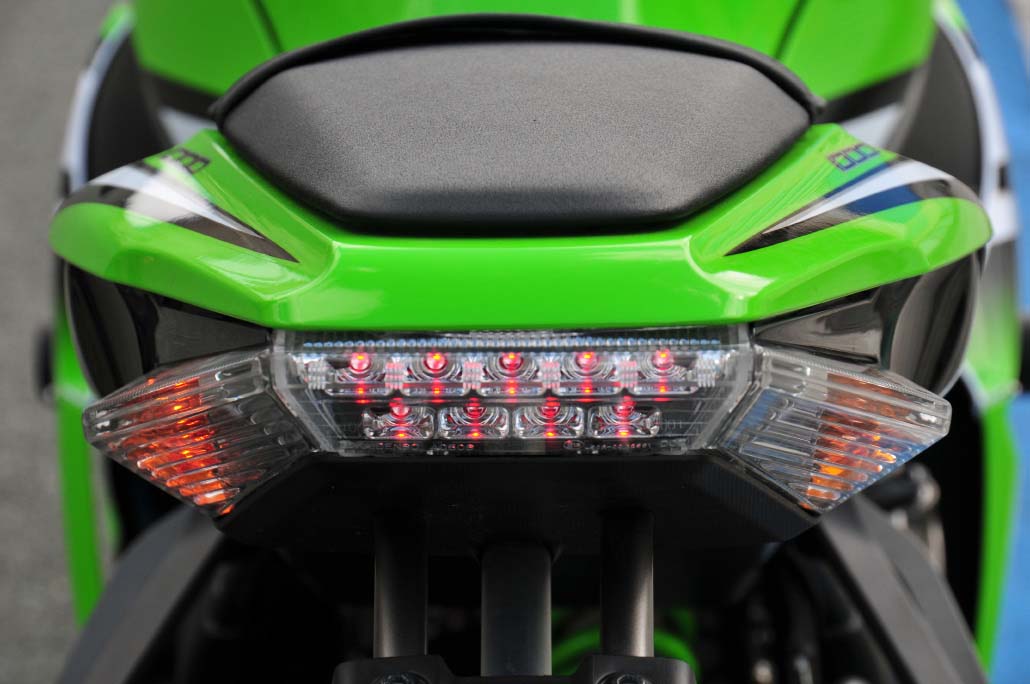 The slipper clutch has got to be the best riding aid for riders with average sport riding skills as it prevents the rear of the bike from skipping during downshifts when entering a corner. This eliminates the nervous feelings created when a rider is not so good on the clutch during downshifts for rev-matching which usually causes bike and engine instability issues while leaning in.
Meanwhile, the Power Mode Selector was useful as you can work your way up the power levels as your confidence and skills improve with more time on the bike. Similarly, the Traction Control can be dialed down or completely turned off.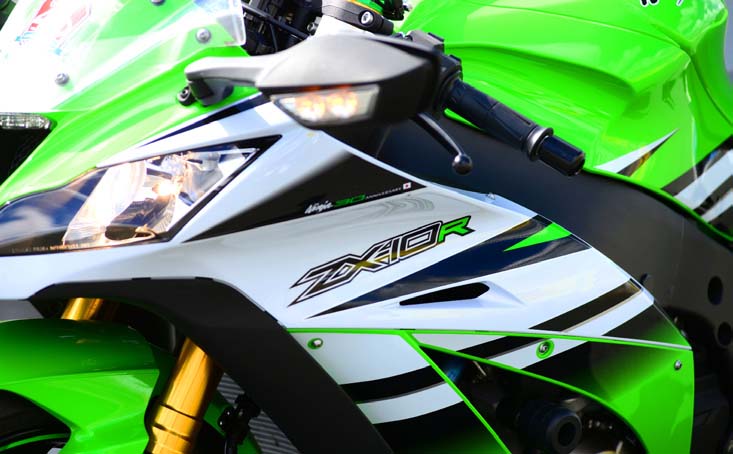 Another surprise is the handling which is quite nimble and light despite its slightly longer wheelbase compared to other sportbikes. The Big Piston suspension fork is a very impressive Japanese OEM part and really makes the bike feel very composed on the track. It is a little complicated for novice riders to adjust, but once you are happy with a  setting it doesn't  hurt to stay with it unless you will compete or race seriously. You need to be a very good rider to really fine tune suspension for a race.
Among the three bikes that we were testing that day, we found the lime green superbike to be the most enjoyable and most addictive bike to ride. It ended up being the most used bike by most testers. This says a lot about this bike; it has world- beating power and handling, yet you can set it up to be ridden safely by an average sport rider.  Now anybody can feel like Tom, whether its Tom Cruise or  Tom Sykes, the Ninja can adapt!
*This article was published in InsideRACING's  Volume 12 Number 11  2014 issue.