2013 KTM DUKE 200 First Ride Review: Ready to Race!
Date posted on September 5, 2019
by Al Camba
Share this
This hyperactive and glamorously styled KTM Duke 200 is a triumph in product design for the Austrian company for it is able to offer most of KTM's brand appeal and brand values in a package that is affordable for the greatest motorcycle market in the world – the Asian market. No doubt, the Duke 200 can confidently excite and convince the rider of its "Ready to Race" heritage.
KTM is an Austrian brand originally founded in 1934. It started out as a metalworking shop and was named 'Kraftfahrzeug Trunkenpolz Mattighofen' and in 1937, it started selling motorcycles. For many decades KTM was mainly known for their off-road motorcycles around the world but in recent years it has expanded into Grand Prix road racing and street motorcycle production.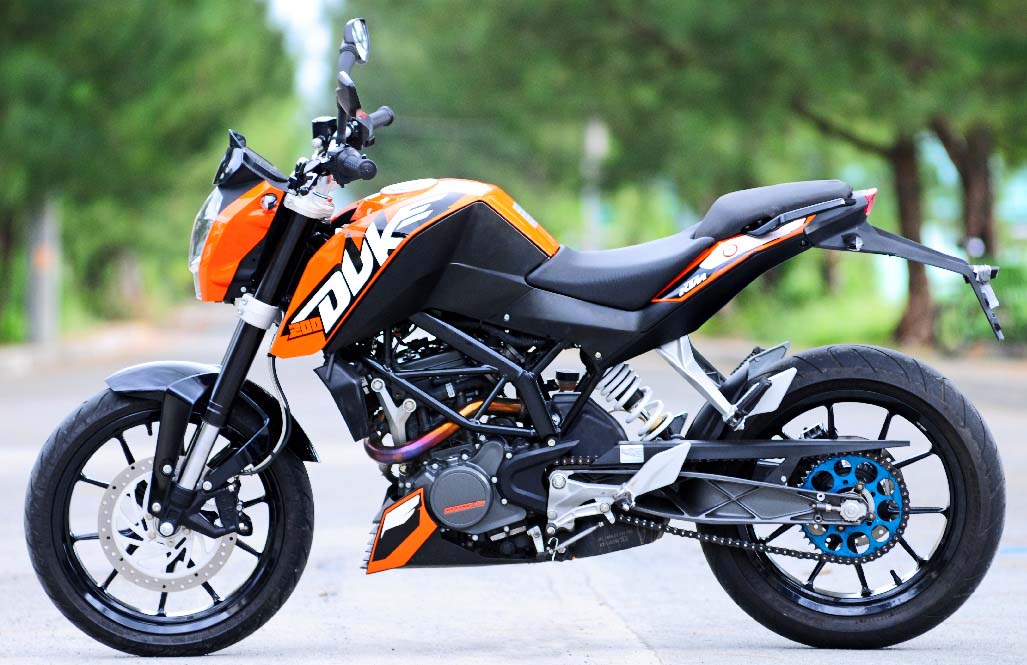 In November 2007, Indian manufacturer Bajaj Auto acquired 14.5% stake in KTM. The two companies have signed a cooperation deal, by which KTM will provide the know-how for joint development of products, and Bajaj will take over the distribution of KTM products in India and some other Southeast Asian nations, including the Philippines. By March 2012 Bajaj Auto have increased their share and now holds a 47% stake. KTM has been able to combine the technology of KTM and the cost effective mass production techniques of Bajaj to offer bikes at competitive prices. KTM could now create entry level bikes and small displacement bikes that are real KTMs at competitive prices. It is because of this alliance that KTM managed to grow and exceeded their sales targets for 2012 in Europe despite the tough times in that continent and has increased their presence in other big markets like India and Asia.
One of the first completely new bikes developed under the alliance was the KTM Duke 125 launched in Europe in 2011 and became one of the best selling small bikes in Europe for that year. The small bike designed by KTM in Austria and manufactured by Bajaj in India develops 15HP and was a big hit in Europe where it qualified as a learner bike for restricted new riders. Its success was brought about by its truthfulness to the KTM product expectations.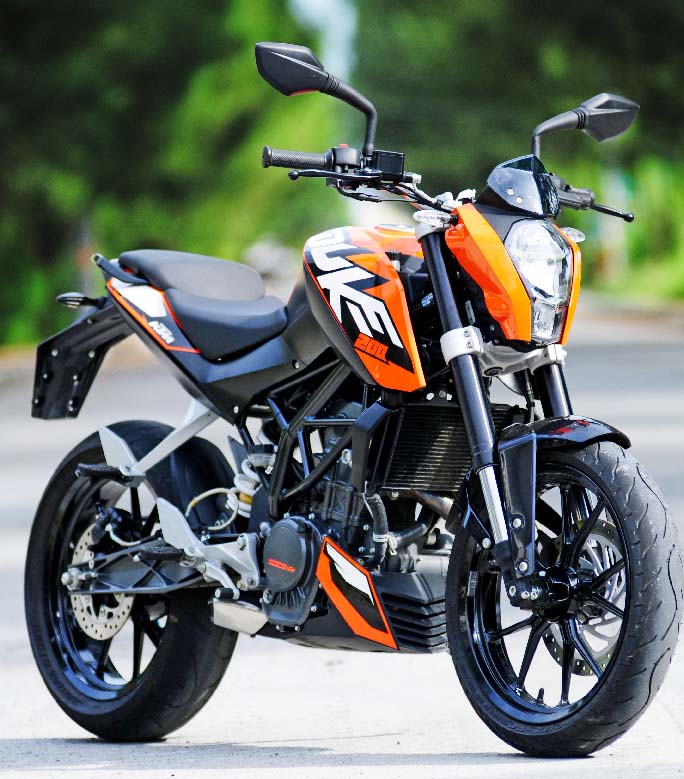 It was a good thing that our local KTM distributor Access Plus opted to wait and passed on selling the Duke 125 and instead waited for the much bigger Duke 200 model which officially made its world debut in early 2012. The Duke 200 produces almost twice the horsepower of the 125 which gives it more street credibility that is more apt for our market here. It is also better positioned to communicate the KTM brand's "Ready to Race" brand values and excitement to the smaller bike market. When you see it, it's a baby KTM no doubt! It looks very much like the other bigger Duke models in the KTM family. Adorned in its trademark KTM orange and black edgy bodywork and styling, the parts and hardware collection appear to be high-tech and expensive! No doubt, the Duke 200 can confidently excite and convince the rider of its "Ready to Race" heritage.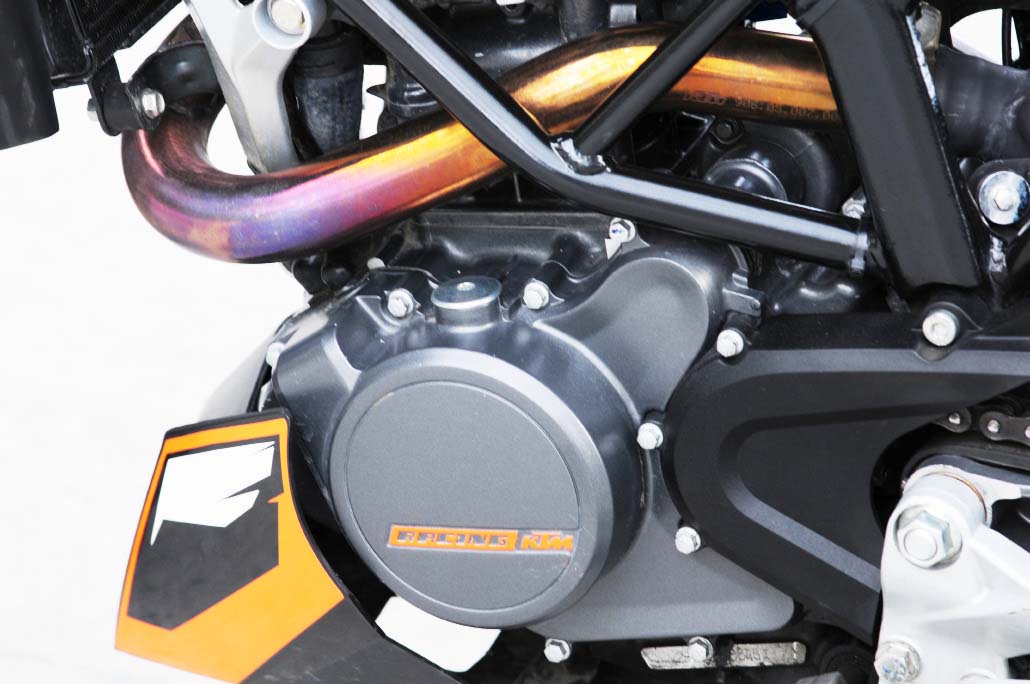 The Duke 200 is powered by a 200cc liquid-cooled, DOHC, 4-valve single with electronic fuel injection. It produces 26bhp at 10,100rpm and 19Nm at 8100 rpm. This big single is very torquey and can easily accelerate this small bike from a standstill at a level similar to higher displacement motorcycles. Big bike riders will have fun riding the Duke 200 in short urban rides. It's a thumper engine so the expected vibration is a little bit high but once you get moving it disappears. It has a very sleek under engine exhaust system and it sounds like an ordinary tricycle at low rpm but once you open up the throttle of the stock exhaust, it's pretty loud with a pleasant throaty sound. It is mated to a sweet-shifting 6-speed manual transmission.
    The rest of the chassis looks and feels equally impressive for a bike in this class. Starting from the muscular looking and very rigid steel-tube trellis frame with a beefy cast alloy swing arm, a pair of nice looking black cast alloy wheels with wide tires, wide aluminum handlebars mounted on with chunky aluminum levers, big diameter 43mm telescopic front forks and a preload- adjustable rear mono shock that are actually made by White Power (a premium suspension brand maker) and Brembo developed radial disk brakes of 300mm at its front and 230mm at its back with steel braided lines. While you will not find the marks White Power and Brembo in the components, we were informed that these components are developed by these companies and produced by their Indian subsidiaries. And that's why it's very strong and this Duke has one of the best brakes (especially the rear brake) that we have tested. The 2013 models will be equipped with ABS, just like the models sold in Europe. The suspension is also very impressive, the front is rigid and although stiffly sprung can handle the poor road conditions at high speeds much better than any current underbone or scooter.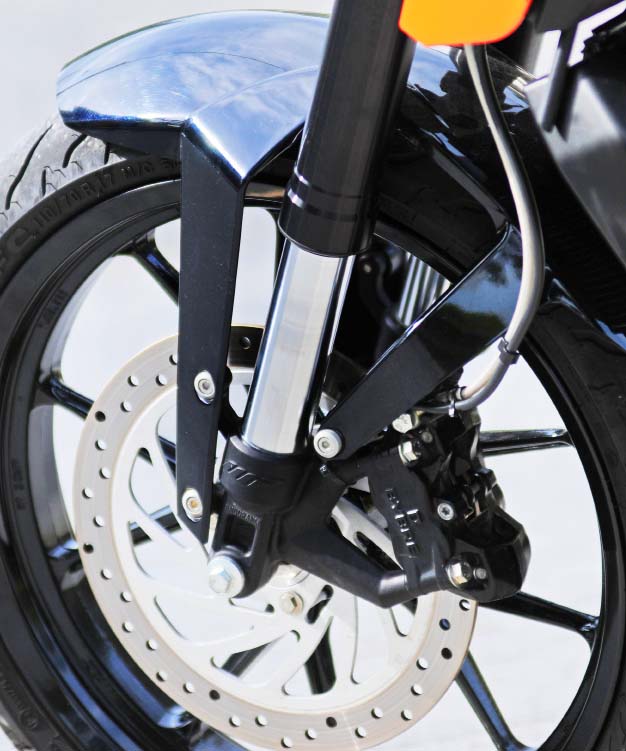 The Duke 200's engine, chassis, brake and suspension are actually very good enough for it to be ridden hard on the racetrack! The chassis in fact is over-engineered and can handle more power than what the 200 cc engine can produce.The bike as a whole will not be questioned for its "READY TO RACE" proposition. In fact, a one-make race is being planned by Access Plus starting this 2013! There are many more features in the Duke 200 that apes its bigger brothers. The large and sculptured fuel tank with recesses for the knees and narrows at the end is something you will notice and appreciate once you ride it since it contributes much for the big bike riding feel and position. The wide aluminum tapered handlebars and chunky brake and clutch levers are also nice to look at and offer good control.There's also the stylish 2-piece seats with an attractive grab handle for the passenger. The engine has an under guard engine scoop that adds to its aggressive look. Of course the whole package is finished in rich KTM orange p, matt and glossy engine and chassis components with numerous silver silver aluminum parts.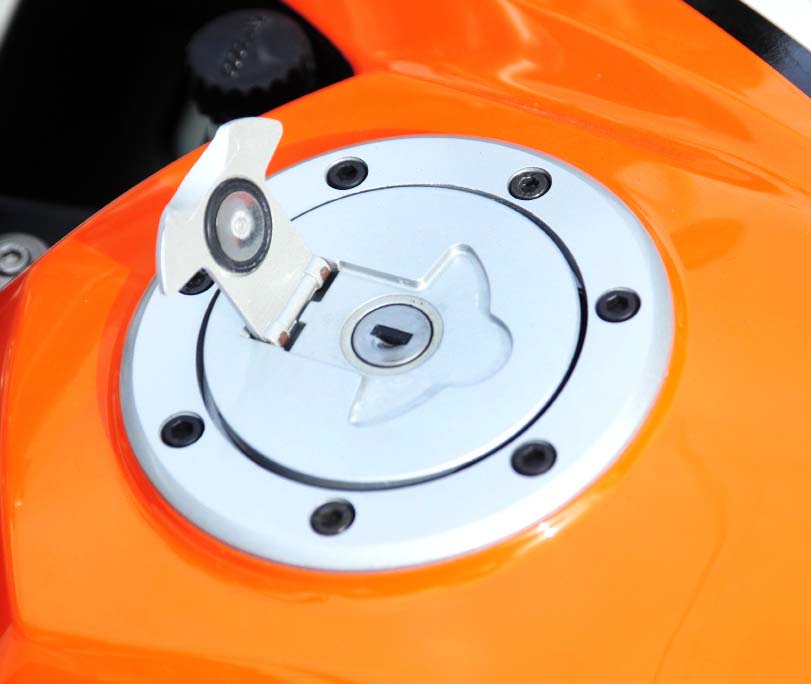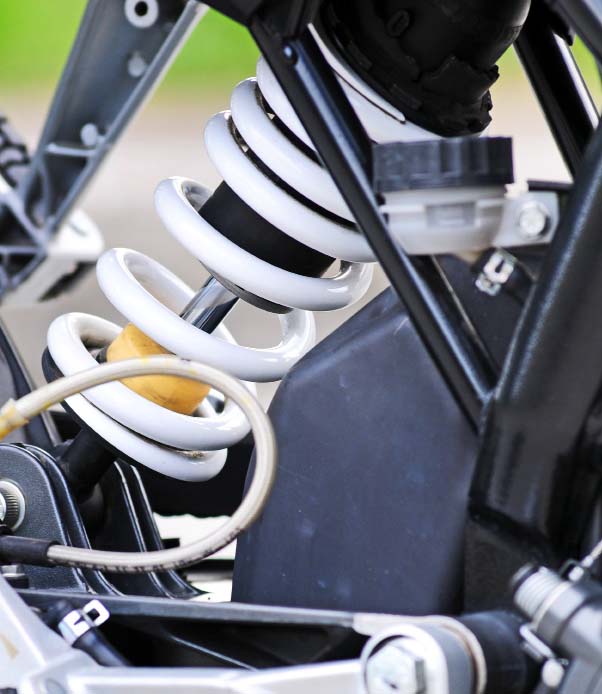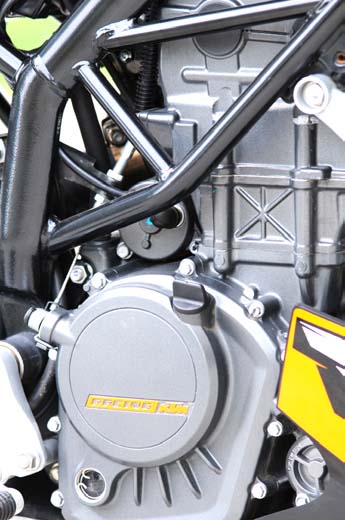 A big highlight is the LCD digital instrument cluster very similar to those found on its RC8 superbike! It is very high-tech and the orange screen displays a big "READY TO RACE" once you turn on the ignition setting the mood for the ride! It offers so much information; there's a digital trip meter, a gear indicator, big digital speedometer, a bar tachometer, a temperature gauge and a fuel tank as well as big digital clock. It even has a real time fuel consumption in kilometers per liter, tells you how many minutes you've been riding, and even alerts you if the side stand is deployed! So there's plenty of information in this high-tech meter cluster, it is probably one of the best gauges you can have in this price point! While the grips are too hard and have a plastic-ky feel on the hands ( that can be solved easily with a set of GIVI grips), the only thing we found that should be improved immediately for maximum enjoyment of its performance potential is to change its tires to a stickier set. That said, the Duke 200 is usually equipped with MRF tires but the unit we had was already modified for stunting so the rear was replaced with a wider Bridgestone Battlax tire that has more grip than stock and also has a bigger rear sprocket for even better accelerations. But otherwise the bike is all stock. The riding experience for aggressive urban sprint rides was even magnified with these few modifications!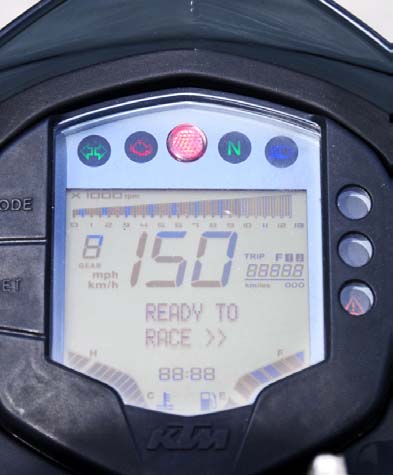 The KTM Duke 200 is a suitable bike for those underbone and scooter riders who, not only want to upgrade to a much bigger and faster bike, but also to a bike with a character and premium brand image. It also works the other way as it is a fun little bike for experienced big bike riders who need a second bike for short quick rides to nearby malls, offices or bars that makes lugging around their big sports or adventure bikes look overkill. For many, the P220,000 asking price might sound too high for an Indian manufactured bike, but when you dissect the Duke 200 part by part and examine its values and the performance it gives as well as the riding satisfaction it offers, then it does not seem so expensive at all especially if you are a true two-wheel enthusiast. The KTM Duke 200 is truly ready to race!
*This article was published in InsideRACING's  Volume 11 Number 1  2013 issue.