2014 KTM Duke 390 First Ride Review
Date posted on February 3, 2019
Share this
The KTM Duke 390, a collaboration between Bajaj Auto and KTM was first debuted at the2012 EICMA or Milan trade show in Italy. Considered as a middleweight bike in the Philippines, the KTM Duke 390 is designed for sporty urban motorcycling.
This sport naked bike has this fringy design that would remind you of the KTM brand. It has this thoroughly contemporary look of a modern urban sport naked bike with the KTM colors appearing to be screaming at other people, telling them not to pass up giving this bike at least a look, or maybe two. The Duke 390 seems to be happy cruising at a speed of at least a hundred kilometers an hour and we didn't hear or see any signs of complaining from this bike. That is a very good sign for the urban rider because in the city, this would only tell us that the bike can handle long bouts with the Metro Manila traffic, or even having high rpm runs at our expressways. While being engaged at high rpm or long bouts of idling, surprisingly this bike would not give you any numb hands, but make sure to be fully adjusted to its aggressive riding position as the rear foot pegs might be a bit extreme for some.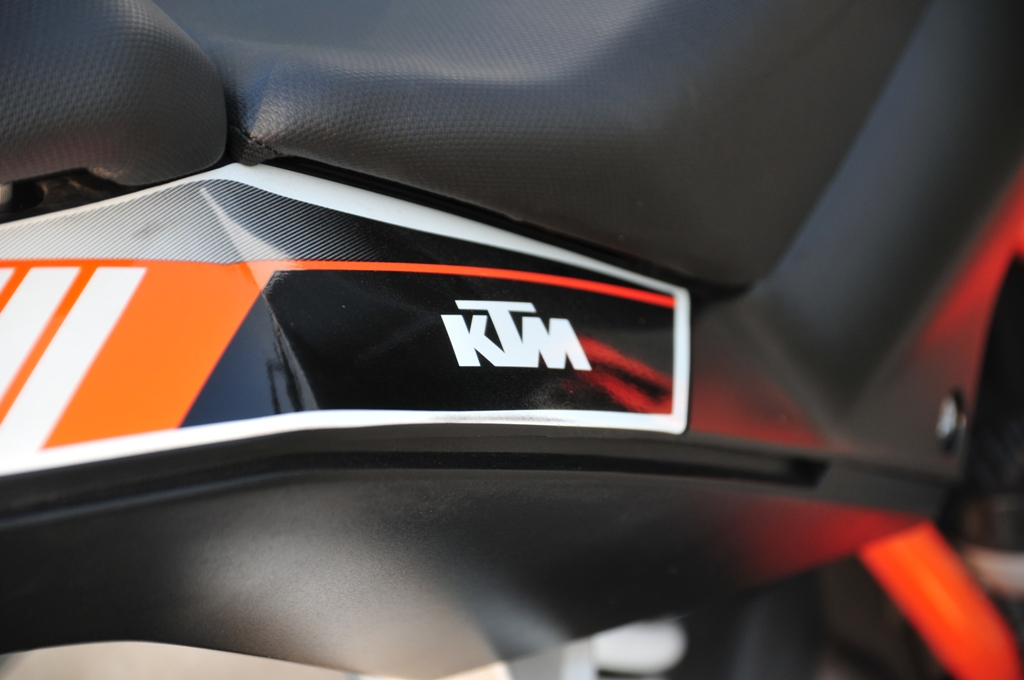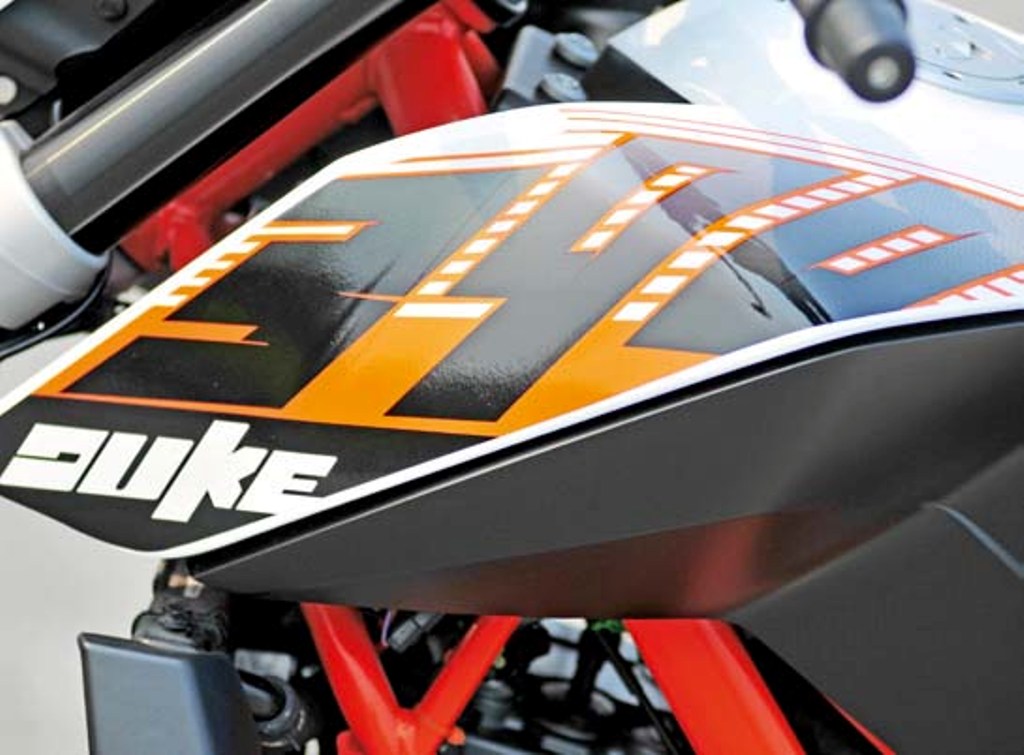 The engine is so smooth that hearing it perform will be music to your ears, given that it is a single-cylinder, 373.2 cc bike. Although looks are purely subjective, the modern-urban styling of the bike loudly shouts "Look at me!" Screaming a bright orange look, it is quite impossible not to turn your head in order to catch a glimpse of this bike on the road. Weighing at roughly 150 kilos dry, the power ratio it gives is superb for its class. It is so light that it will be an easy transition for underbone users in terms of low-speed maneuverability. It's a machine that tells you in a single glance that it's the kind of beast you wouldn't want to anger. That is exactly what it conveys and should be respected for that.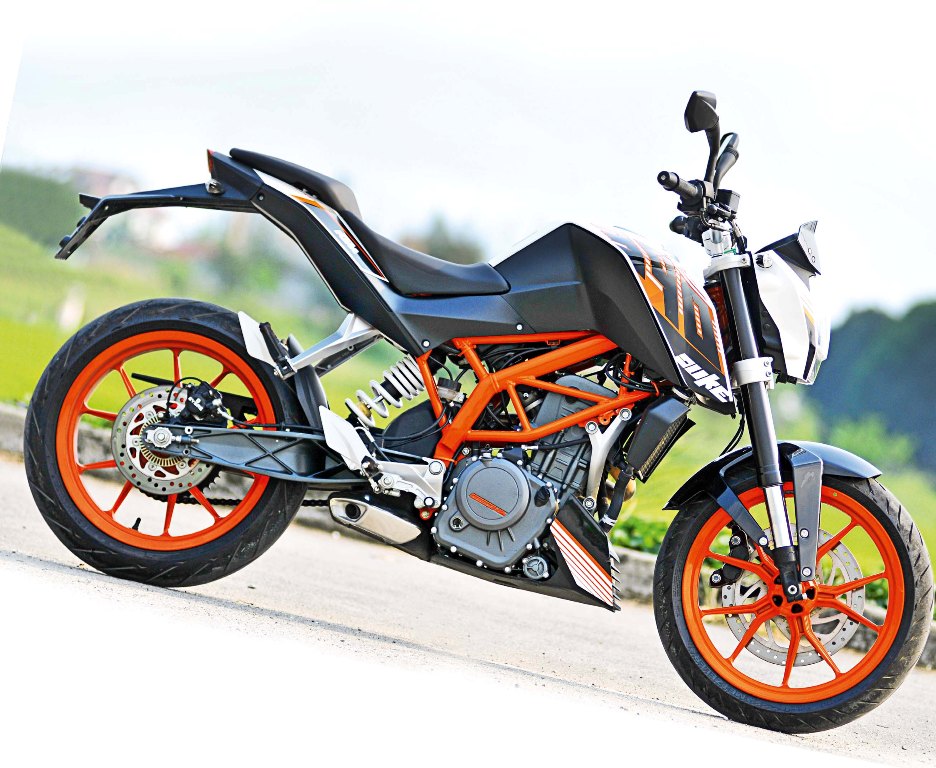 The bike can easily reach 100 kilometers per hour on 2nd gear, and make sure to be careful on the throttle on the get-go since being trigger happy with it might give you a surprise wheelie. Performance and outright acceleration, this bike is definitely a lot more. Any gap in the traffic and you can disappear. It's only a few kilos heavier so you don't actually feel it compared to the 200 and the added traction of the tires means more confidence to the rider. Riding in adverse conditions is safer too thanks to the ABS and the unbelievable traction of the Metzelers. You will slightly notice a negligible vibration while revving at low gears up to roughly 4, 000 rpm but the bar ends keep down the vibrations well, so, it's just riding in a normal Duke 200 but with much better power!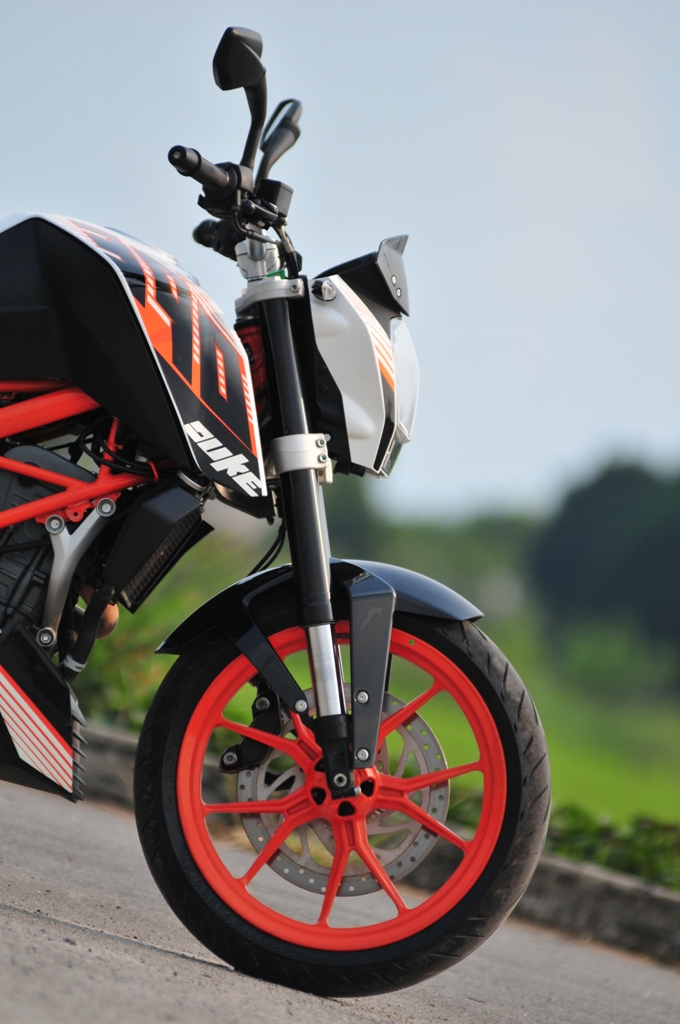 This bike having more power would mean less stress on the engine at high speeds. The bike boasts of a tall 6th gear. One could be running 120 kph at roughly 6,500 rpm on top gear, so cruising at highways is easy on the engine. A less stressed engine would mean less load on its parts and that would equal to better longevity. Having ridden the KTM Duke 200 previously, the 390's hard seat is reminiscent of its lower displacement brother although this can be very easily fixed by taking it to a local modifier who will put in a gel soft seat within the original seat frame. In a Metro Manila setting, having a pillion might prove to be a bit uncomfortable as both rider and back ride would need to be compressed in order to fit two average sized individuals. One might argue that the bike might not have been built with two passengers in mind; however, the pillion seat must have been there for a reason. I think it might work well enough one up with light luggage but two up needs serious work. You'll have to remake the seats so it is comfy and spacious enough and then luggage mounting will be another challenge. Don't even think of bringing a backpack and a pillion at the same time as you might find your backride scrounging for a little bit more space. Although it is bearable, one might want to tweak the shocks settings of the bike in stock form, as I had to do a bit of gentler throttling when tackling the dreaded roads of Metro Manila, in which there would be potholes right and left. The fork seemed a bit stiff for me although I couldn't complain much since this is a sporty road warrior.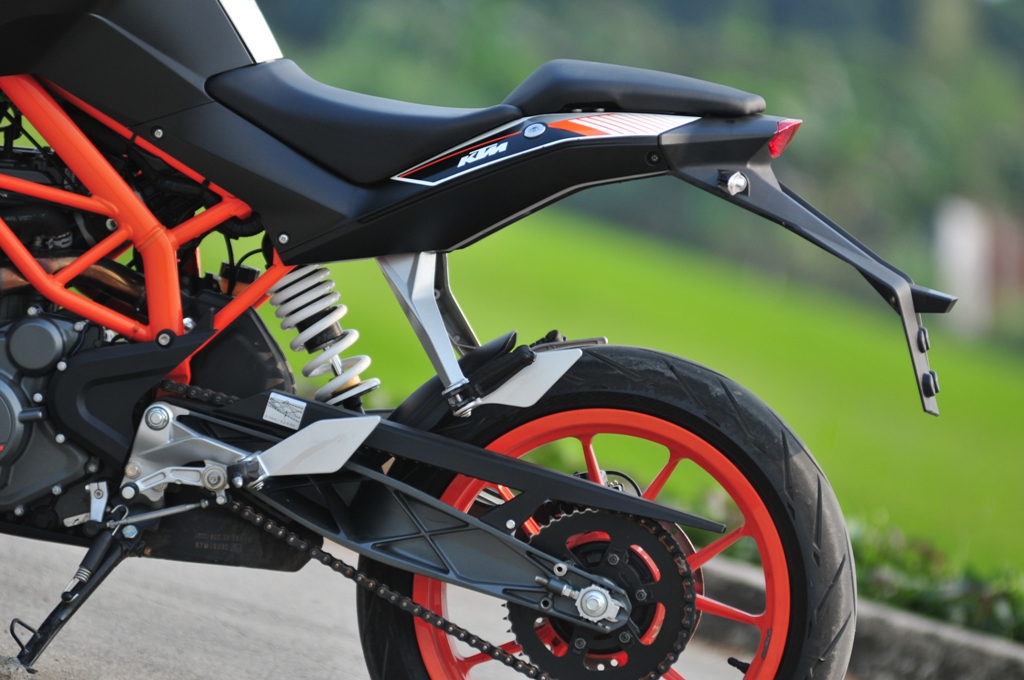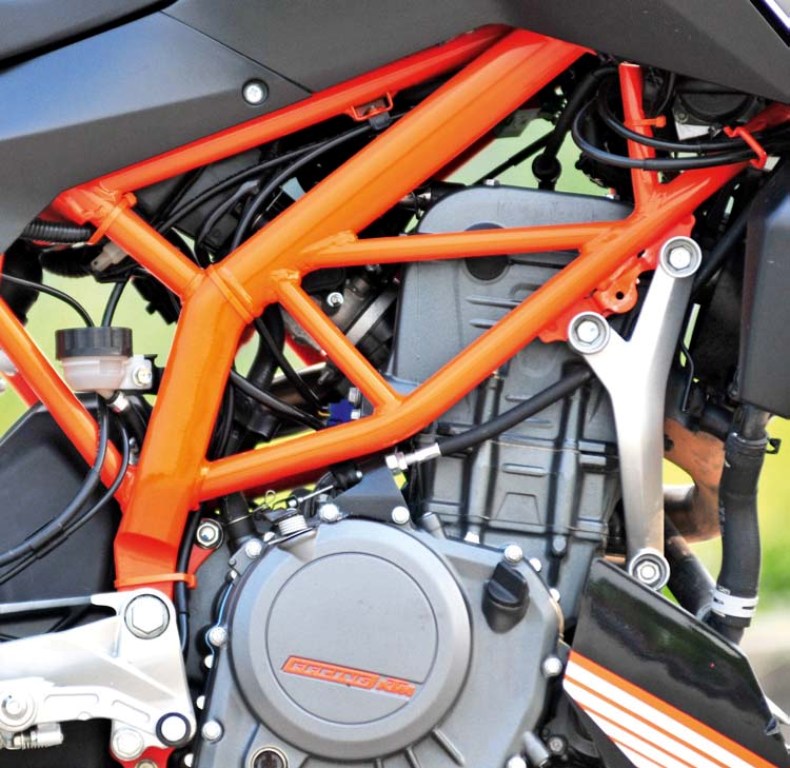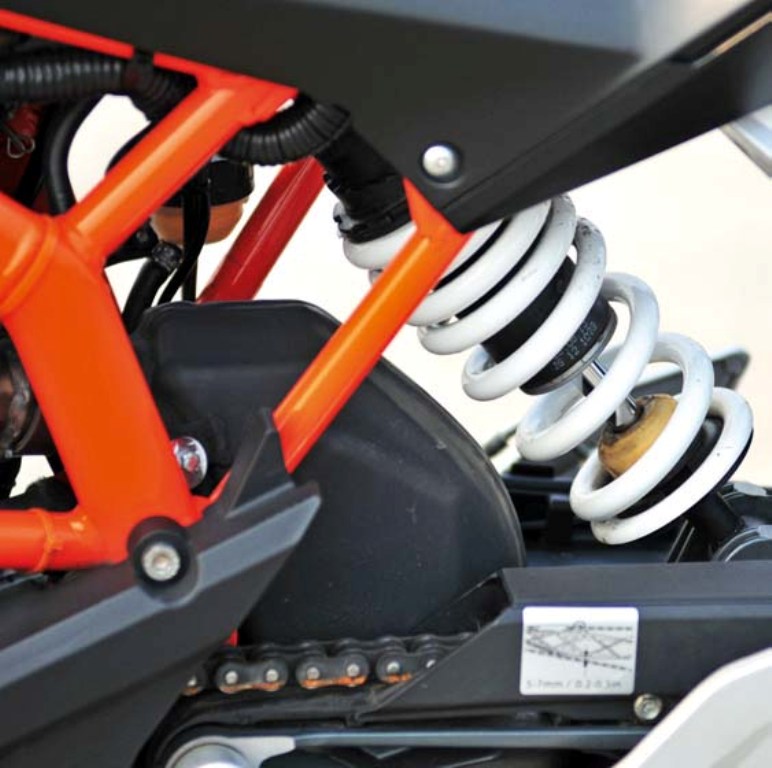 In spite of that, the Duke 390 has great brakes, and having Anti-Lock Braking system as standard would only mean that you will be stopping a tad quicker than your previous non-ABS equipped motorcycle. ABS or anti-lock brakes is a simple system in concept but its effectiveness in saving your skin (and your life in that sense) cannot be understated. Even expert riders who regularly practice braking and take motorcycles to full braking performance pretty often find it next to impossible to outperform ABS. And how about in any real-world road conditions? ABS stops your bike quicker every single time. In that sense, KTM offering ABS as standard on the 390 Duke is praiseworthy and other manufacturers really should take the step, regardless of the bike's displacement. In Europe, the mandatory offering of ABS is currently being pushed to be on all production motorcycles and hopefully that day will come in the Philippines as well. It also comes with sticky Metzeler Sportec M5 tires, a big upgrade from the stock tires of its 200cc brother. Also, you wouldn't have to worry about locking your brakes due to the ABS, thus inspiring you to just enjoy riding more, and in return giving you more confidence. For those relatively new riders upgrading from underbones, the digital display of this bike will actually help your transition.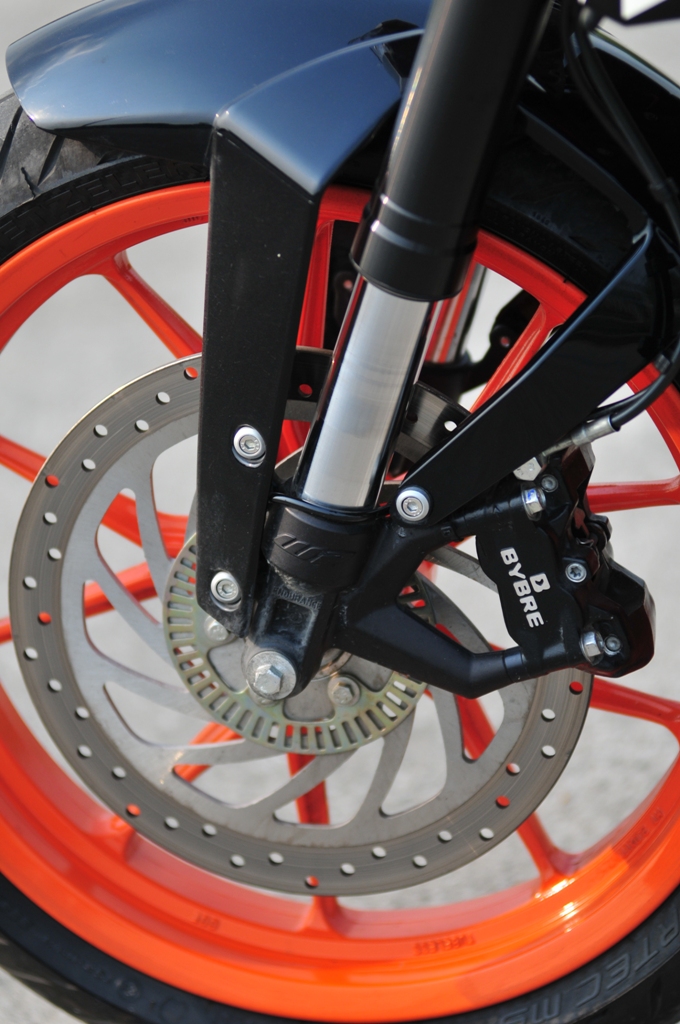 The digital meter features several trip and odometer counters, the bar-type fuel gauge, among others. One of the innovative features in the panel is that it actually tells you how many more kilometers are left before your next service interval. For the adventurous type, you are also given the option to turn off the ABS feature of the bike. Now isn't that great? I had only one gripe about the panel and it is the relatively smaller font of its display. That's trivial but it could use some improvement.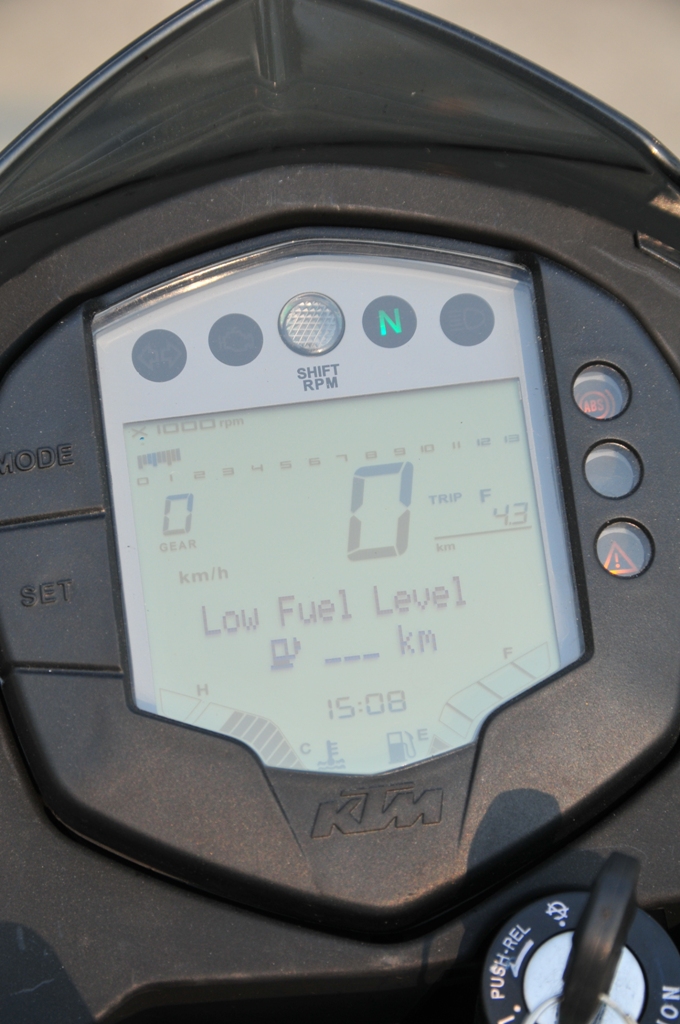 The headlamps also proved to be more than capable of lighting up the roads here in Metro Manila, considering most of the streets here rarely have lampposts. The range of the light thrown was wide enough and would definitely make your nighttime riding more pleasurable. Taking the bike out for a spin at the famous Marilaque twisties all the way up to Infanta, one can't help but be impressed on how excellent the handling of this bike is. The ride was very stable up and it handled the twisty roads of Sierra Madre with ease. This bike would definitely give 600's and 750's a run for their money in cornering. It will only take a split second out of the turn for the bike to unleash its power.
The handling of the KTM Duke 390 in cornering was an experience that should be appreciated and its power out of the turns definitely gives you that zoom factor you might be unconsciously searching for on your lower displacement bike. It's flick ability – turning the bike from left to right and from right to left – proved to be very easy for the bike, and how much more if the bike was taken on a racetrack. The bike's owner would definitely enjoy that experience more. After all the upsides including its impressive power to weight ratio, what's surprising here is the fact that this beast yielded impressive fuel economy results. In a combined city and highway driving over 200 plus kilometers, the KTM Duke 390 yielded an average of 28 kilometers per liter. Now that's definitely a plus! With no direct competitor among locally sold bikes in the 400cc class, The KTM Duke 390 will prove to be a big game changer and is currently at a class of its own. It might scare you out of your wits in the beginning, but it is also something that will make sure you are smiling for the rest of the duration of the ride.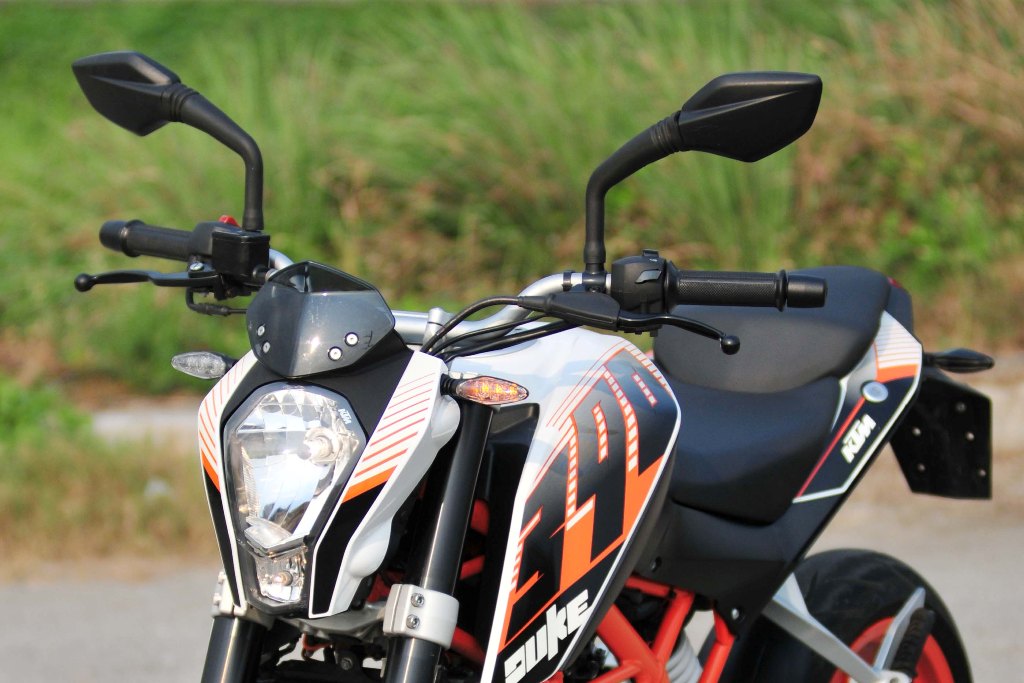 This is a bike that seems to be a perfect fit for our roads. If you are looking for a bike that is relatively fast, modern in feature, and a real head-turner, then the KTM Duke 390 is for you. On the other hand, if you are looking for a bike that can go at blazingly fast speeds, then there are other options. Despite all the good things about this beast, it is still surprisingly affordable here in the Philippines. Boasting of the world famous KTM tradition of producing great motorcycles in the past 80 years, history and pedigree alone doesn't make a good motorcycle. It takes engineering prowess and craftsmanship, and the Duke 390 has lots of it. For the riders who are looking at upgrading from small-displacement bikes, this might be your best bet as of the moment considering its price and the experience it will give you, this baby is definitely a bang for your buck!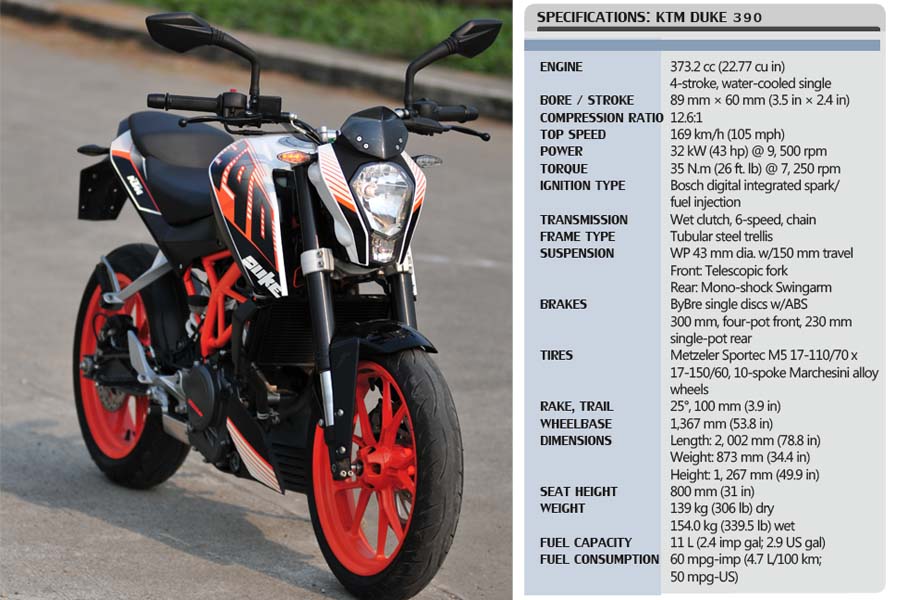 *This article was published in InsideRACING's  Volume 12 Number 3  2014 issue.