2018 KYMCO AK 550 Review : The Super Tourer
Date posted on December 18, 2018
Share this
How do you make something already good, even better?   That is when you bring in this ultra popular AK 550 maxi-scooter.
We were already particularly impressed with the performance of KYMCO's previous top of the line (in the Philippines, at least) maxi-scooter, the Xciting 400i ABS. With its much improved electronics with regard to safety, good gas  mileage, and its respectable 400cc performance in the open roads, we were thrilled. This technologically-advanced baby is at the top of its class, and brings in all the power you need as a huge touring scoot. KYMCO's big boss Alan Santiago put it best during the launch at the McKinley Hill in Taguig when he said that even at the lowest power mode of the AK 550, it will beat its closest competitor, hands down. This maxi is strong, as we confirmed during our test in Batangas. Although that other competitor might not be the best in terms of power output, there is a reason why it tops the sales charts, it is the best all-rounder. The AK 550, gives it a run for its money, at least. Well a bit of history on the bike, it was intended to be KYMCO's Anniversary bike, hence the term "AK" or Anniversario KYMCO. The K50 concept design was previewed by KYMCO at its 50th year anniversary in Milan, and the final version unveiled at the Tokyo Motor Show. And now it is finally here in the Philippine shores.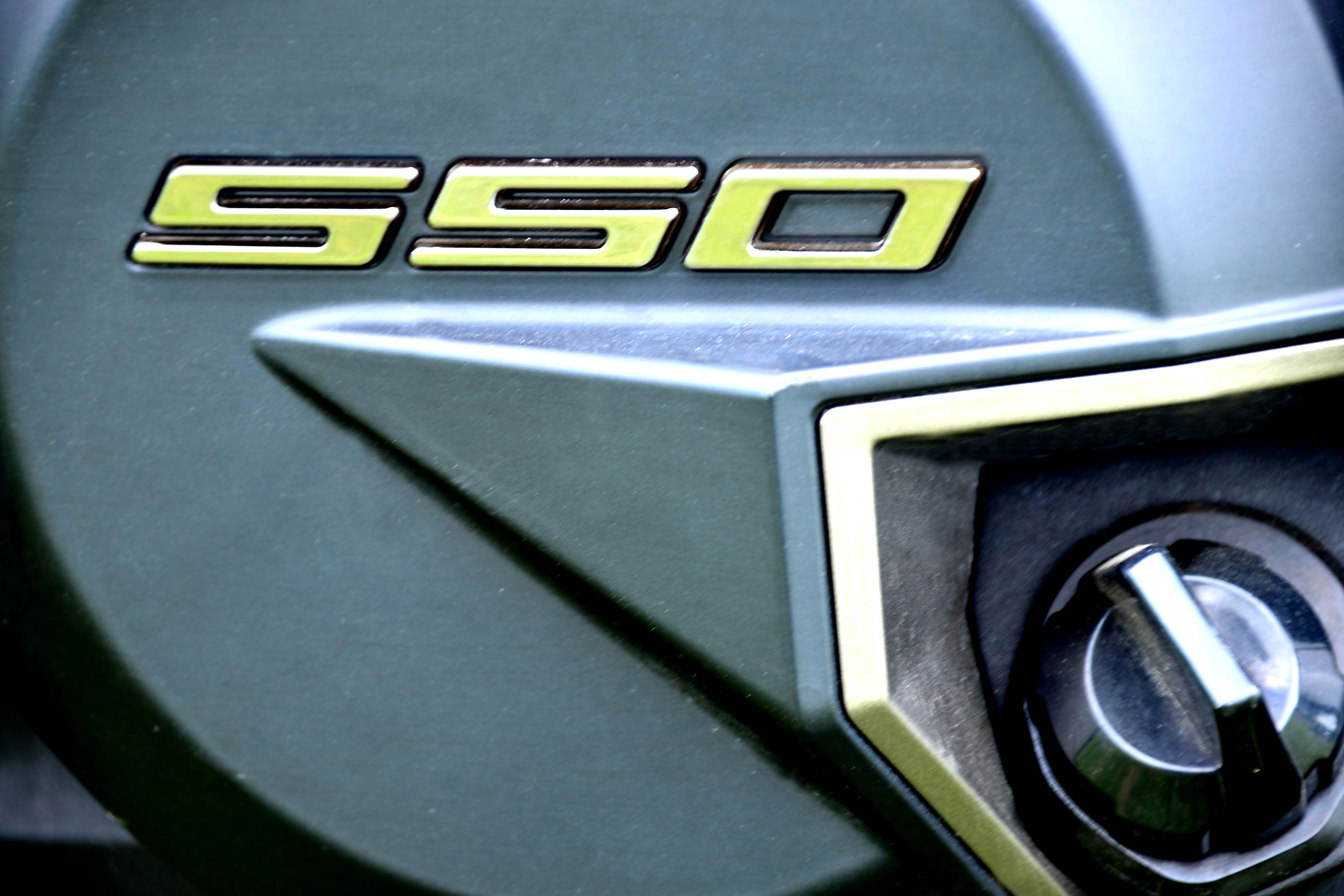 Powered by a 2-cylinder, 550cc, 4-stroke, liquid-cooled, fuel-injected engine, the KYMCO AK 550 deli-vers a whopping 53 horses while churning out a maximum torque of 55.64 Nm @ 5500 rpm. The power is delivered by a CVT transmission.  There are two power modes for rain and performance riding. The first impression that you will have is wow, this is indeed a big scoot. Not just in size, but also in length. With 2165mm length and a weight of 226 kilos, this bike is a beast.  Bear in mind that the weight is justified thanks in large part to its big engine, alloy frame, and wide rims.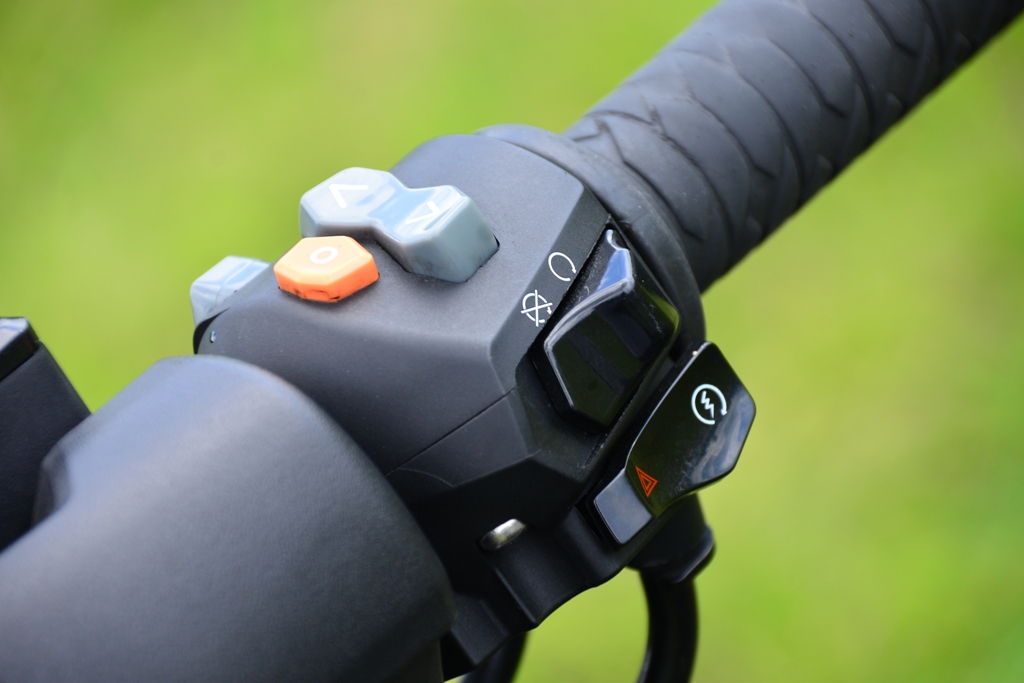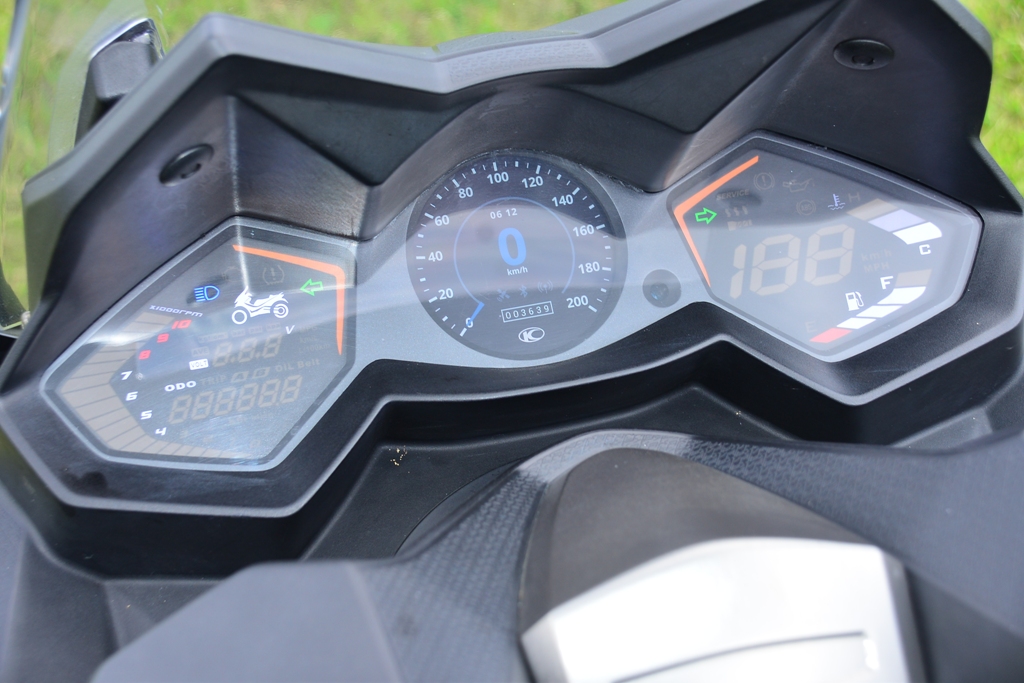 The bike carries 120/70 x 15 and 160/60 x 15 tires, pretty wide even for maxiscoot standards. One thing you'll notice upon starting is the sound of the exhaust. We swear we thought it was using after-market mufflers but of course since what we had was a demo bike, it is in stock form. KYMCO really made sure to tune this bike in order to have that distinct 2-cylinder bassy sound that this scoot possesses.
Do not be intimidated by its initial look, as the low seat height of 785mm will accommodate even riders of small stature. This helps in delivering the 50-50 front and back weight distribution. It also has a low center of gravity. Ride should be pretty steady thanks to its upside down forks and Horizontal Trailing Arm rear suspension.  Moreover, this Euro-4 compliant machine has a tank capacity of 15 liters, guaranteeing loads of fun for a long time before gassing up. With all the horses it delivers, it obviously needs ample stopping power. There is more than enough.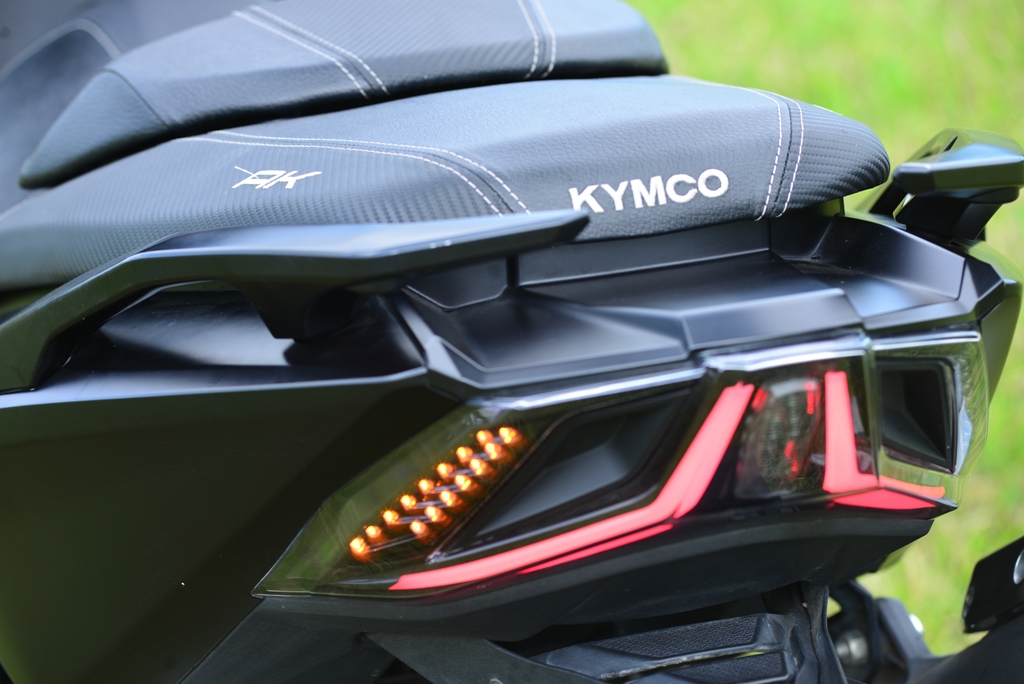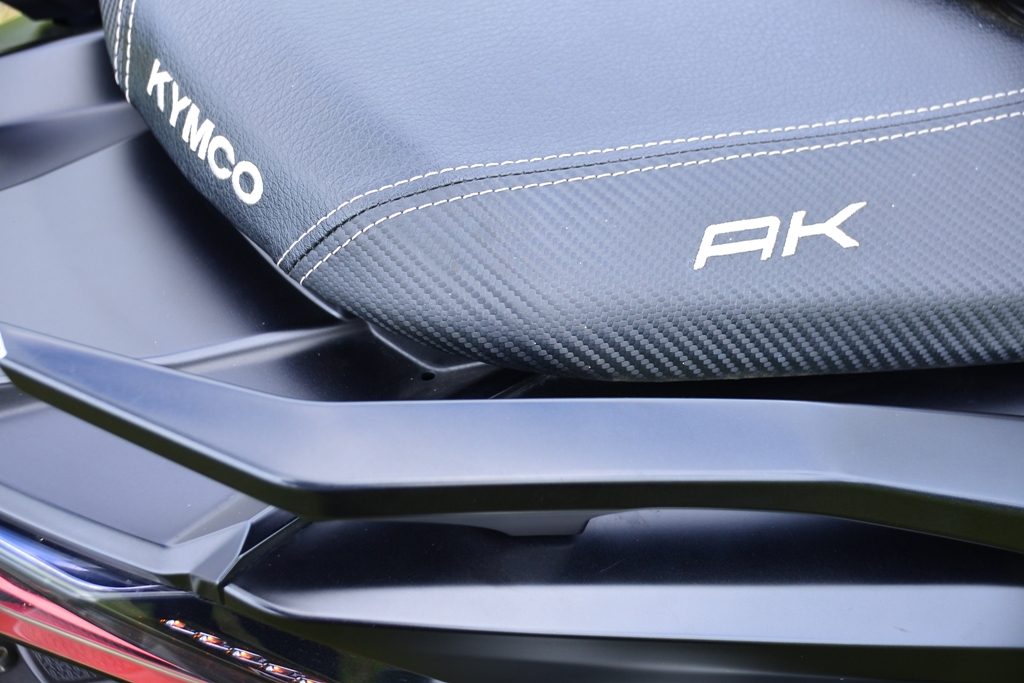 The twin Brembo calipers on the 280mm discs combined with the 260mm rear, the Bosch 9.1 technology on this maxi-scoot gives you more than enough of it with safety in mind, as it is also equipped with Anti-lock Braking System. While it seems standard for maxi-scoots to be fitted with huge top-boxes, for the AK550 the storage is more than enough for an overnight ride or two. You may put another full face helmet inside while still being able to squeeze in a few things more, much to our delight.
There are also a couple of storage compartments in the front. For your mobile needs, there's also a charging port. Equipped with an interactive dashboard with different modes, KYMCO's proprietary Noodoe technology may be connected to your smartphone that will give you different customizable options, and information such as on board notifications and connecting to the Noodoe social community. The headlight, rear light, and panel lights are all LED.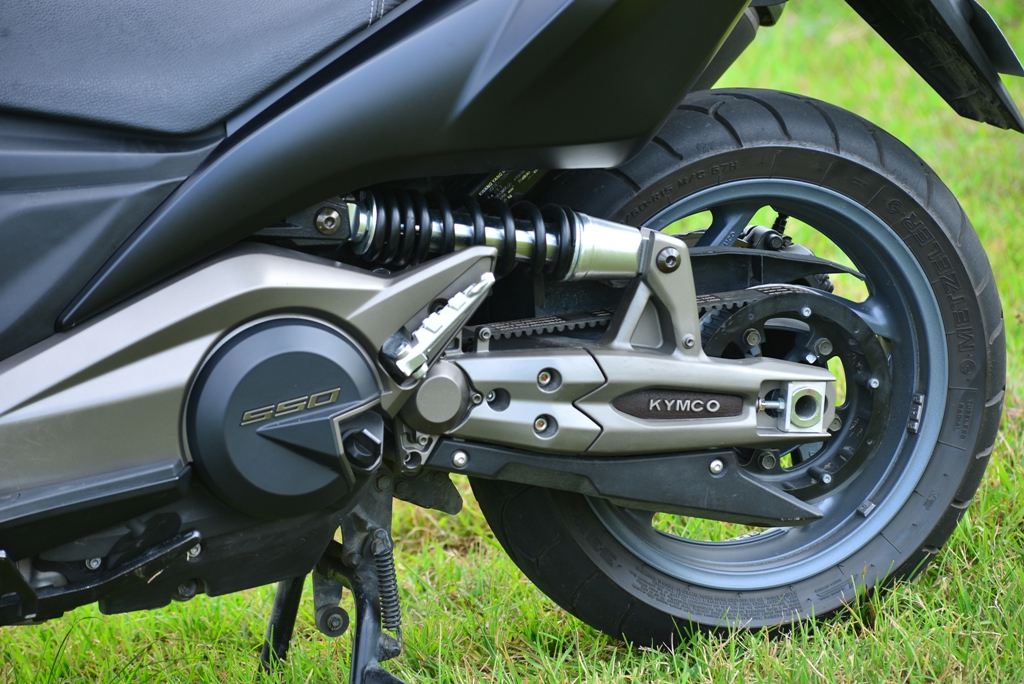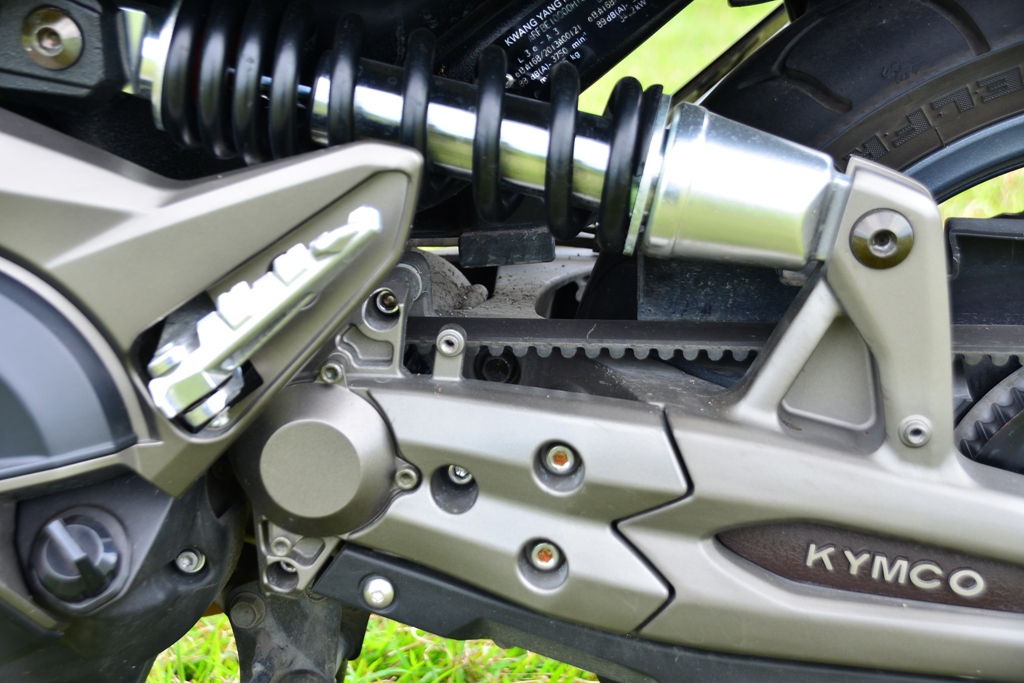 The bike will definitely catch your attention and has taken a lot of good inspiration from the industry leader. If they could  make the price significantly lower, then we are all in for a treat. Sports Tourer? We say Super Tourer.
What a huge bike. Intimidating at first, but due to the great weight distribution of 50-50, riding it is easy. The electronics are great too, having a performance and a sport power mode is a great thing, depending on your skill level… or mood. The ABS that it has should be a standard for all bikes, and thank you KYMCO for thinking about safety when installing this great electronic safety feature.  This bike could be in the same level as the Yamaha TMAX in terms of features and power, it could give the industry leader a better fight if the price is reduced significantly.
*This article was published in MAXIMUM TORQUE  Issue 21 2018.