2012 KYMCO K-PIPE 125 Ride Review: The Practical and Affordable Style Statement! 
Date posted on September 26, 2019
Share this
Today, a small budget for a brand new genuine motorcycle will usually get you a solidly built but ordinary ride. Thanks to KYMCO, you now have a choice. The KYMCO K-Pipe 125 is for riders who put style and practicality above speed and performance. It's a picture of edgy, modern and sporty styling and built with genuine Taiwanese technology and reliability.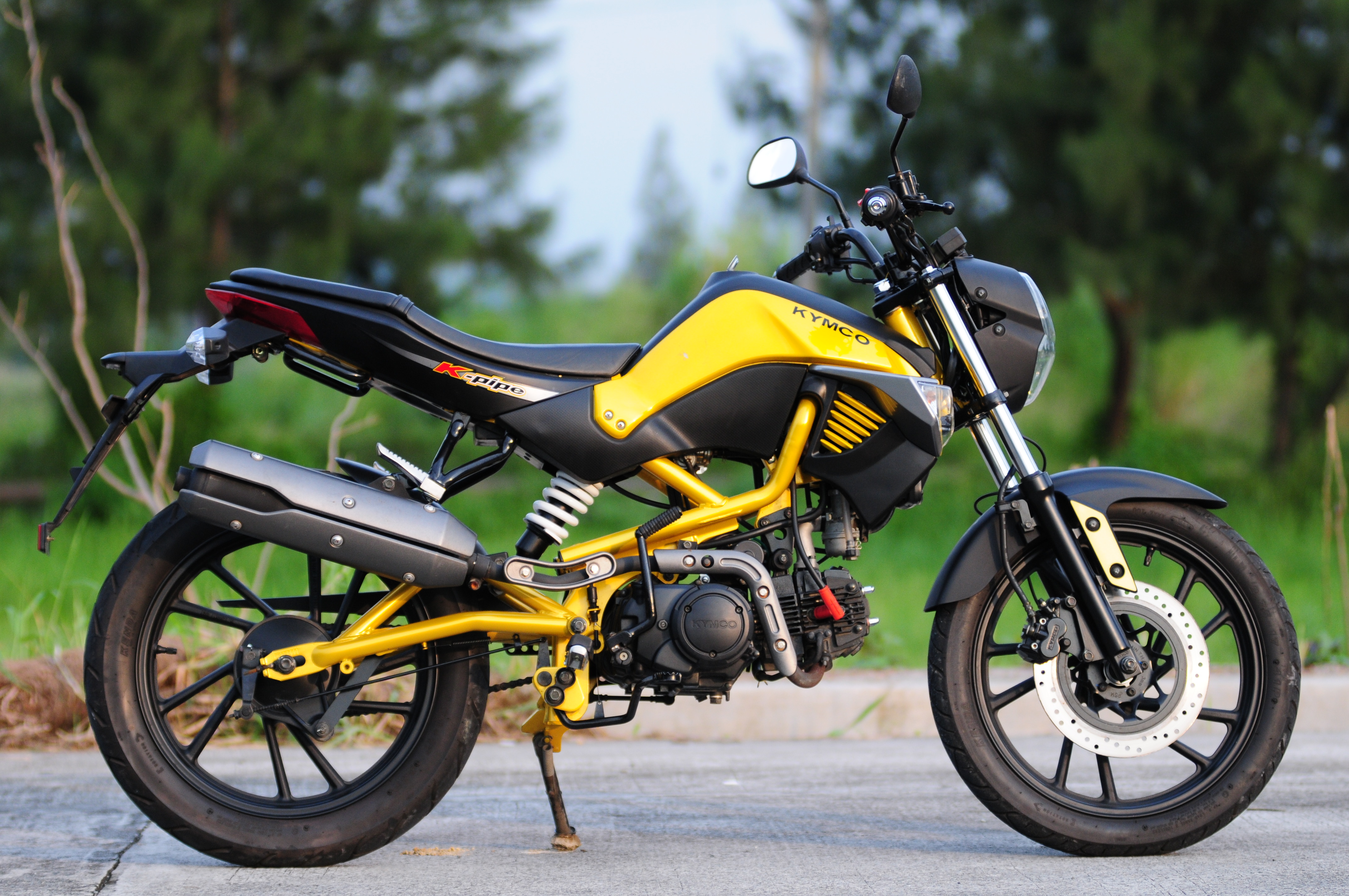 Those who are old enough to remember when the original Ducati Monster was launched to the world in 1993 know that the bike created a whole new genre of motorcycles that appealed to a new set of riders that value different style and riding comfort over speed and race replicas. The bike projected a mature, mean and stylish naked bike image and proved that you don't always have to go fast all the time to be cool. Since then, the Monster has morphed into a full model range which became and still is the company's best-selling model after almost twenty years and other manufacturers have also produced bikes to compete in the same modern naked bike category. Modern edgy styling, practical and a relatively comfortable riding position are the ingredients for a successful naked bike model.
Sadly, for small bike buyers, these kind of edgy-styled motorcycles are few in the market. While our local Ducati/KTM dealer sells the Monster and the Duke, they are obviously out of the price range of the underbone/scooter users.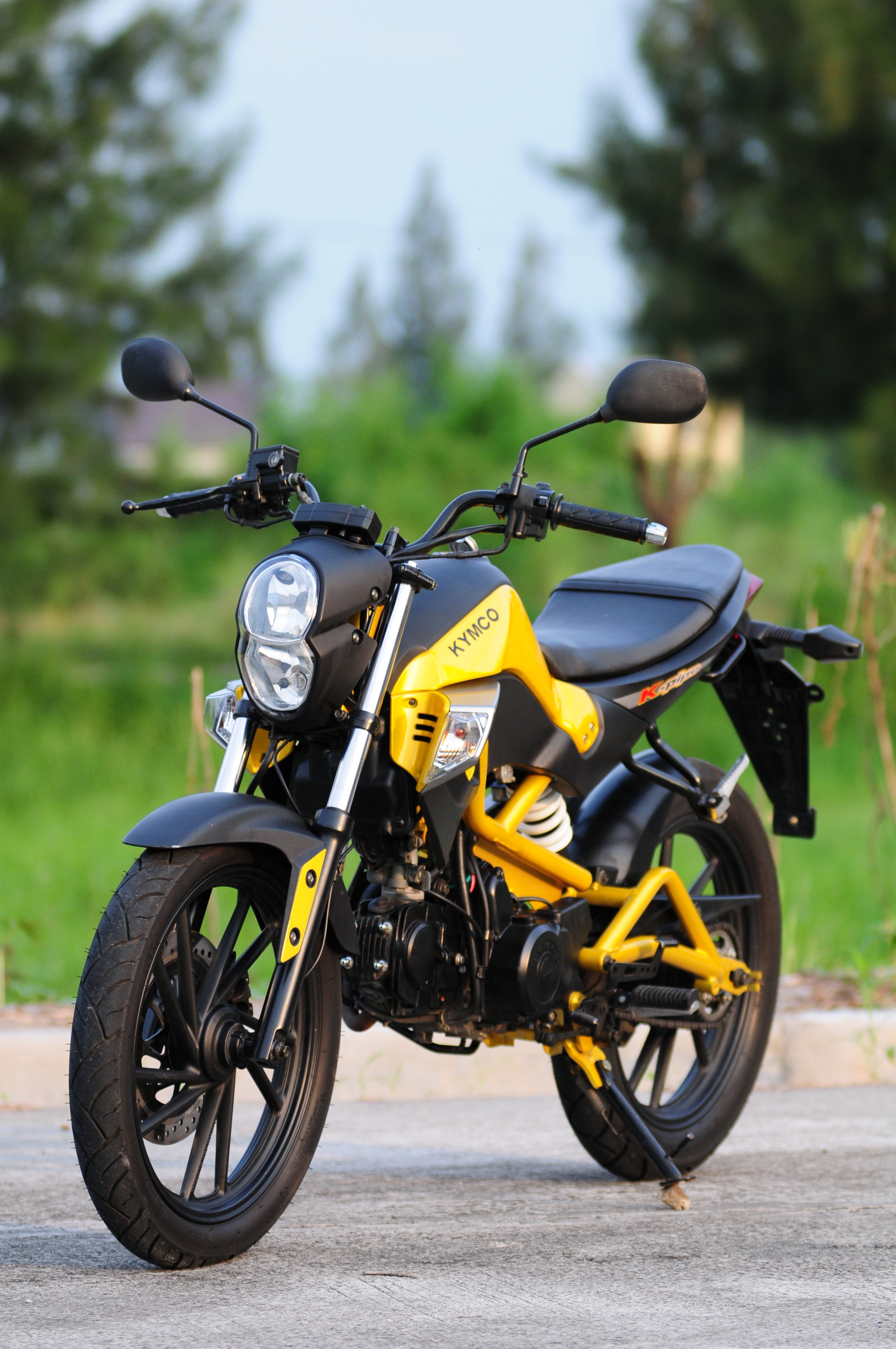 KYMCO has been selling the Like 125 and Super 8 scooters that give the buyers a more stylish ride at affordable prices. In 2012, it has recently added another model, the K-Pipe 125, a naked bike following this formula of high style and affordability. The KYMCO K-Pipe125 introduced the naked bike genre/lifestyle to a much wider small bike/commuter market.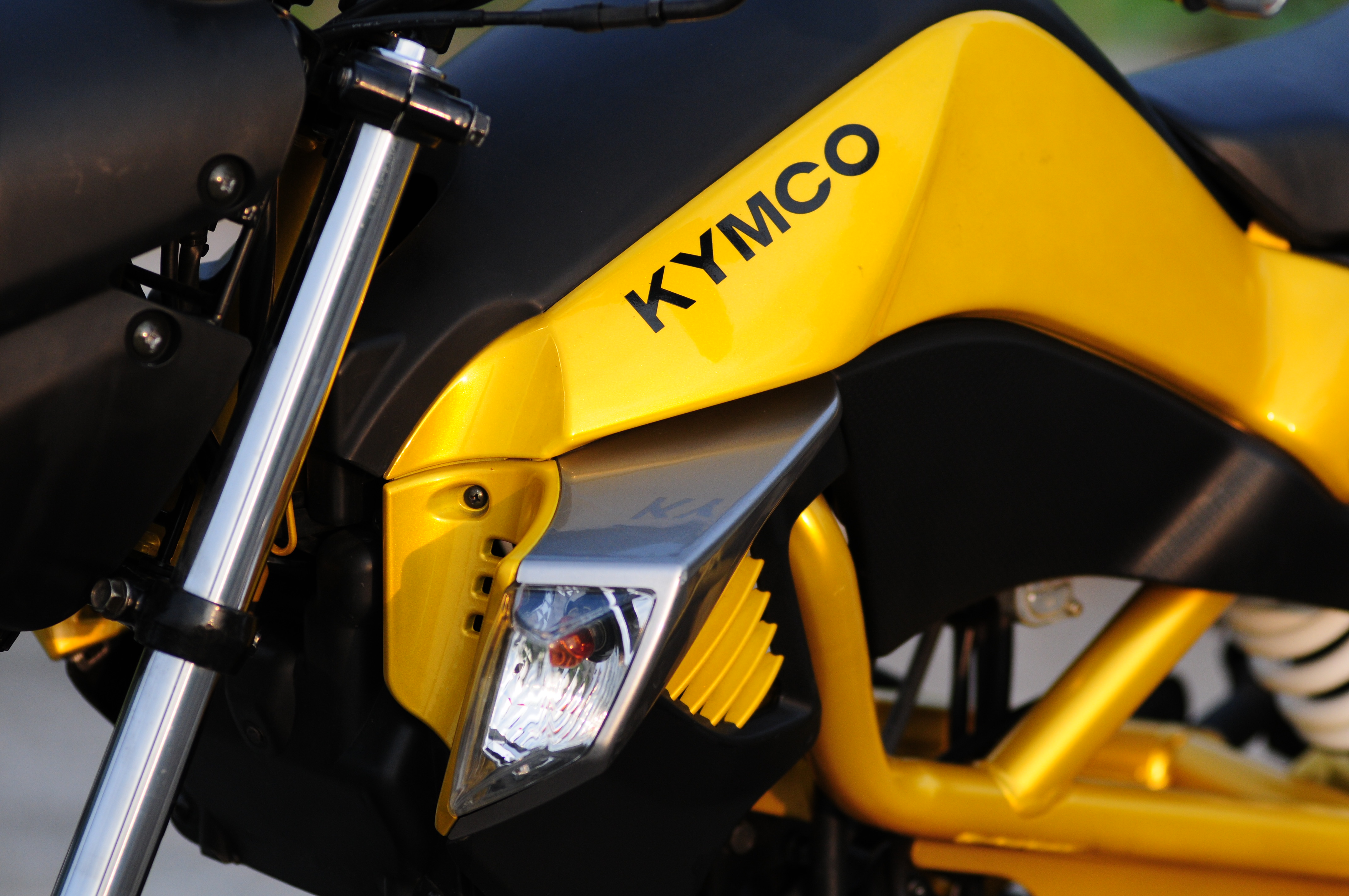 The K-Pipe125 is undoubtedly one of the stylish models that KYMCO has produced aside from its retro scooters. Rather than a scooter, the K-Pipe 125 is a scaled down modern naked motorcycle or a motard as some markets in Europe calls it. The styling is edgy, modern and mature and the proportions are good, making it look like a much bigger motorcycle than it actually is. Only the engine and transmission architecture will be familiar to the ordinary small motorcycle users as the K-Pipe boasts of many features usually found in much bigger bikes like the steel tube trellis frame and swing arm, mono-shock rear suspension, modern digital instrument cluster, stacked dual headlamps, LED tail lamps, flexible rear tail lamps, mid-mounted exhaust pipes, alloy rims and wide sporty tires. It comes in bright and rich colors that make it stand out from the parking lot. KYMCO has aced it on the styling department as the K-Pipe attracts a lot of stares and questions from enthusiasts wherever it is ridden.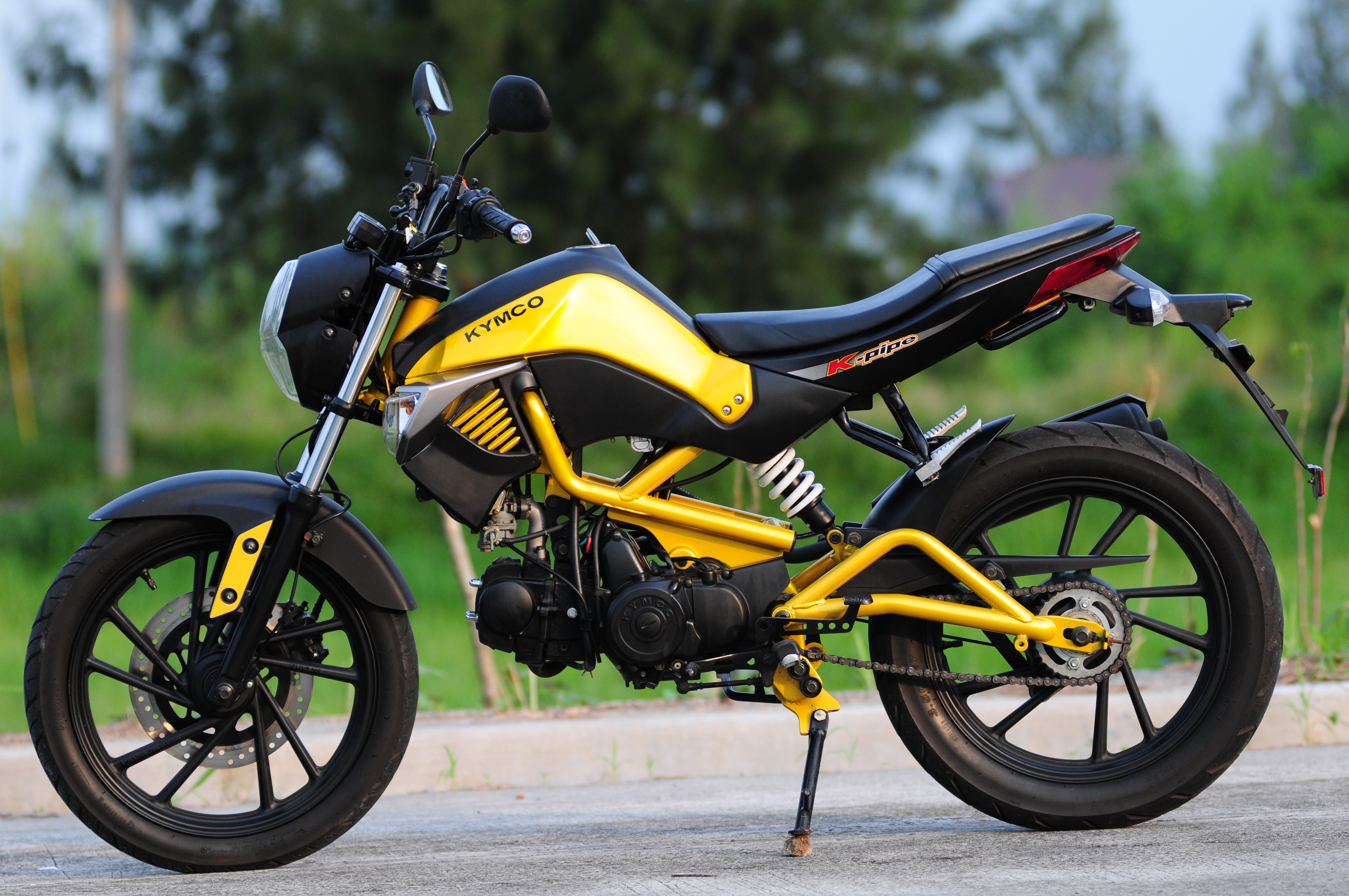 It is powered by KYMCO's own 123.6 single cylinder, air-cooled, 4-stroke engine coupled to a semi-automatic clutch transmission with four speed. This combination has already been proven in the previous Jetix 125 and Spike models of KYMCO. It gives reasonable peppy performance, is reliable and delivers outstanding fuel efficiency. Estimated fuel efficiency is around 45-50 km/liter and maximum speed is close to 100kph. Also, the semi-automatic clutch is ideal for beginner riders and will be familiar to long time underbone users, making the transition easier.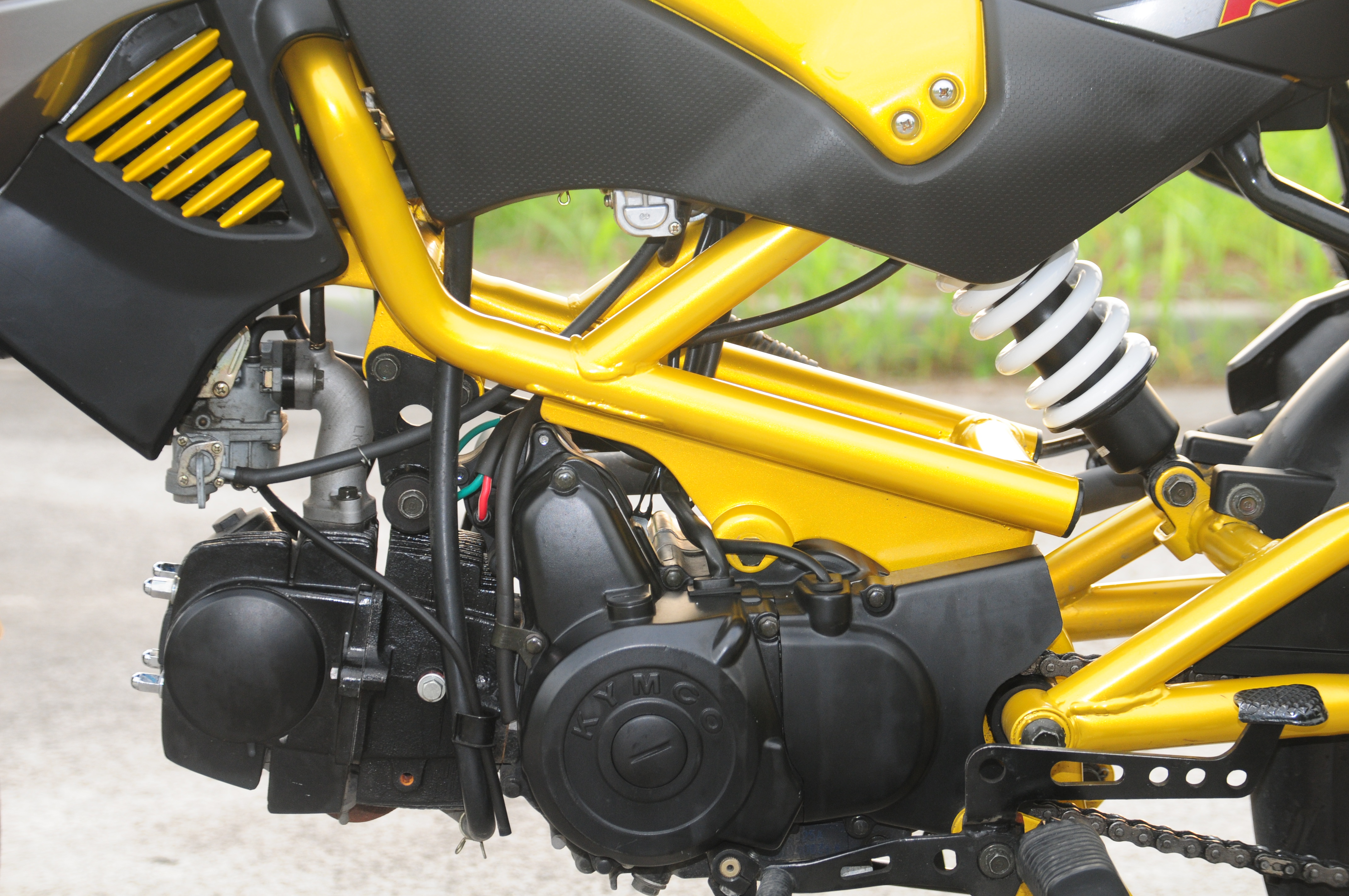 The K-Pipe rides well. The engine is relatively smooth with just enough power to enable you to go around swiftly in the city and around town trips. The sporty tires give good traction and the brakes are good especially the front which has steel braided hose. The shifting is typical underbone feel with a modest amount of acceleration. Its smallness makes the bike nimble and easy to turn but also makes it slightly skittish at high speeds. The mid-mount pipe and high ground clearance is also good for wading in low flash floods if the need unfortunately arises.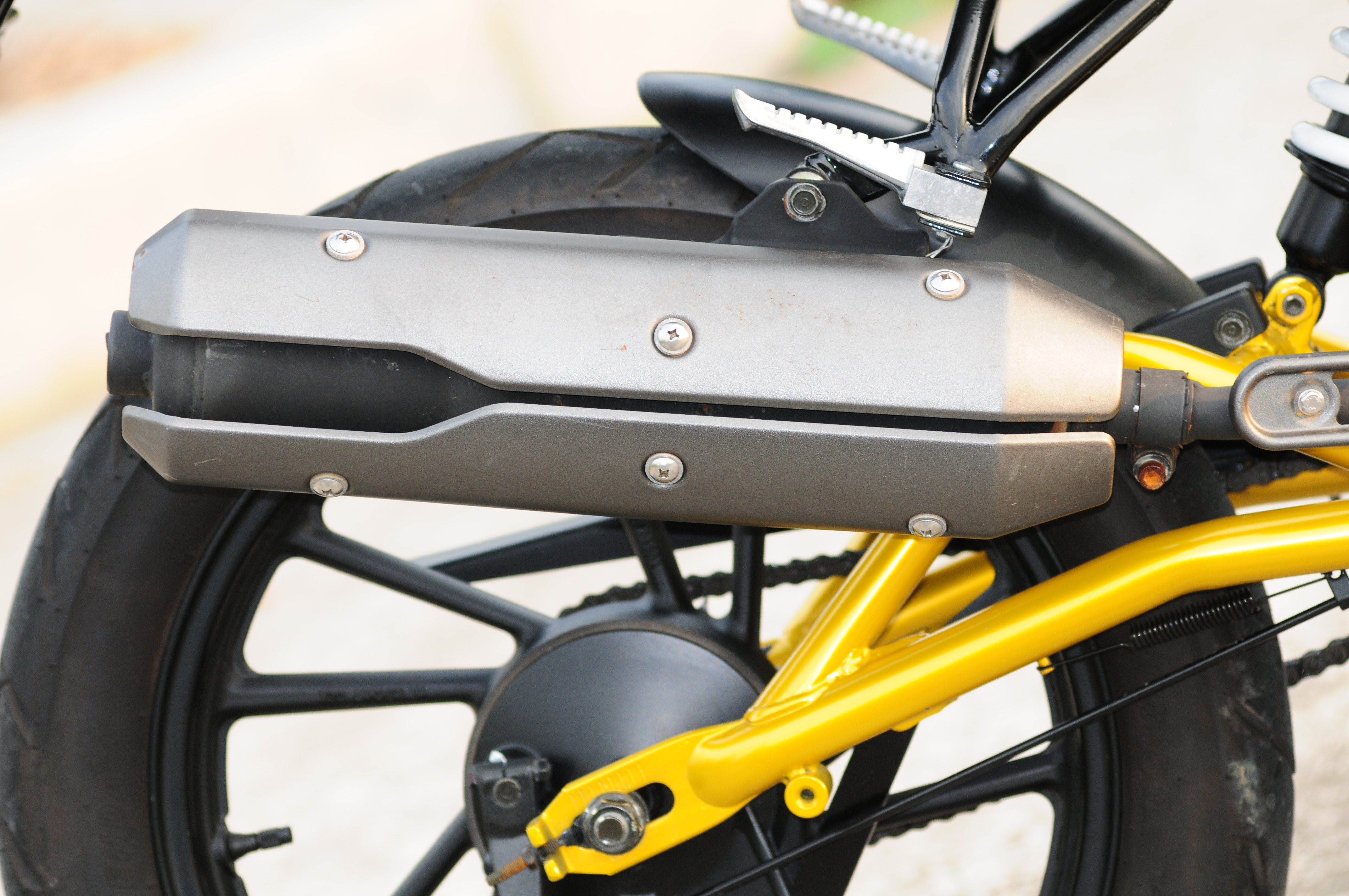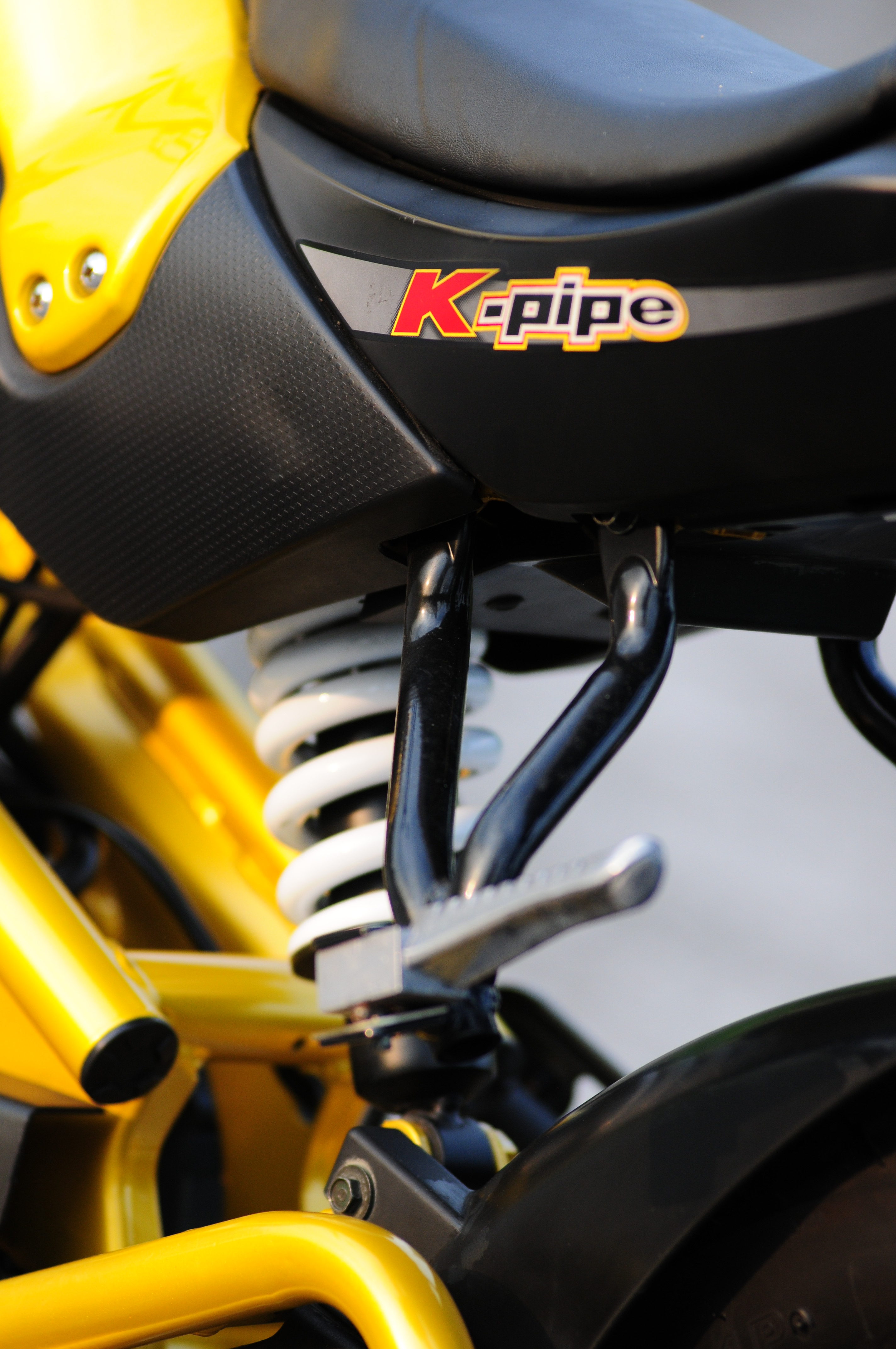 The K-Pipe, while well proportioned, is very compact in size. This contributes to its good looks, maneuvering ability and light handling (almost like a bicycle!). However, the small size also limits the comfort for much taller riders. It is relatively narrow compared to underbones and scooters due to the absence of leg guards and the sporty handlebars are quite narrowly set and low. The seat is sculptured and thinly padded to make it look good but will influence long ride comfort and limits back ride space. Also the rear frame does not have provision to mount a top case. But then again, these are the same compromises that the big naked bikes also suffer in favor of style, because after all, this is what this bike is all about!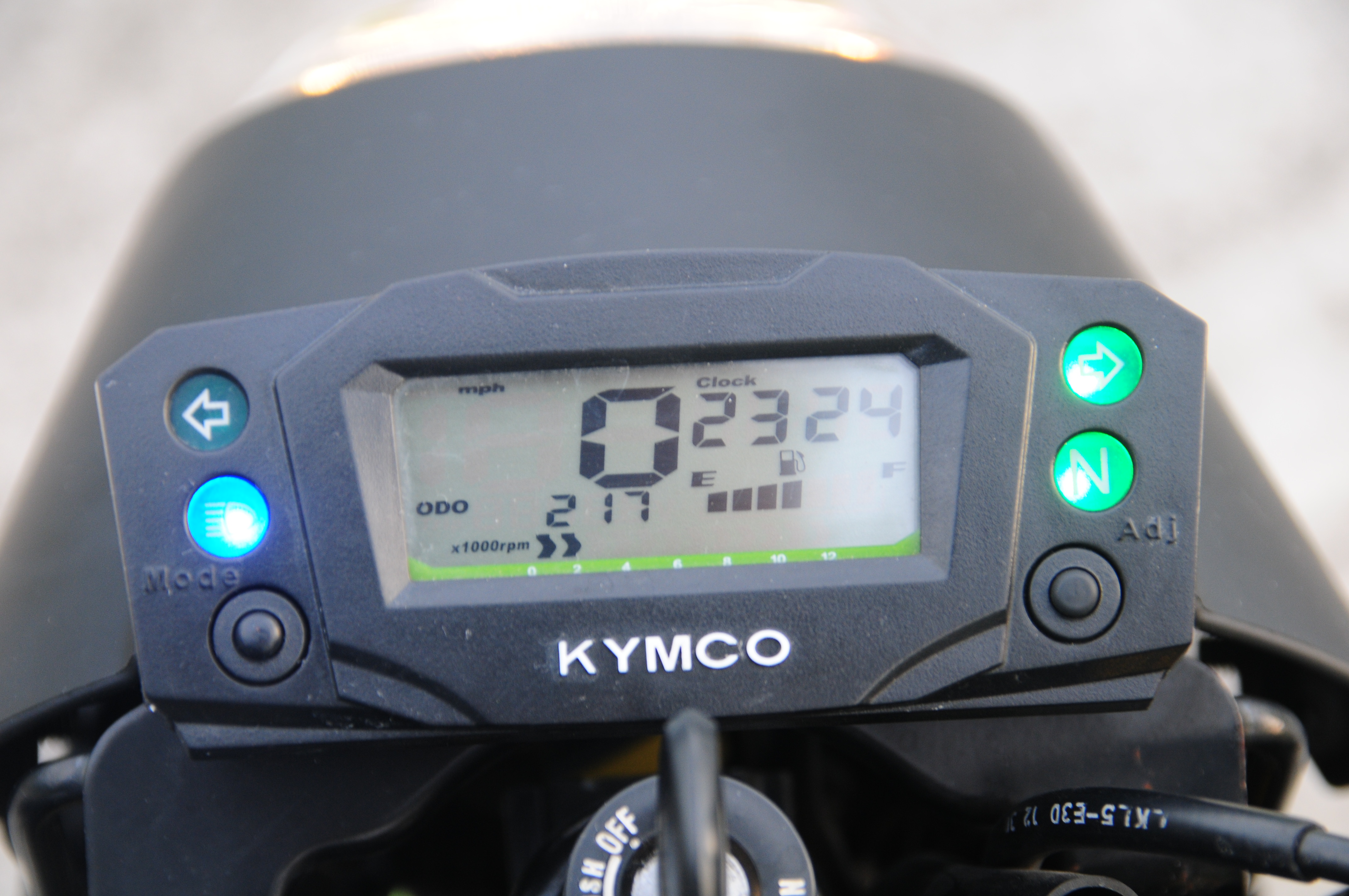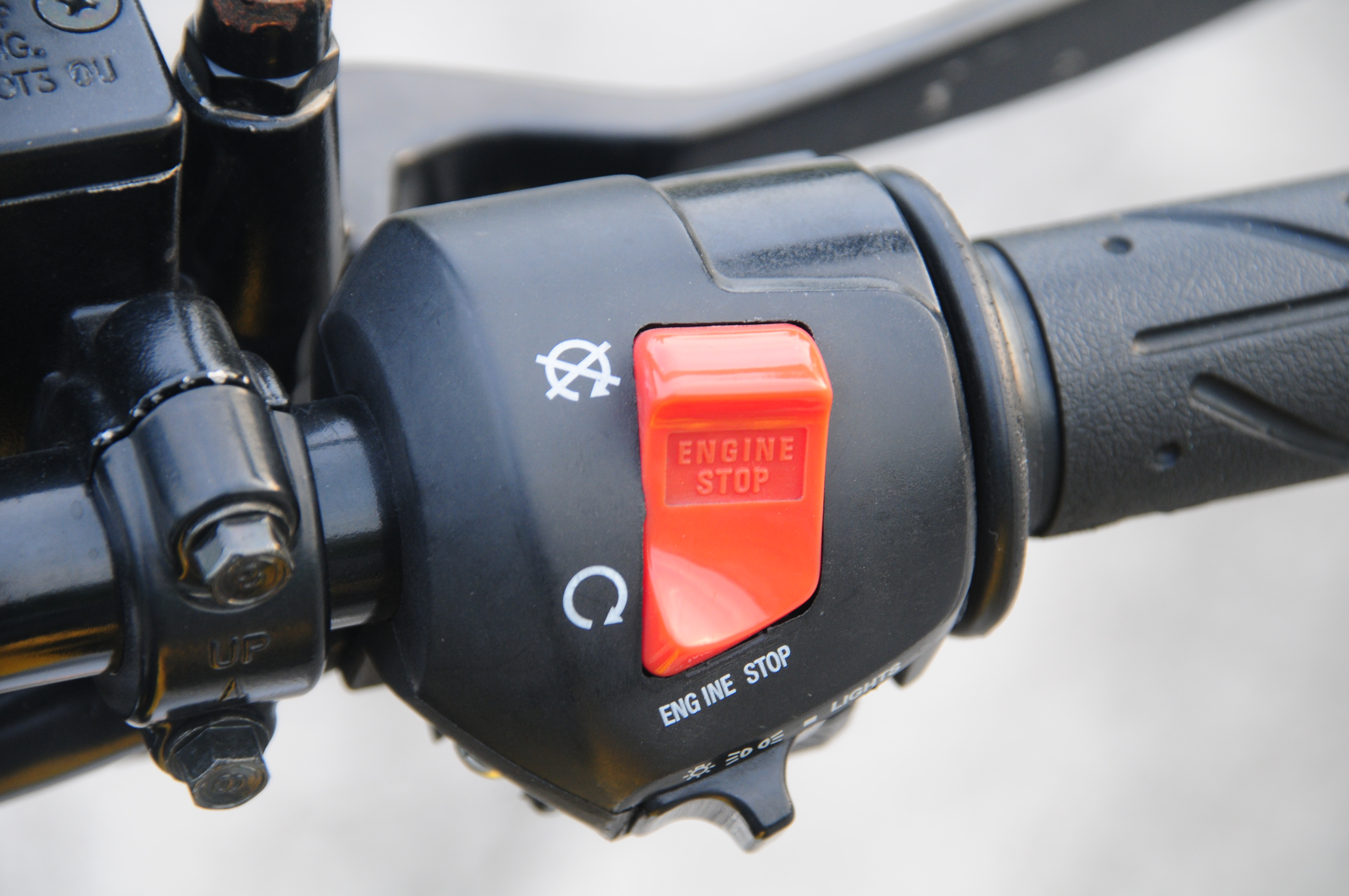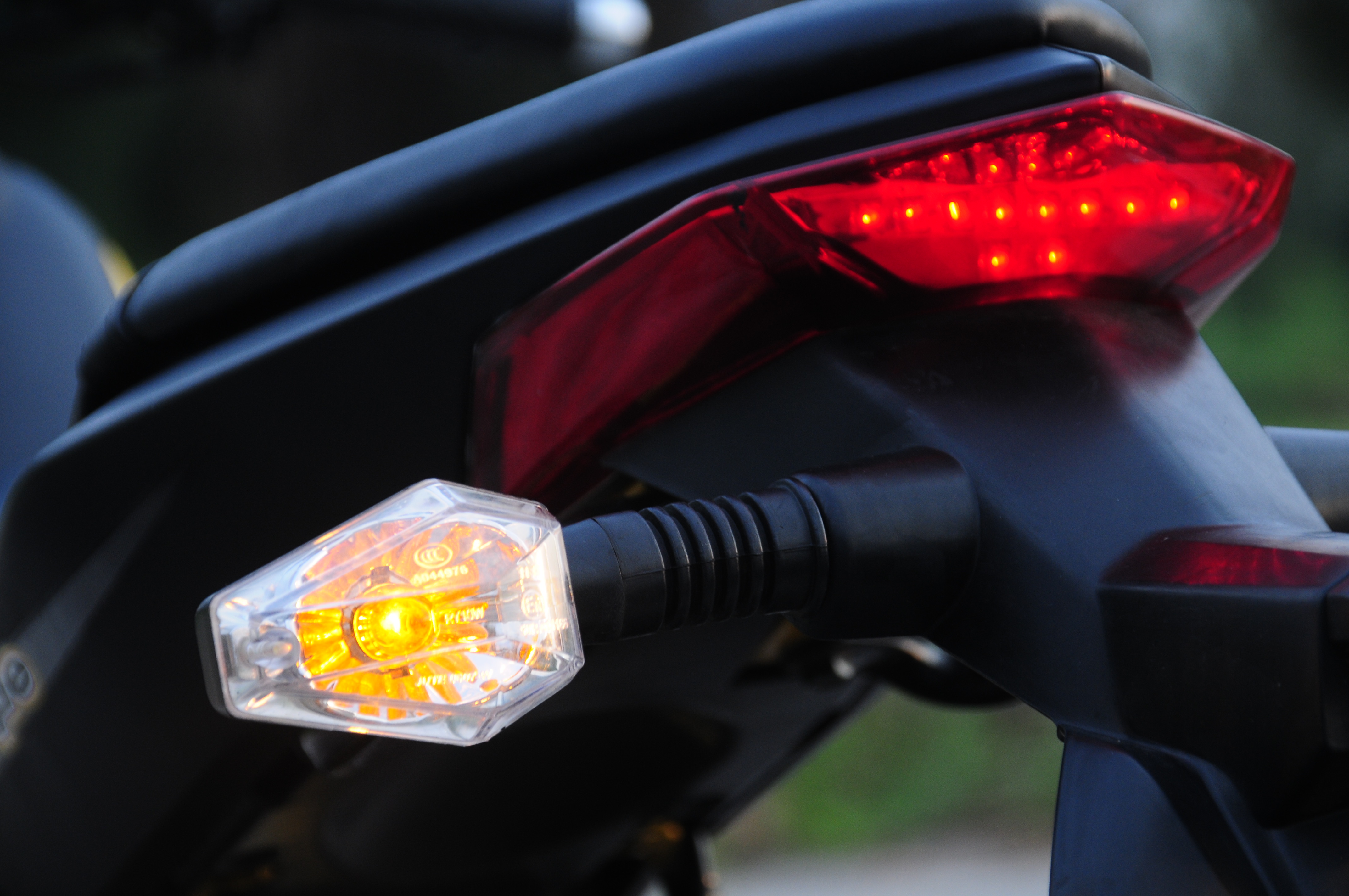 We are sure that every K-Pipe125 will end up being modified to suit the owner's personality or to improve the bike to meet his or her requirements. For added style, we would recommend fatter tires and wider and higher flat handlebars which will improve not only the looks but also the handling and comfort; although the fat tires will weaken performance and add to fuel consumption. A thicker seat might lessen the mean look but will surely be a must for riders planning to do long tours on the K-Pipe. But for daily short commuting and night cruising to the local tambayan, the seat is just right.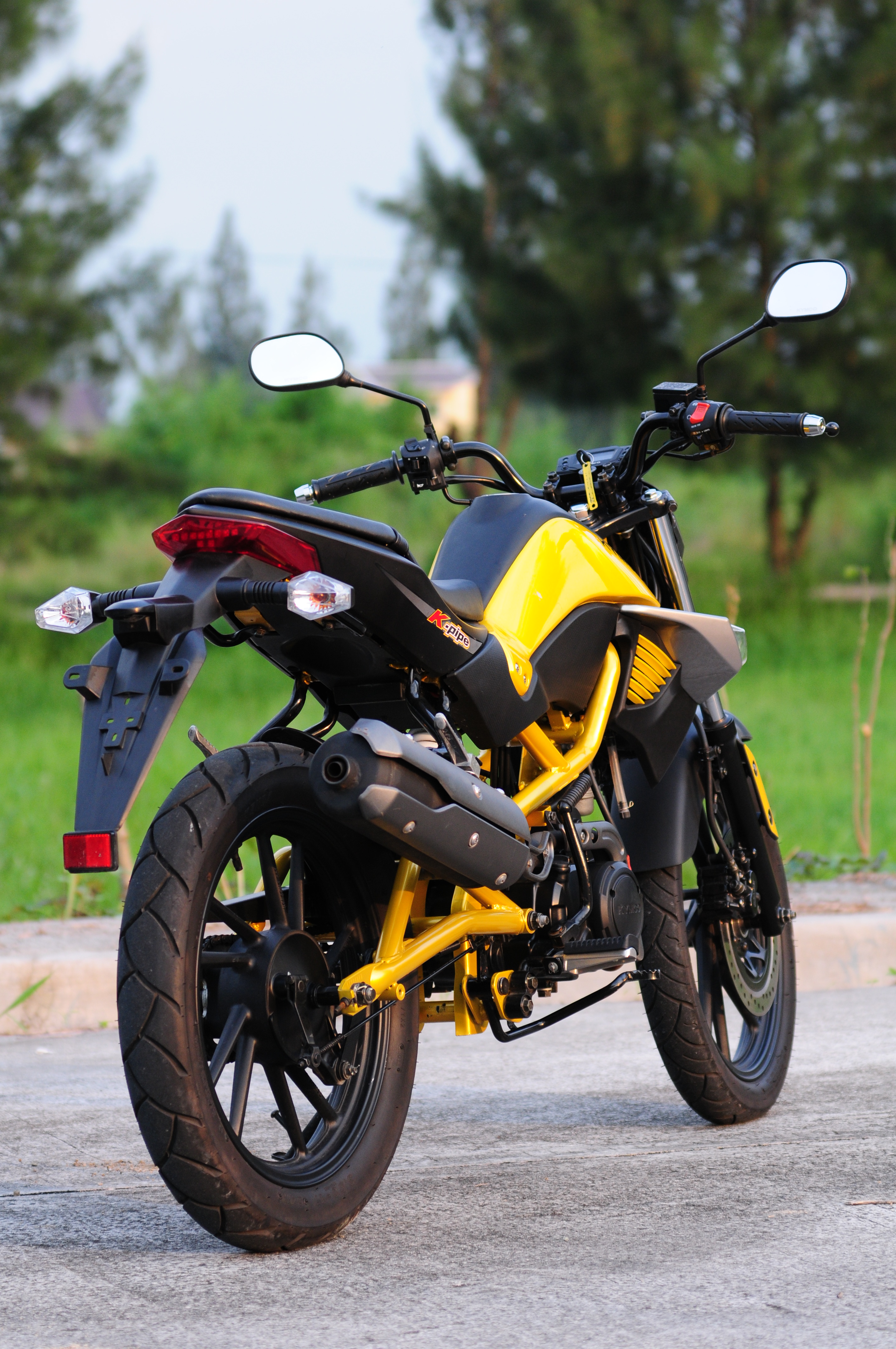 So as a package, the K-Pipe 125is indeed a good value-for-money for those seeking for high style to be different from the pack. It's a reasonable only bike and a perfect second bike. Its asking price of below P65, 000 is very attractive considering that you are getting the latest model from KYMCO as they get it in Europe and other parts of the world.
Truly Astig!
*This article was published in InsideRACING's  Volume 10 Number 12  2012 issue.