KYMCO KRV 180 – A Class Above the Rest
Date posted on September 27, 2021
Share this
If ever there is a small German luxury scooter this could be it.
KYMCO, a global leader in scooter manufacturing and design, has elevated its image in terms of quality and engineering for the past 15 years. In fact, their reputation and technical capability earned them technical partnerships from both German BMW and Japanese Kawasaki brands to produce engines and even complete scooters to be sold under the brand BMW or Kawasaki.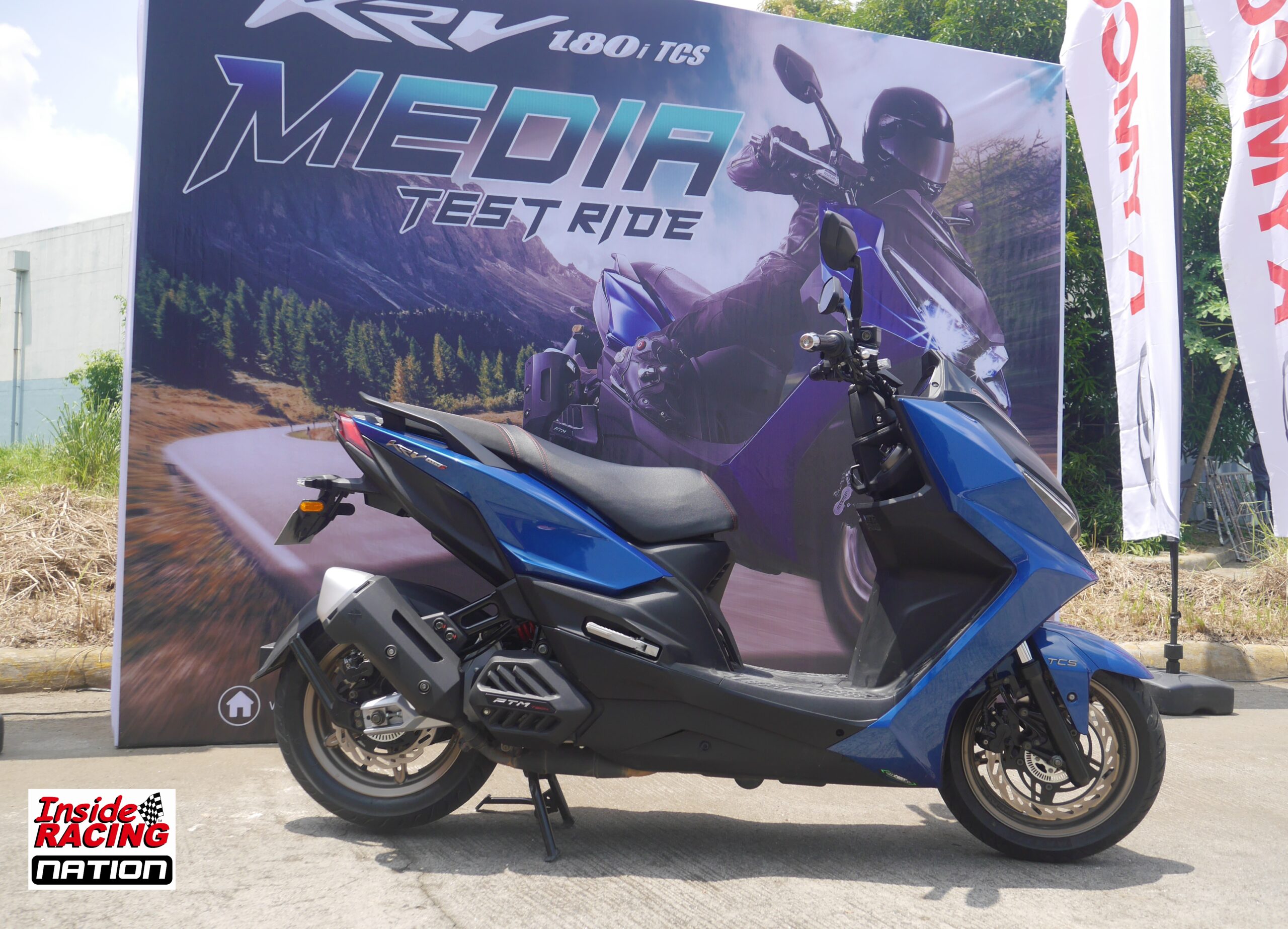 KYMCO produced BMW's first 650cc scooter 10 years ago and established a new standard for maxi- touring scooters. Later, they came up with their own KYMCO AK 550 which is way better than the BMW model in terms of handling.
Even on its own, KYMCO has produced a number of bestselling scooters like the retro Like 150i, the DownTown, X-Town, Xciting and it's current flagship model, the AK 550.
And now, they have introduced another premium model, the highly anticipated KRV 180.
A compact sport recreational vehicle, the KYMCO KRV is equipped with comfort, convenience, handling and performance.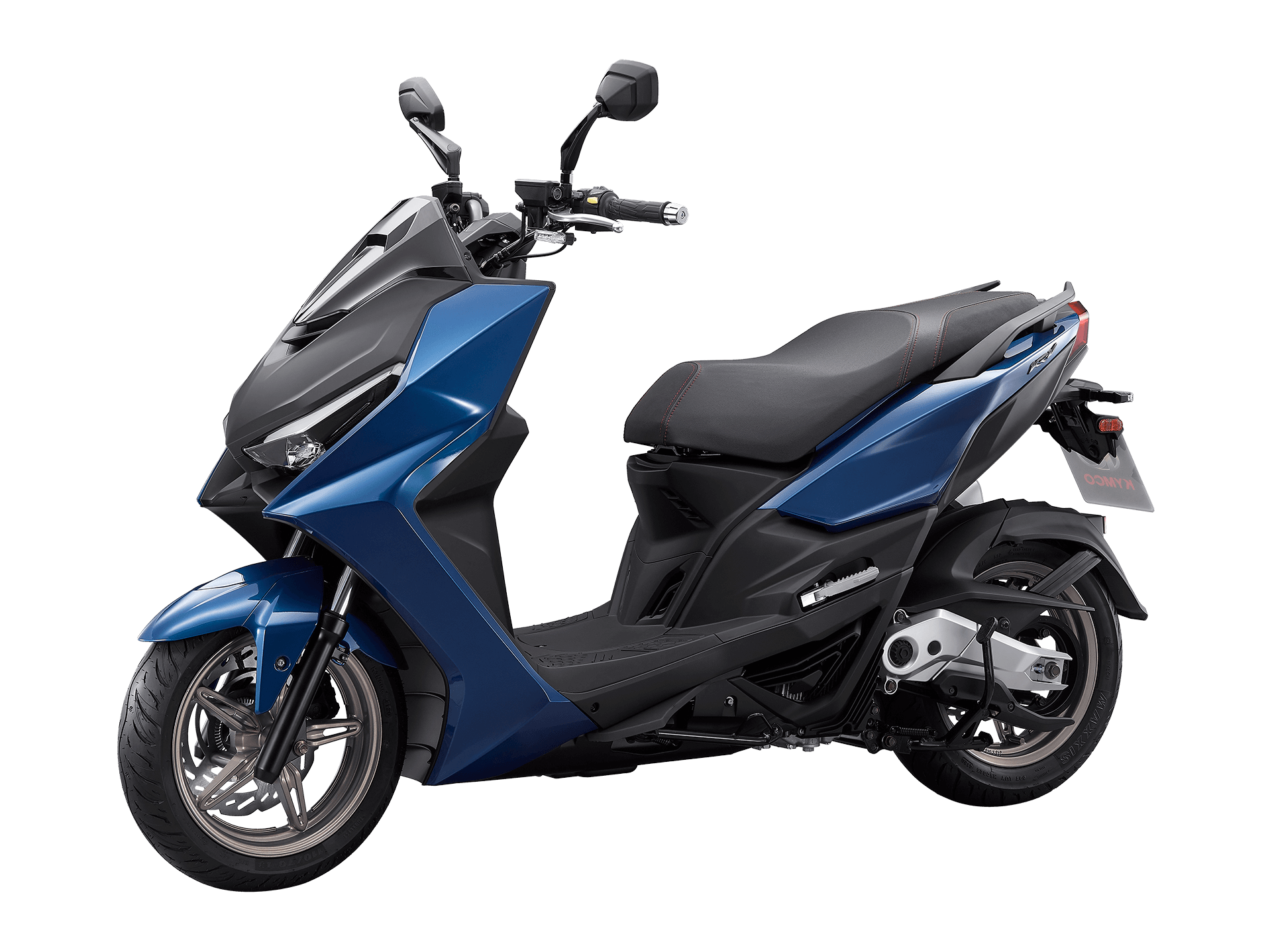 It is the world's first compact scooter to feature an independent swing-arm derived from motorbike architecture.
The KYMCO KRV offers unrivaled riding capability. It was launched last November 2020 during KYMCO's international press conference dubbed as "Time to Excite".
ABS, TCS, LED lighting and a keyless system are present in the KRV which has a flat floor RV design body that allows optimal riding position for both short and long journeys. Its suspension is tuned to suit both a single rider and when carrying a passenger. The KRV features an independent swing-arm architecture derived from KYMCO's flagship motorcycle, resulting in a lower center of gravity, perfect weight balance and optimal cornering capability.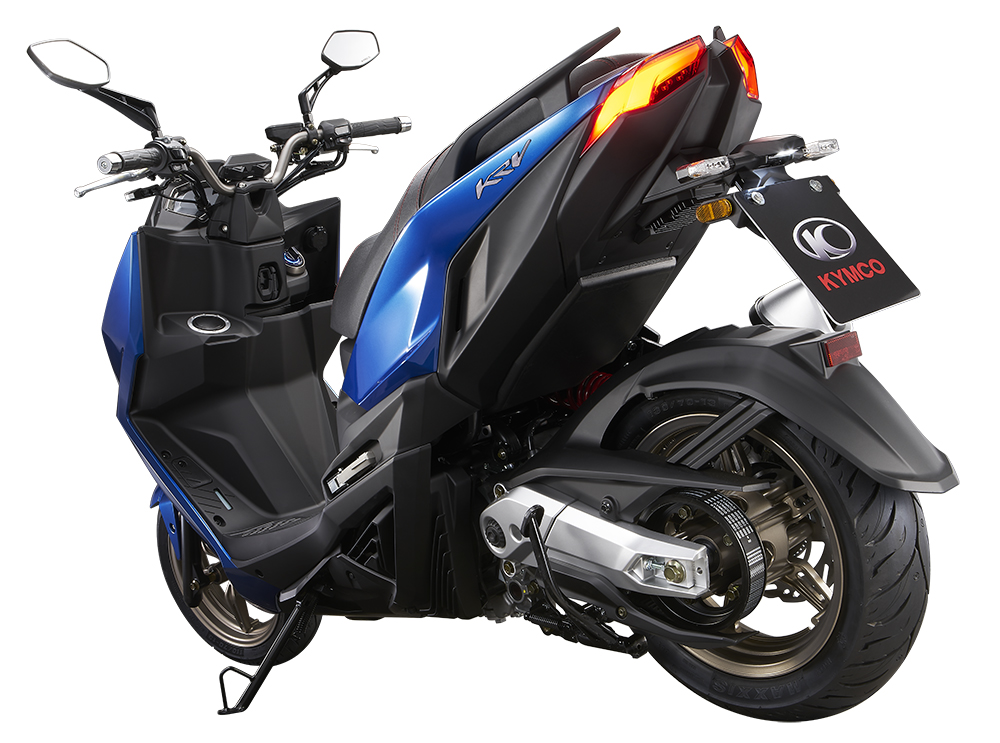 The KRV delivers a sport riding experience unseen in compact scooters. Its newly developed 175cc, 4-valve, liquid-cooled engine provides strong and smooth power delivery.
With an SRP of Php 189, 900, the KYMCO KRV 180i TCS will be available this coming November.
The KYMCO KRV 180 can be reserved now. Php 5,000 Reservation Fee to any KYMCO Dealer and Lifestyle Corner. There is a pre-order discount of Php 10,000 until November 30, 2021.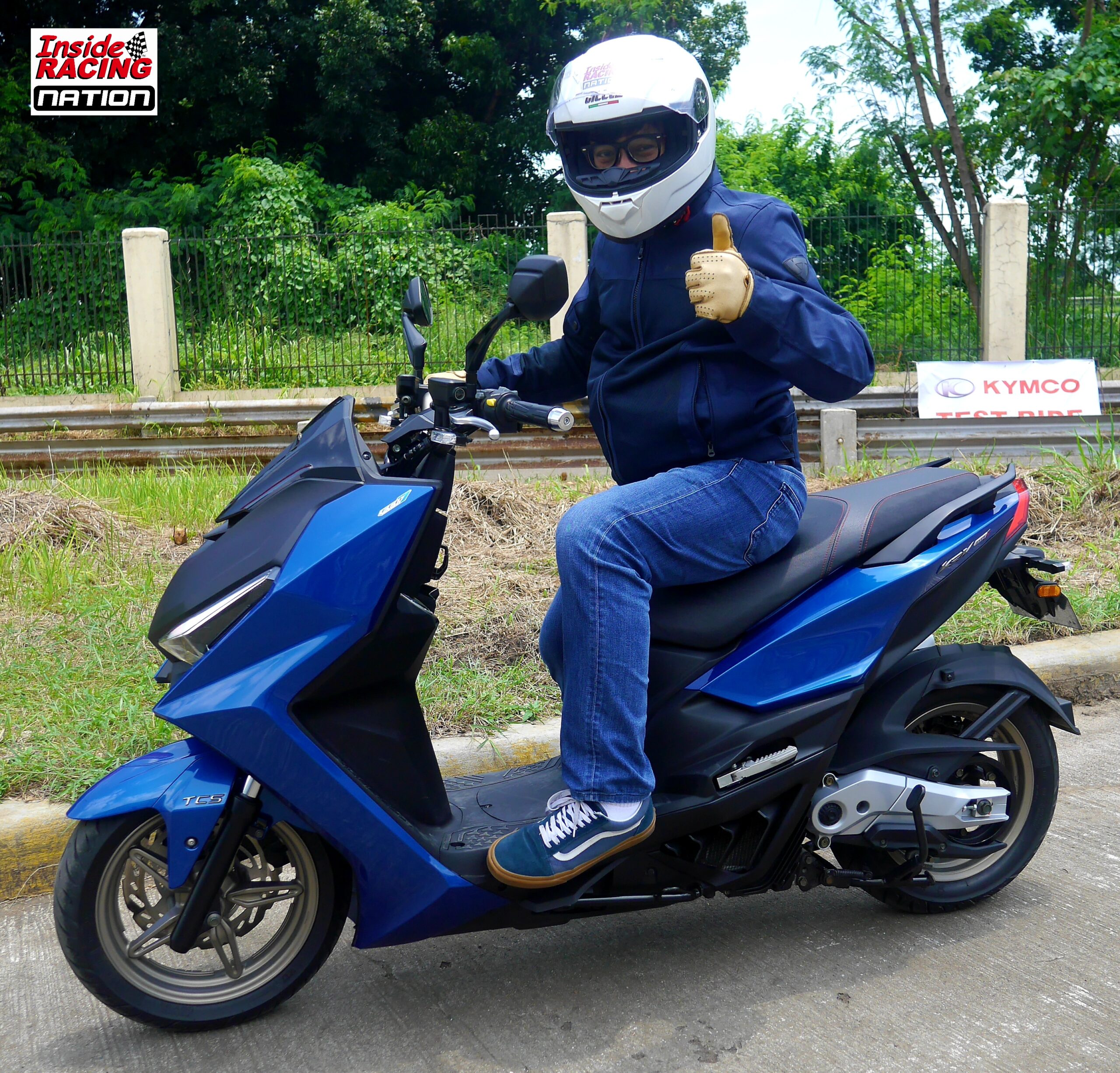 Here is the first ride impression of InsideRACING's Mr. Al Camba on the new KRV.
"KYMCO invited us for a very brief test ride to get a feel of the new KRV. It was held on a very short test ride on a course that was previously used by a car manufacturer for their final Quality Testing right after the car left the production line. It mimics all possible road surface conditions like loose surfaces, small bumps, tight twisty corners and a steep incline and descent. The only thing missing was the highspeed highway simulation. The course will not allow us to verify the KRV's outright performance and high speed stability, but it will expose any slow speed handling and NVH ( noise, vibration and harness) deficiencies if ever.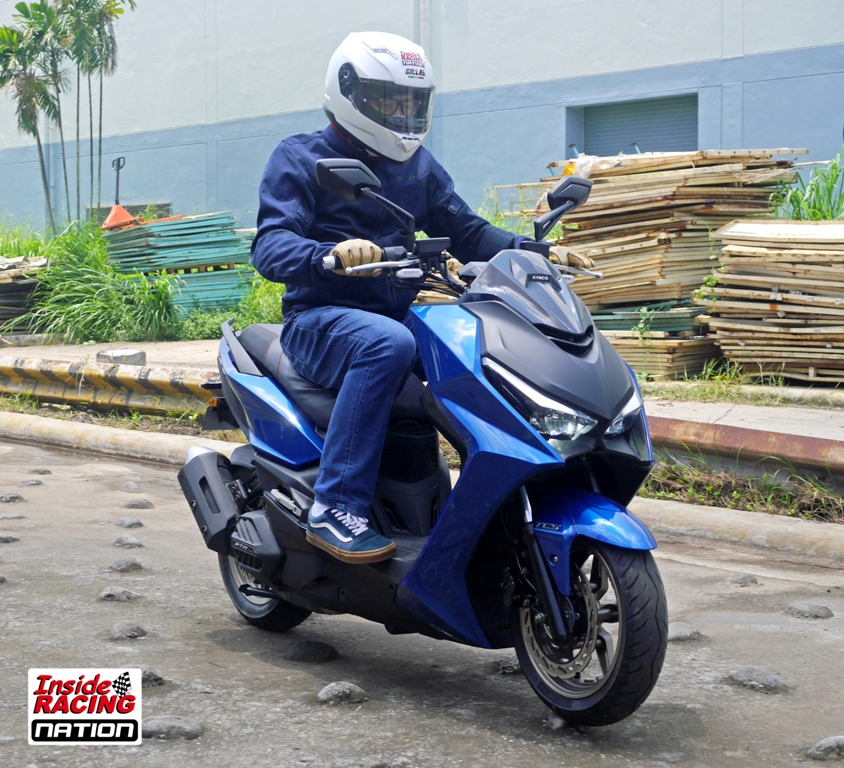 Well, I am very happy to report that the couple of kilometers ride gave me a very positive impression of the KRV's power, handling and comfort.
But first I would like to comment on the pleasing aesthetics of the KRV. The front looks amost like a small Italian sportbike with its LED headlights and front aerodynamic elements. The naked handlebar is both stylish and sophisticated, differentiating it from other regular commuter scooters in the market.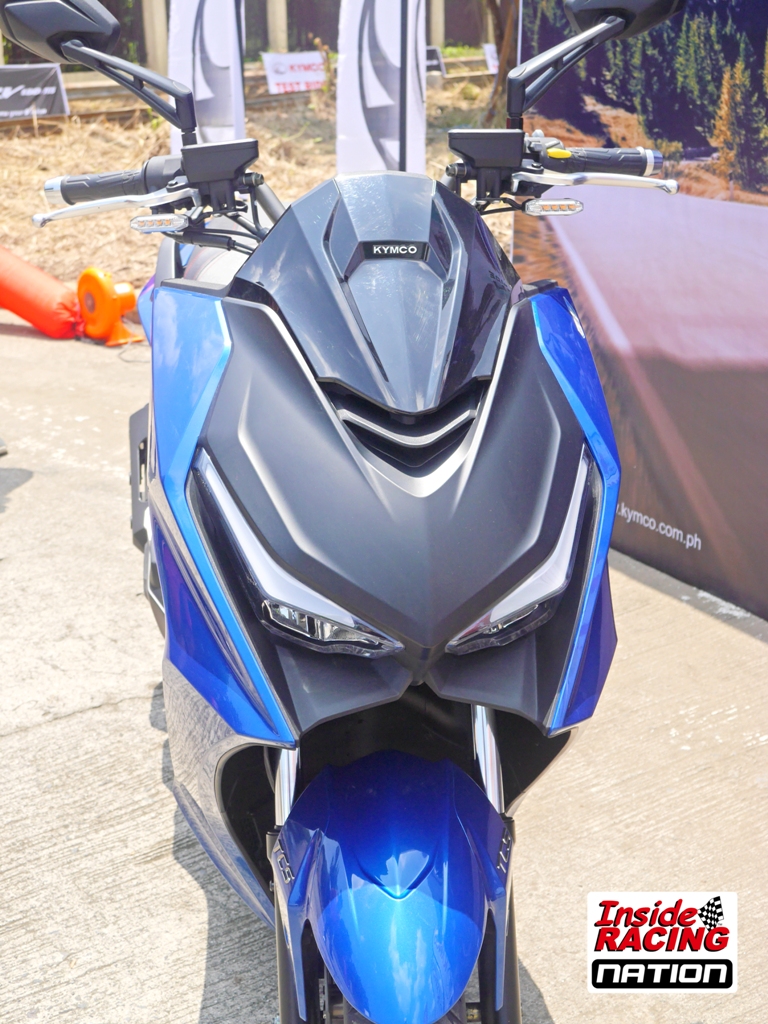 It has many features then only found on premium scooters. Keyless start, traction control, Antilock Braking System, ABS, USB charging ports and digital instrument panels are all standard.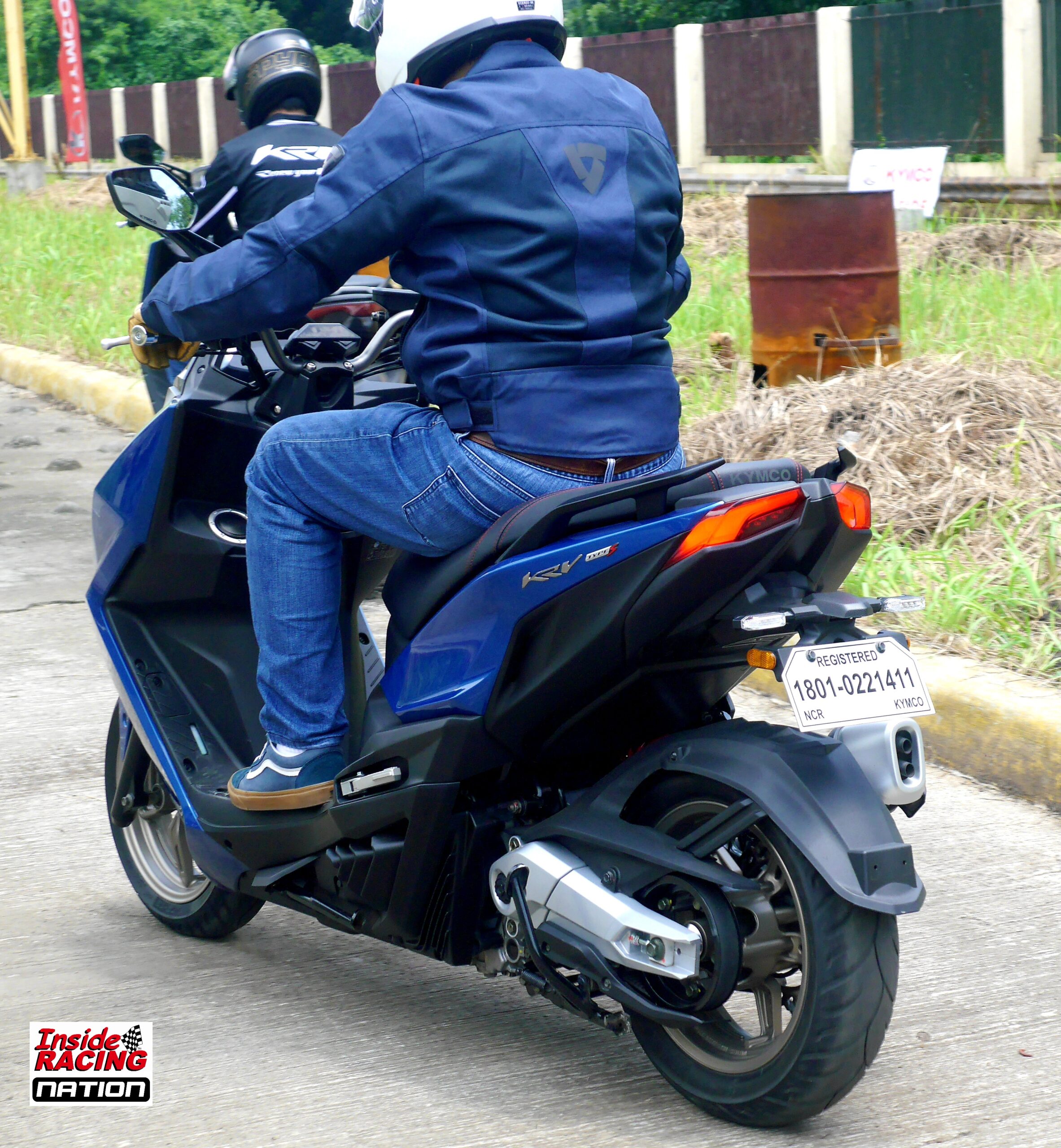 It also has a flat floorboard, a large underseat storage as well as front shelves and hook to maintain practicality.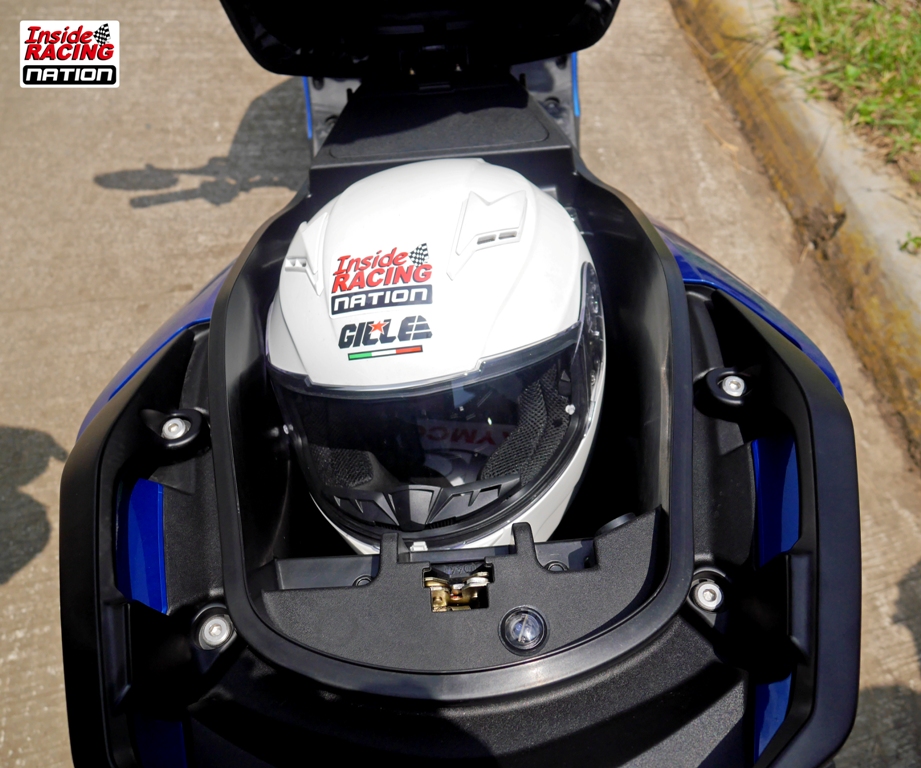 What impressed me the most is the stable yet sporty handling of the chassis. The KRV turns easily, yet is not twitchy over bumps and loose surfaces. Even with the short straight section available, I believe the KRV can ride the fast highways just as stable and relaxed as its bigger brother, the AK 550.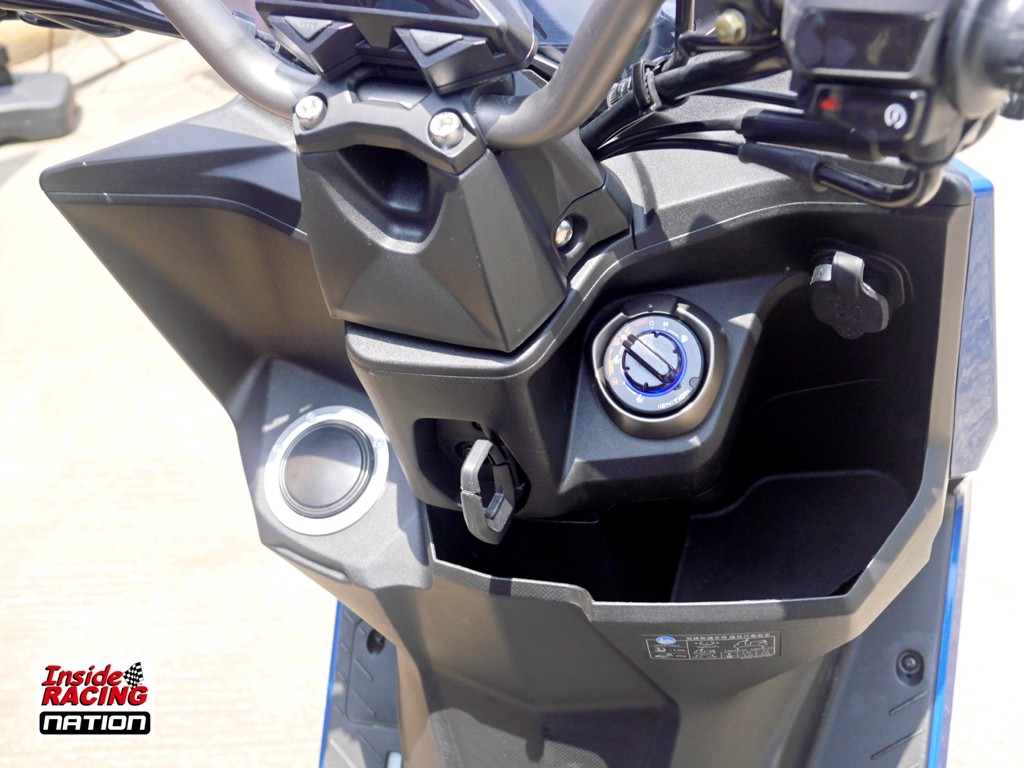 The high tech EFI engine is smooth and powerful for a 175cc. Coupled to a dry clutch and exposed belt drive, the 17.4 hp is more than enough to briskly propel the 149 kg sport scooter. The air filter is also easily accessible so you can remove it for track day sessions.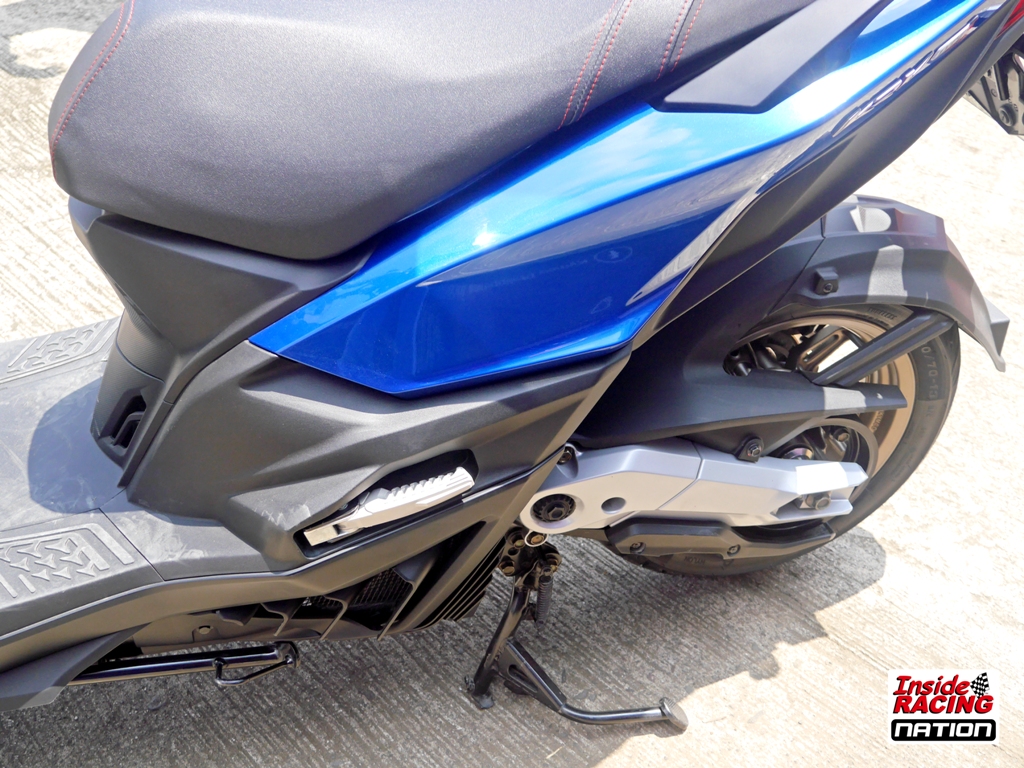 But more than the engine, the KRV's defining feature that makes it a class above the rest is its aluminum swingarm that mounts the engine centrally within the chassis rather than on the swigarm itself like most scooters. This allows for a lower unsprung weight and an almost 50/50 weight distribution. This layout also allows for a center mounted mono sports rear suspension with sporty setting.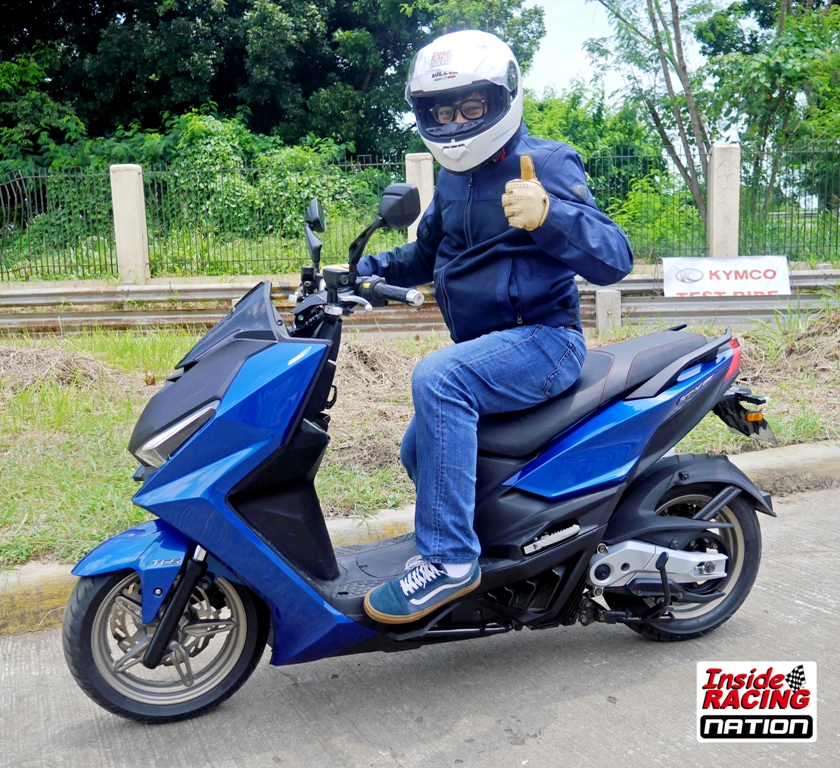 There are probably only two other scooters I know that adopts this engine and swingarm layout, the TMAX 530/560 and KYMCO's own AK 550. Both scooters are premium sport scooters dominating the segment all over the world.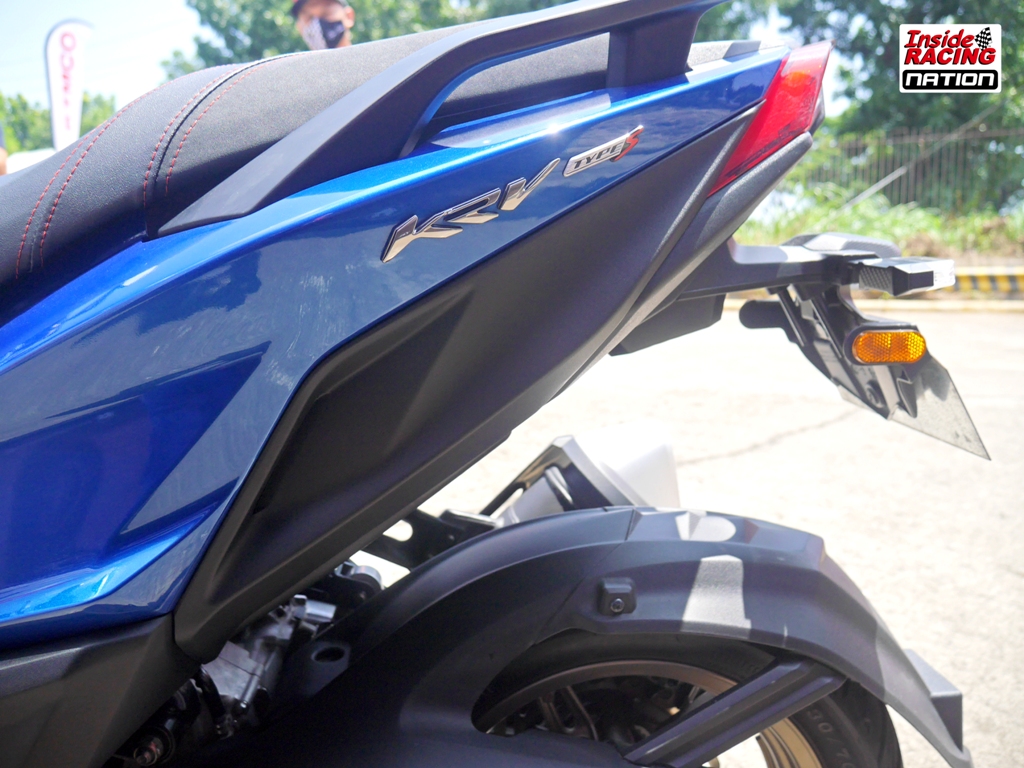 This technology is now available in the new KRV at a much affordable price. You cannot just classify the KRV based on engine size alone. The swingarm and chassis alone put it in a class above than those with the same engine size. The KRV is called the "baby AK 550″ for a reason."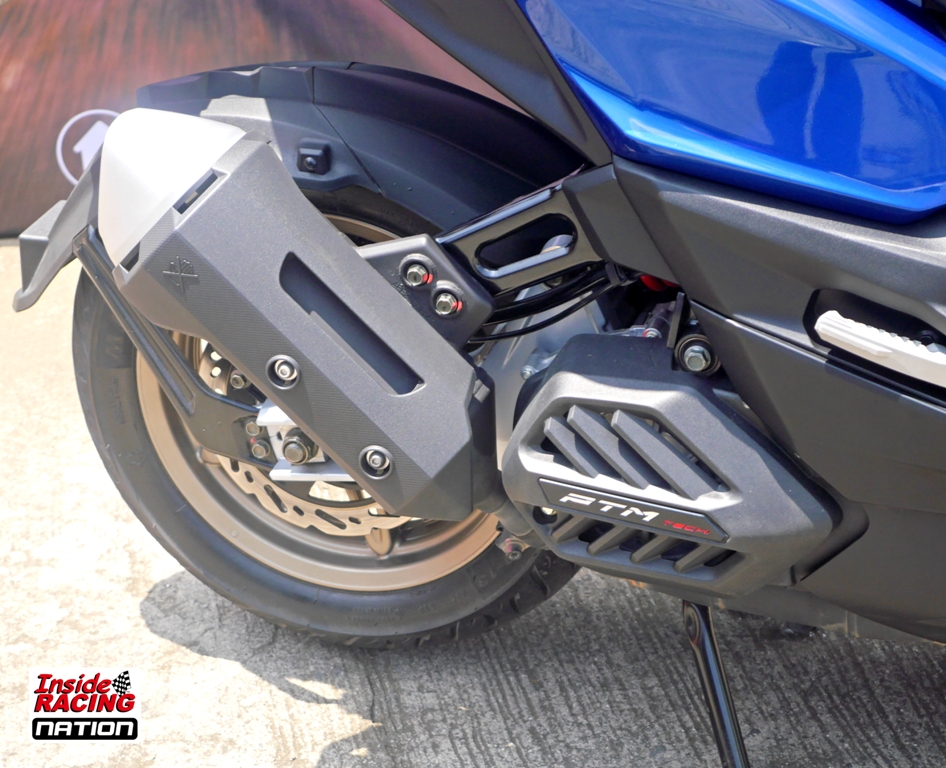 Specification
Engine Type: OHC, 4 Stroke, 4V, Single Cylinder
Actual Displacement: 175.1 cc
Cooling System: Liquid-cooling
Max. Power: 12.3 kW / 7500 rpm
Fuel System: Fuel Injection
Max. Torque: 15.68 Nm / 6000 rpm
Curb Weight (kg): 133.5
Length x Width x Height (mm): 1960 x 755 x 1115
Seat Height (mm): 795
Wheelbase (mm): 1400
Fuel Tank Capacity: 7.2 L
Front Wheel Size: 110/70-13
Rear Wheel Size: 130/70-13
Wheel Material Aluminum Alloy
Front Suspension: Telescope
Rear Suspension: Unit Swingarm
Front Brake System: Disk
Front Brake System: Disk
Thank you for visiting insideracing.com.ph. While you are here, kindly don't forget to click on our advertisers ads above, visit their site and consider them for your motorcycling needs. It will help us a lot.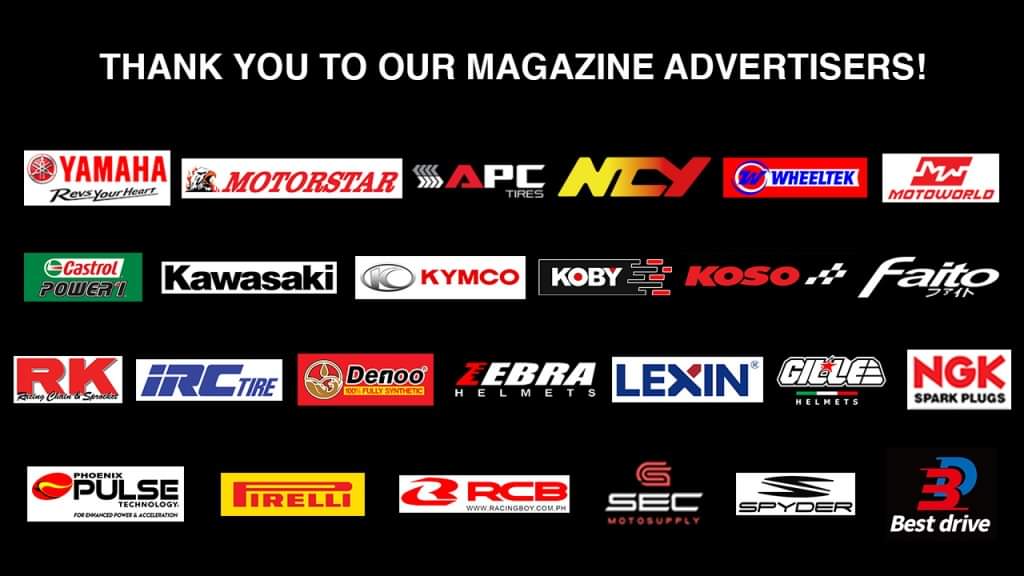 You can also order a copy of our monthly print magazine for more riding contents to read and enjoy at your leisure anytime by clicking here.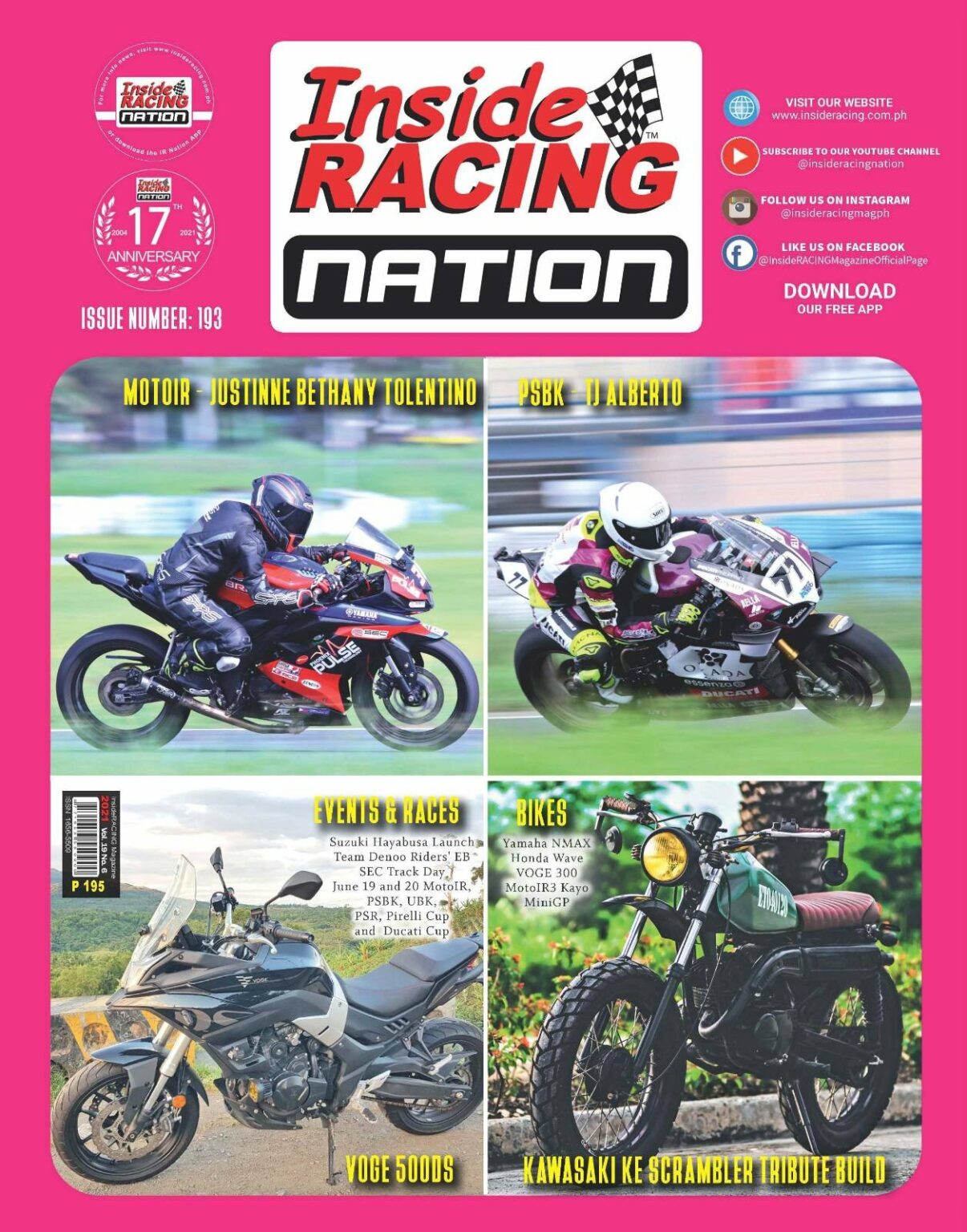 You may also express your thought below through the comment section. You may also follow us on Facebook, on Instagram @Insideracingnation or subscribe to our YouTube channel.