La Union Hosts First Ever Octane Beach Soiree Powered by Phoenix PULSE Technology with STKD Surf-Moto Customs
Date posted on May 15, 2018
Share this
Love the sun, sea, sand, motorcycles, surfing, bands and the outdoor fun? Come and experience all of these at the Octane Beach Soiree event powered by Phoenix PULSE Technology with STKD Surf-Moto Customs this May 18-20 in San Juan, La Union.
InsideRACING and Maximum TORQUE will treat you to a fun event that lets you enjoy different activities while bonding with friends and fellow motorcycle, four-wheel and beach enthusiasts. And it is all for free! There are no admission and entree fees!
It will be a great road trip to La Union whether you will ride your motorcycle or drive your vehicle. Free campsites will be provided as well. Food and drink vendors will also be there.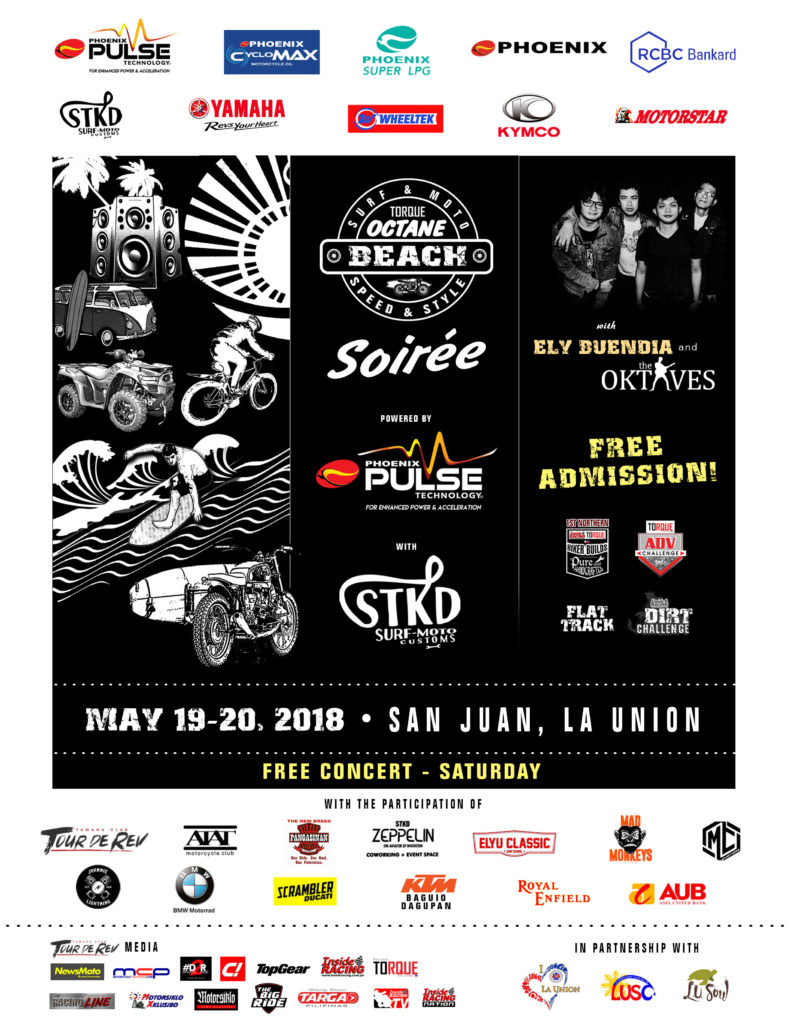 Octane Beach Soiree starts on May 18, Friday, with the arrival of campers and sponsors. Phoenix Petroleum prepared fun games for event-goers.
Lots of activities can be enjoyed on Saturday, May 19, and these include the 1st Northern IR and TORQUE Biker Builds, Auto 4WD displays, surf lessons, ATV Test Ride, Flat Track races which will be joined by celebrities, Dirt Challenge, TORQUE ADV Challenge, Beach Drag Race and Run for Fun with Fat Bikes, ATVs and Clubs, live band entertainment and a concert featuring Filipino rock icon Ely Buendia together with the Oktaves band. The fun starts from morning until midnight wherein the winner of the races and Biker Builds competition will be announced.
On Sunday, May 20, is the egress and cleanup of the campsite and sponsors' areas.
The Octane Beach Soiree is supported by Phoenix Petroleum, STKD Surf-Moto Customs, Yamaha Motor Philippines, Wheeltek, KYMCO Philippines and Motorstar. Participating at the event are BMW Motorrad, Ducati Scrambler, KTM Baguio Dagupan, Royal Enfield, STKD Zeppelin, Johnnie Lightning, MC Customs, Elyu Classic Surf School, Yamaha Club Tour de Rev, ATAT Motorcycle Club, Pangasinan Bikers Federation, Mad Monkeys and Asia United Bank. The event is held in partnership with the Provincial Government of La Union, La Union Surf Club and L.U. Soul.