Lorenzo: My stint with Ducati will always be special and will never be forgotten
Date posted on November 3, 2018
Share this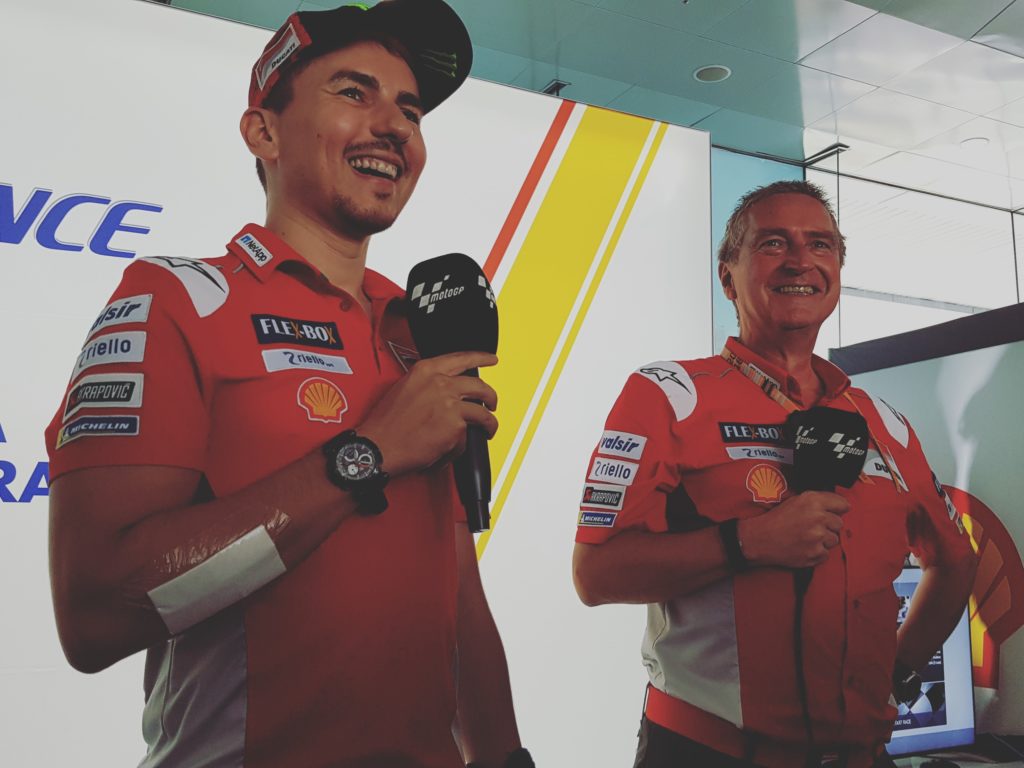 A very dissapointed Ducati Corse MotoGP rider Jorge Lorenzo told media and invited VIPs present at the Shell Advance Suite here at Sepang International Circuit that he cannot ride in today's Qualifying and tomorrow's MotoGP race because of his injury.
The Spanish rider tried to ride yesterday during Friday Practice but was more than 3 seconds off the pace, the slowest in the field, behind the fastest rider  Ducati team mate Andrea Dovisioso. Apparently he is still suffering from his injury amd could not ride properly. " I tried but unfortunately, I had to give my bike to Pirro for the rest of the weekend. It's sad that I could not race here in front of all the Malaysian fans. So I promise you can watxh me on the TV next race in Valencia," said Lorenzo.
Lorenzo was injured when he crashed hard during the first Thailand GP held almost a month ago in Buriram Circuit. He missed the next two races in Japan and Australia and was hoping he could race here in Malaysia. Sadly, it was not possible and he feels very disappointed but promised that for sure he will give it his best for his last race for Ducati and Shell Advance in the season finale in Valencia.
Lorenzo is on his final year with Ducati after two seasons. He announced early his year that he will move on to the factory Repsol Honda squad for 2019.
" I will never forget my stay in Ducati. It will always stay with me. Like in football, once you have become part of Real Madrid or Barcelona, when you move to another club, it will always be a part of you," said Lorenzo.
After a winless season in 2017 and the first few races in 2018, Lorenzo suddenly found good form and managed to win his first MotoGP race for Ducati in in Mugello, Italy to the delight of the partisan Ducatisti. He made it back to back wins with another victory at his home race in Catalunya. His third win came in Austria where he defeates his 2019 team mate Marc Marquez. Lorenzo went up to as high 3rd in the Championship standings.
Shell Advance is a technical partner of the Ducati Corse team since 1999. Shell's innovation and development within the sport has enabled them to help power Ducati Corse to more than 30 race victories as a result of a close technical partnership. They won the MotoGP World Champipnships in 2007.
Qualifying for tomorrow's Shell Advance Malaysian MotoGP rave is scheduled this afternoon.