Mascardo in top 5, while Rellosa & Borbon in top 9 in Race 2 of the Suzuki Asian Challenge
Date posted on April 21, 2015
Share this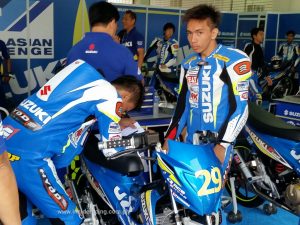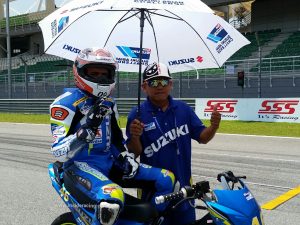 Team Suzuki Pilipinas' riders made a very respectable race debut last weekend at the Sepang International Circuit (SIC) in Malaysia during the opening two rounds of the inaugural 2015 Suzuki Asian Challenge. It is a competition among 17 riders from Indonesia, Thailand, Malaysia,Singapore, Japan, Sri Lanka,Vietnam and India. All riders will be racing identically prepared Suzuki Raider R150. The series is part of the 2015 Asia Road Racing Championships which is celebrating its 20th year.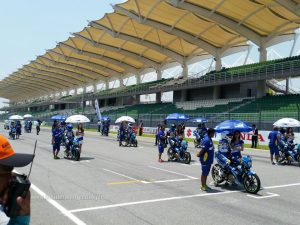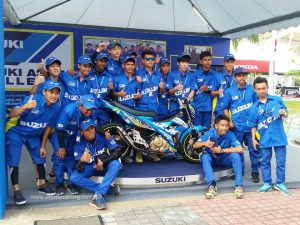 The top performance by a Filipino went to VMan- Mindanao's April King Mascardo who finished an impressive 5th in Race 2 adding to his earlier 10th place in Race 1. YRS-Luzon' s Enzo Rellosa III finished 7th in Race 2 and 11th in Rcae 1 while BMR-Visayas' Mario Borbon Jr. was 9th in Race 2 and 12th in Race 1.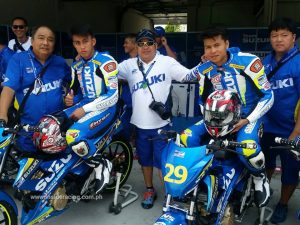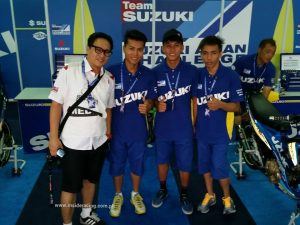 The three riders were chosen by Suzuki Philippines after a Shoot-out last March 22. Mascardo now lies 6th overall in the standings while Rellosa is in 10th and Borbon 12th overall. It was an impressive performance indeed for the three boys who were mainly street-track oriented. It took ime and effort for them to get accustomed to the big,wide and fast circuit but they showed that thay can leaen fast. Next race will be in Sentul Indonesia on in June.

FULL REPORT in InsideRACING magazine.