MDPPA Recognizes Effort and Heroism of Delivery Riders Through a Fun Search
Date posted on May 25, 2022
Share this
A press conference was held by the Motorcycle Development Program Participants Association (MDPPA) on May 25 at Cafe Romulo in Taguig. This is to discuss a contest they are staging for delivery riders who are frontliners in this ongoing pandemic.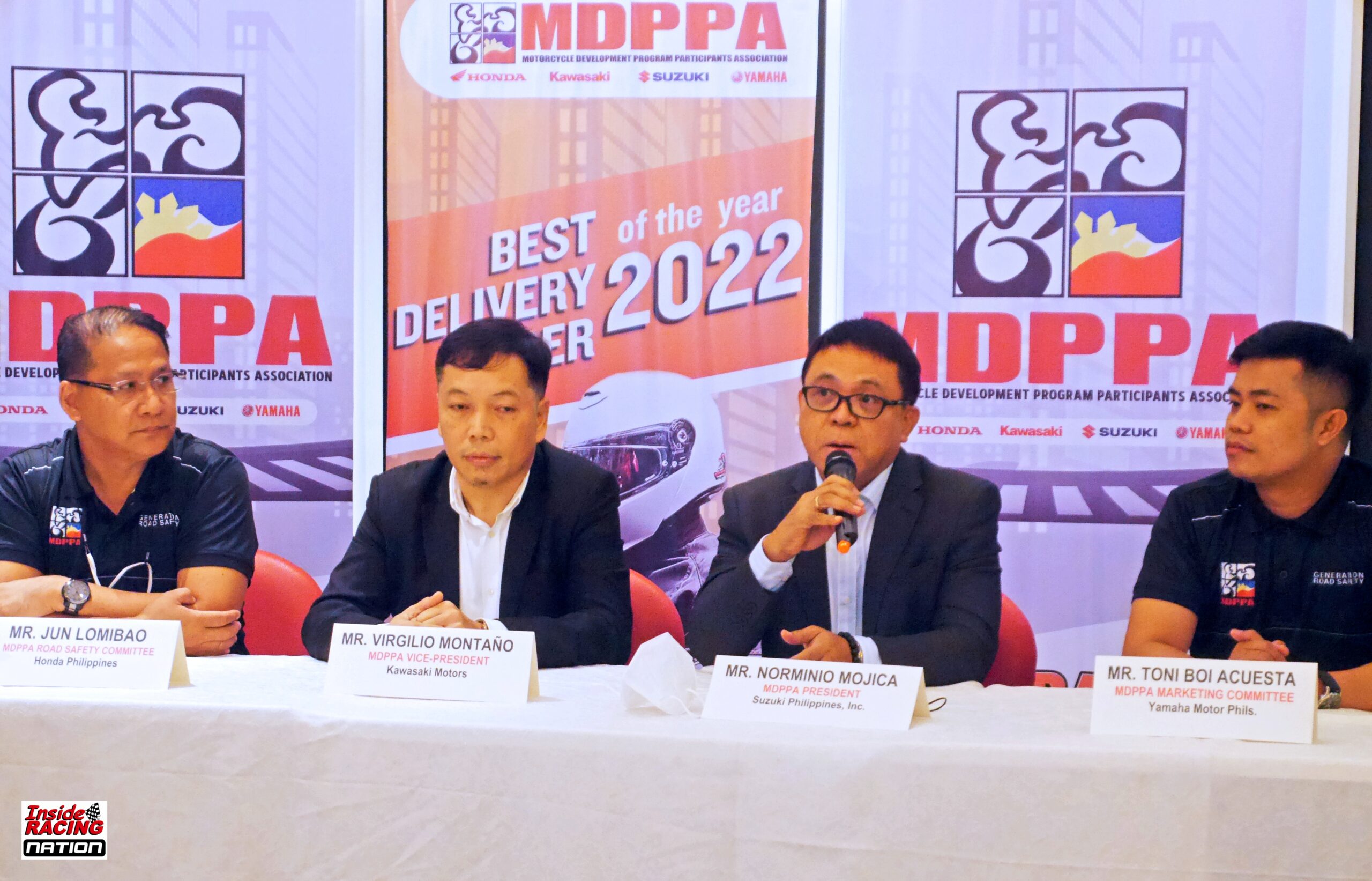 "In our continued pursuit of motorcycle safety, quality & standard, MDPPA proudly launches the first ever search for the nation's exemplary motorcycle delivery rider, our modern-day heroes. Be recognized for your hard work & dedication," stated by the MDPPA.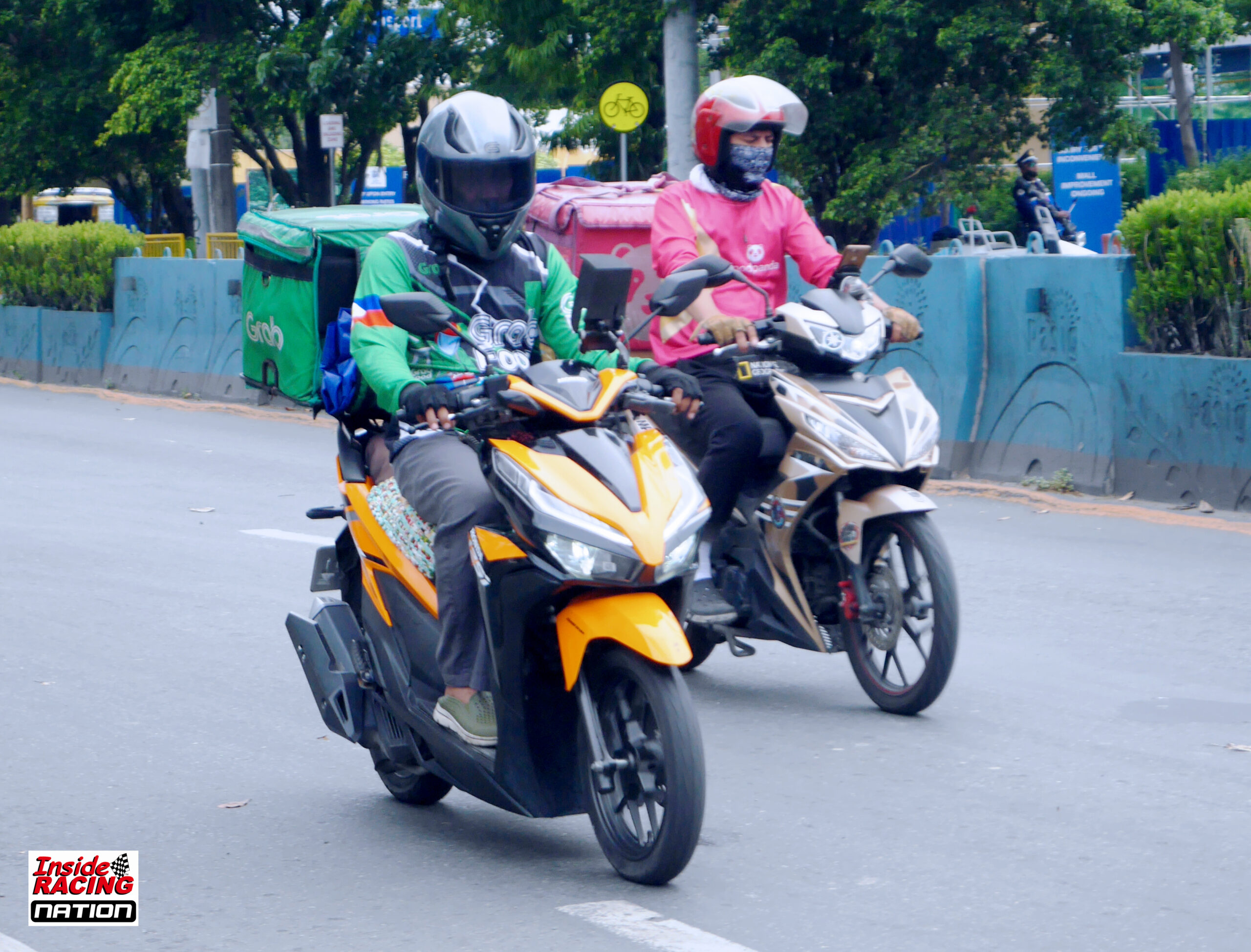 Open for all delivery riders, nominations can be made and even the rider can nominate his or her self.
As of this writing, there are more than 500 entries and the MDPPA is looking forward for more participants from NCR, Luzon, Visayas and Mindanao. For the elimination rounds, the contestants will undergo online exam on road safety and customer service, a series of interviews, practical examination and customer testimonials will also be a basis for judging. Motorcycles, cash prizes and lots of items from sponsors of the competition awaits the top 4 delivery riders after eliminations. They will also be safety ambassadors of MDPPA which believes that the best to represent the association are the riders themselves.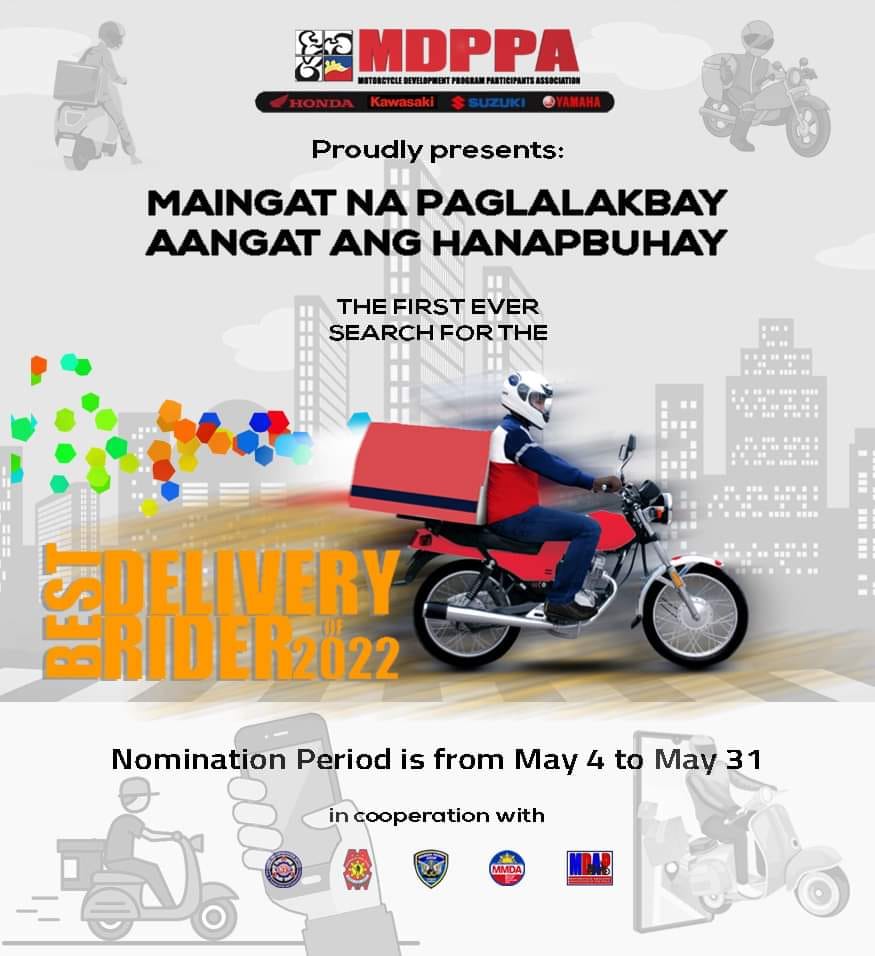 The MDPPA is always for motorcycle riders and safety. The Delivery Rider of the Year contest with the theme "Maingat na Paglalakbay Aangat ang Hanapbuhay" is just one of the activities of the association for two-wheel riders.
To join or nominate a delivery rider, go to https://bit.ly/MDPPANominationform. To view mechanics of the MDPPA's 1st ever search for the "Best Delivery Rider of the Year- 2022", go to https://fb.watch/cW13wBBaM7/.

For further details, visit the MDPPA official website at https://www.mdppa-inc.org/ and their facebook page https://www.facebook.com/MDPPA.Official.
Press release from MDPPA:


MDPPA awards motorcycles to the country's Best Delivery Riders
The Motorcycle Development Program Participants Association (MDPPA) seeks to recognize outstanding delivery workers all over the country by organizing its first-ever "Delivery Rider of the Year Award," an initiative that celebrates these heroes' key role in these challenging times.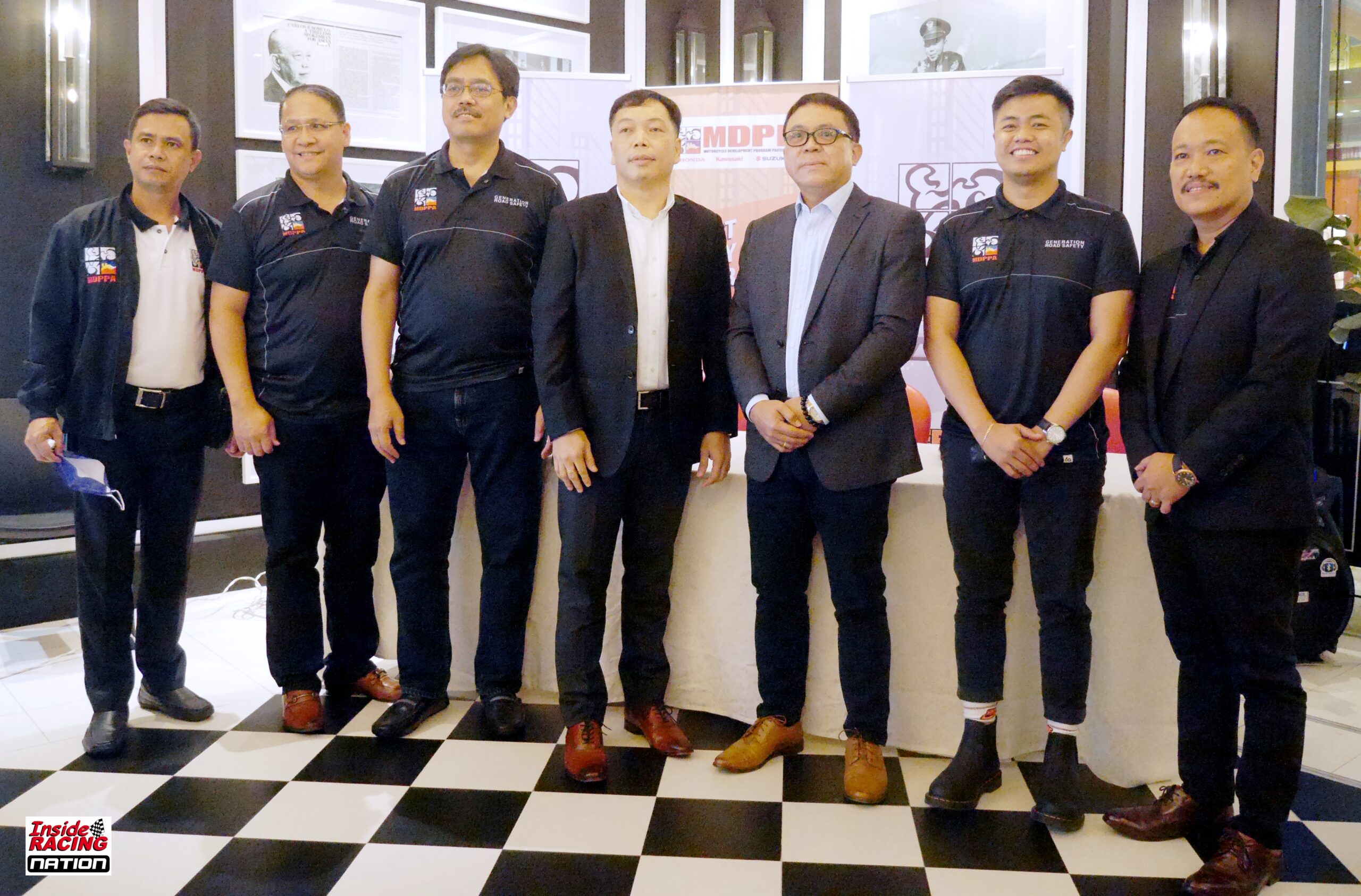 As an association that constantly advocates for the safe and responsible use of motorcycles, the MDPPA believes that the "Delivery Rider of the Year Award" will be at the forefront of acknowledging the effort and heroism of delivery riders.

The steadfast dedication of delivery riders to serve the consumer public is closely tied up with their adherence to requisites of Generation Road Safety: to drive defensively and with safety as top of mind. Thus, the MDPPA invites all delivery riders to lead in these efforts and perform their jobs responsibly and well, making roads safe at all times.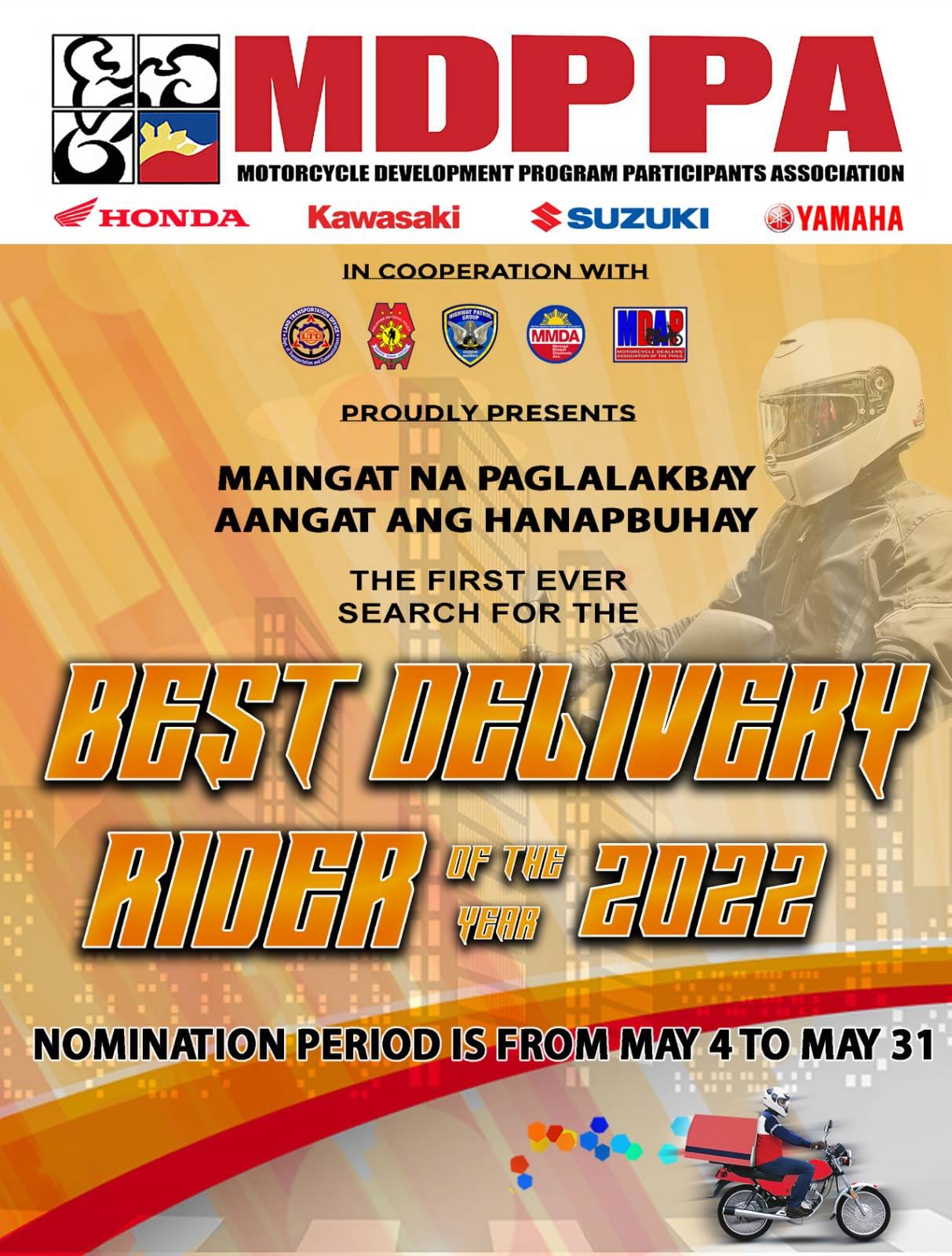 The MDPPA encourages the public to submit their nominations at the following link: https://bit.ly/MDPPANominationform Nominees must be at least 18 years of age, and must drive motorized bikes such as those from MDPPA's brand members Honda, Kawasaki, Suzuki, and Yamaha.
After a multiple round of judging four finalists will be selected via interviews, online and practical examination, and judges' deliberation. One finalist will be selected from Metro Manila, Luzon, Visayas, and Mindanao each. Each finalist will win a motorcycle from the MDPPA's member brands as well as safety
riding gears.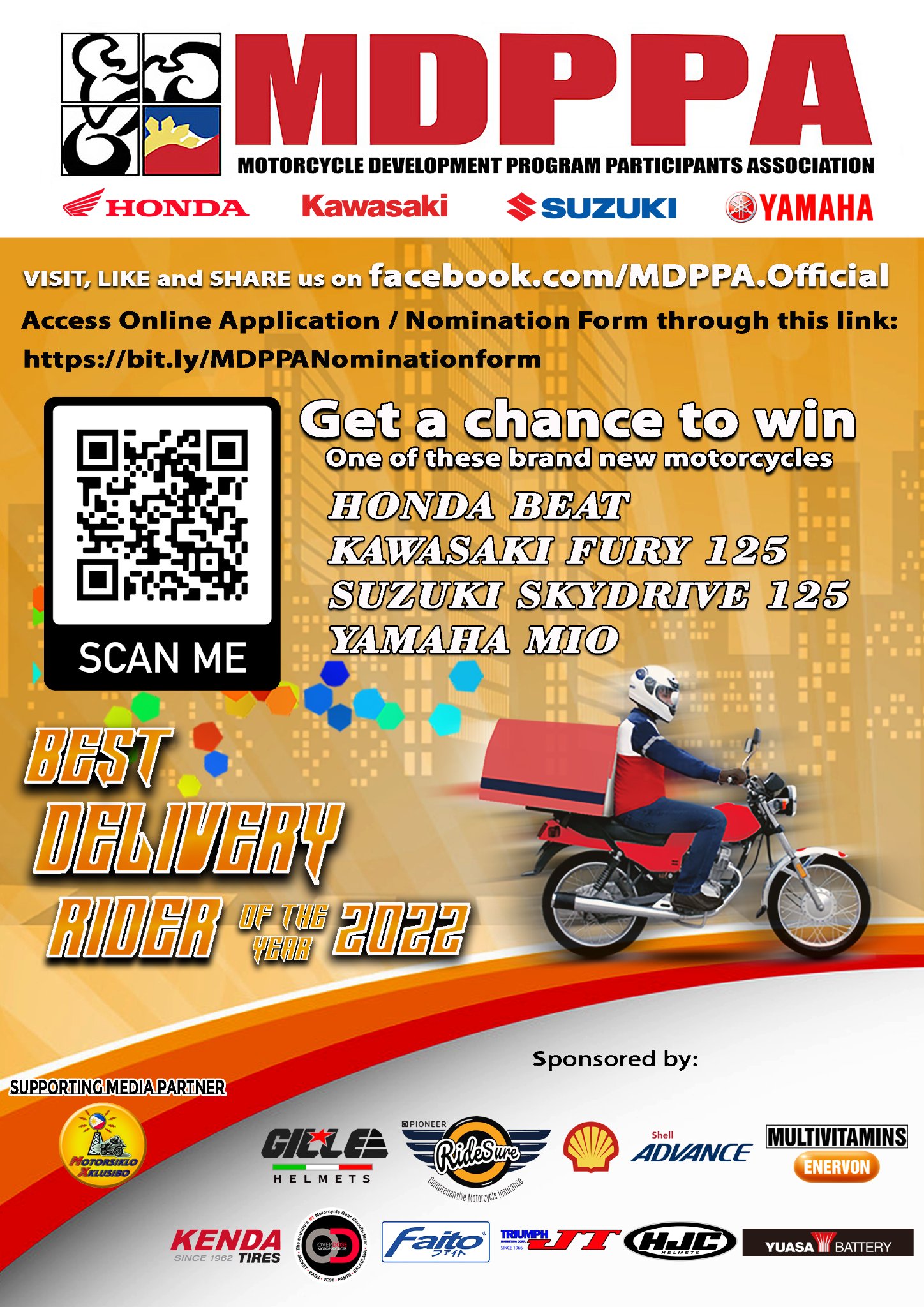 This project is made possible with the support of the Metro Manila Development Authority, Land Transportation Office and Philippine National Police-Highway Patrol Group with the help of the following sponsors: Overdose Motor Products, Kenda Tires, Gille Helmets, Shell Advance, Faito Racing Ph Inc., Pioneer Life Inc., Triumph JT (HJC Helmet), Promax Trading (Yuasa Battery), Motowolf, Motortrade and Unilab. Together with Motorcycle Dealers Association of the Philippines, RidePh, OnePh and Motorsiklo Xclusibo as the official media partners.