Metzeler Lahar Challenge: Experience Pinatubo Ride
Date posted on September 15, 2020
Share this
This was a not so early start for a ride right smack in the middle of Pampanga and somewhat southeast of the mighty destructive Pinatubo volcano.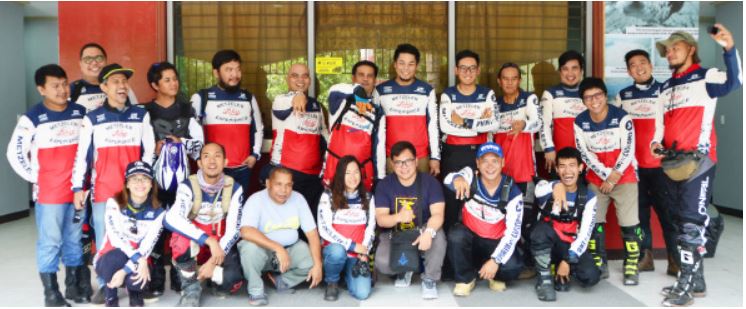 On April 17, 2019, the hand-picked media riders were transported to Nepo Center Park in Angeles City, Pampanga where we were treated to a tummy-busting breakfast of Kapampangan kakanin and pansit at the "always full" Susie's Cuisine. As soon as our belts were at it's last hole, we then proceeded to check out our reliable Yamaha XTZ 125 off-road motorcycles which were shodded with premium Metzeler MC 360 full knobby tires – sweet like a "box-of-chocolates".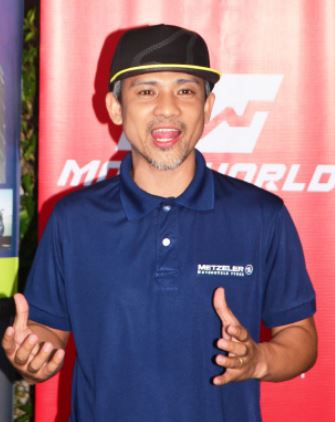 Again, event organizers headed by Mr. Jeff Alvarez of Motorworld hand-picked seasoned media riders but newbie at off-roading to test the Metzeler 360 tires. The well known instructors and coaches in the industry (Mel Aquino and Joey Rivero) helped in keeping the learning curve straighter and safe by being the marshals and from time to time a shoulder to cry on. From Angeles to Barangay Sapang Bato, we tasted a bit of "semplang experience" (me at least). On the twisty dirt road with lahar, I later learned, that in order to correct an almost crash or the front end plowing sideways is to give it a little throttle to continue the forward momentum. Well there you have it, no bruises on my first lesson but scratches on my ego since lahar is as soft as cotton candy.


Earlier while stuffing our faces with breakfast of champions at Susie's Cuisine, the participants were introduced to the tourism officers of Angeles City and the mastermind/spokesperson of Lahar Challenge, Mark Laccay. We did a stopover to let the Barangay Chairman/chieftain, Roman King, know of our off-roading excursion. Mr. King is a motorcycle rider and an Aeta who warned the participants to be wary of the inhabitants, the environment in which they live in and their culture. The Golden Trail Adventures, a 4X4 tour group which has been operating the trail/route for some time now, helped in plotting and planning the event.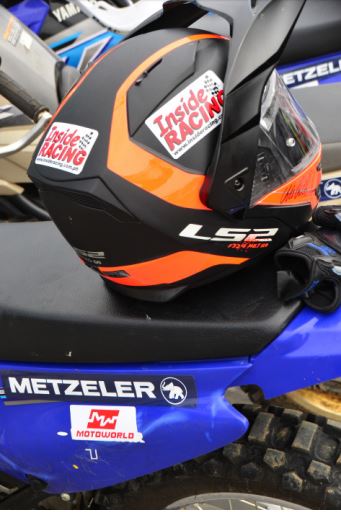 As the ashes settled in the pool of hot spring water, Metzeler Asia representative, Mr. Justin Yeo, Assistant Sales Manager Southeast Asia from Singapore and Mr. Louie Ruben, Country Sales Manager of the Philippines, were on hand to answer querries and discuss in detail the features of the Metzeler MC 360 semi-soft compound tire. The group pitted near a hot spring pool named Puning where a long tent, cones and Metzeler and Motoworld logos were popped-up and waiting. This is where we had refreshments and the well known food originating from Pampanga – pork sisig and crunchy fried chicken for lunch. After scratching our tummies and burping to see if it would echo around the lahar canyon, tag team, X-games style slalom race on sacred (nope, just kidding) lahar grounds followed and yes the heavyweights won the race indeed. Then came the survivor portion of the competition where a flint rock and a knife was to be used to start up a fire which was demonstrated by survival coach Mr. Ian Alacar and fire starting equipment provided by Forged, another brand distributed by Motoworld in the country. Of course, there has to be a team in every competition that is tech-savvy – only to be disqualified by using a lighter (one of the guys must be a smoker).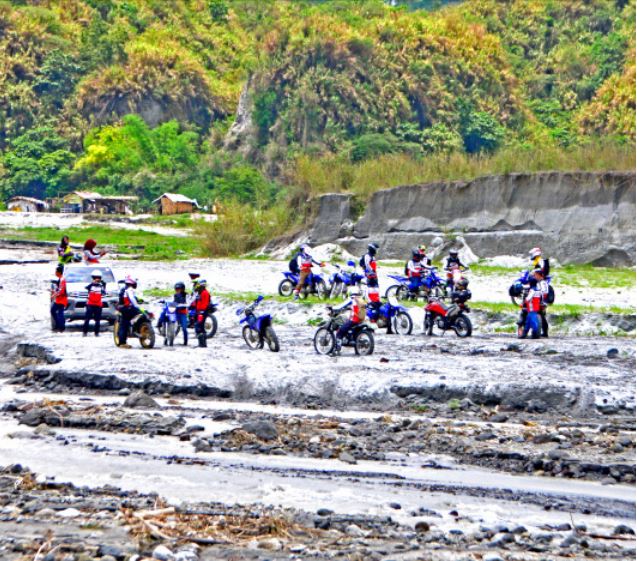 Our videographer, Mr. Andrew Balagot Chebat enjoyed the lahar experience as I let him ride back to civilization but bad luck for him he was drenched like a wet pussycat from the sudden bucket splashing rain. After having our adrenaline high up there, we took the checkered flag at BBQ & Beer to find another high… our cholesterol and blood pressure shot up – an early feast for everyone as the winners of the games were awarded.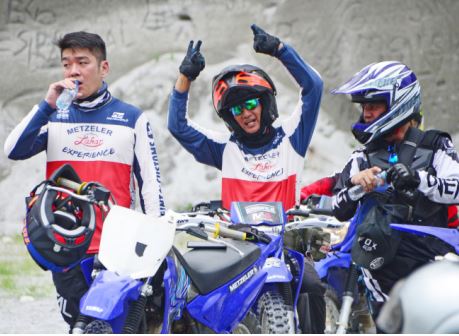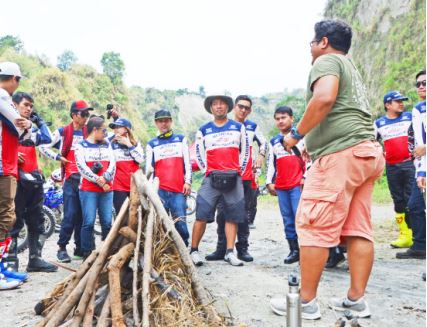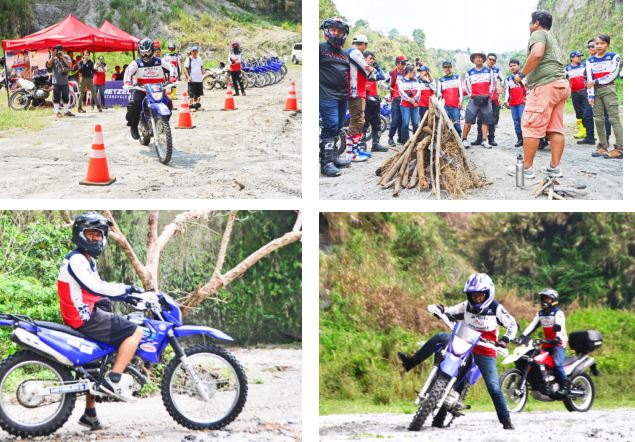 Take two as the director would put it, Motoworld Philippines came up with another event to remember as advertised in the adrenaline rush hour pamphlet. Thanks to Mr. Ryan Chao, Mr. Jeff Alvarez, Imprint Customs, Metzeler PH, Wanderfell, Forged PH and the crew for the rough and out-of-this-world ride experience. Can't wait for the "Mars" experience – "Oh, tama na!" But then again it sounds like another plan indeed.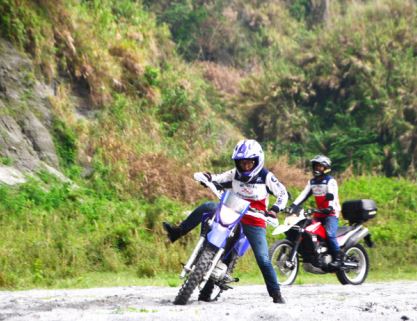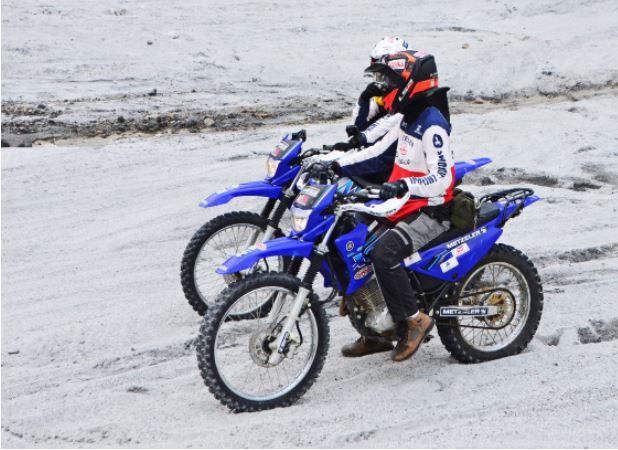 by Richard Abrina

This was published in InsideRACING Magazine Volume 17 Number 4 issue
Thank you for visiting insideracing.com.ph. You may express your thought below through the comment section. You may also follow us on Facebook, on Instagram @Insideracingnation or on our YouTube channel.