MM, NCR Plus under GCQ from May 15
Date posted on May 14, 2021
Share this
Starting May 15, NCR plus will be placed under "General Community Quarantine" GCQ but with heightened restrictions.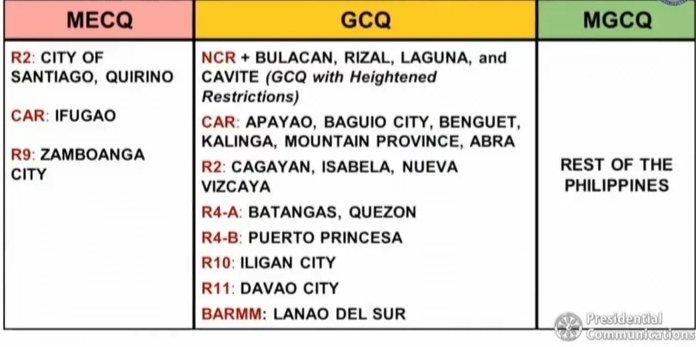 President Rodrigo Duterte approved IATF recommendation to place the NCR Plus (NCR, Bulacan, Cavite, Laguna and Rizal) under GCQ from May 15 to May 31, 2021.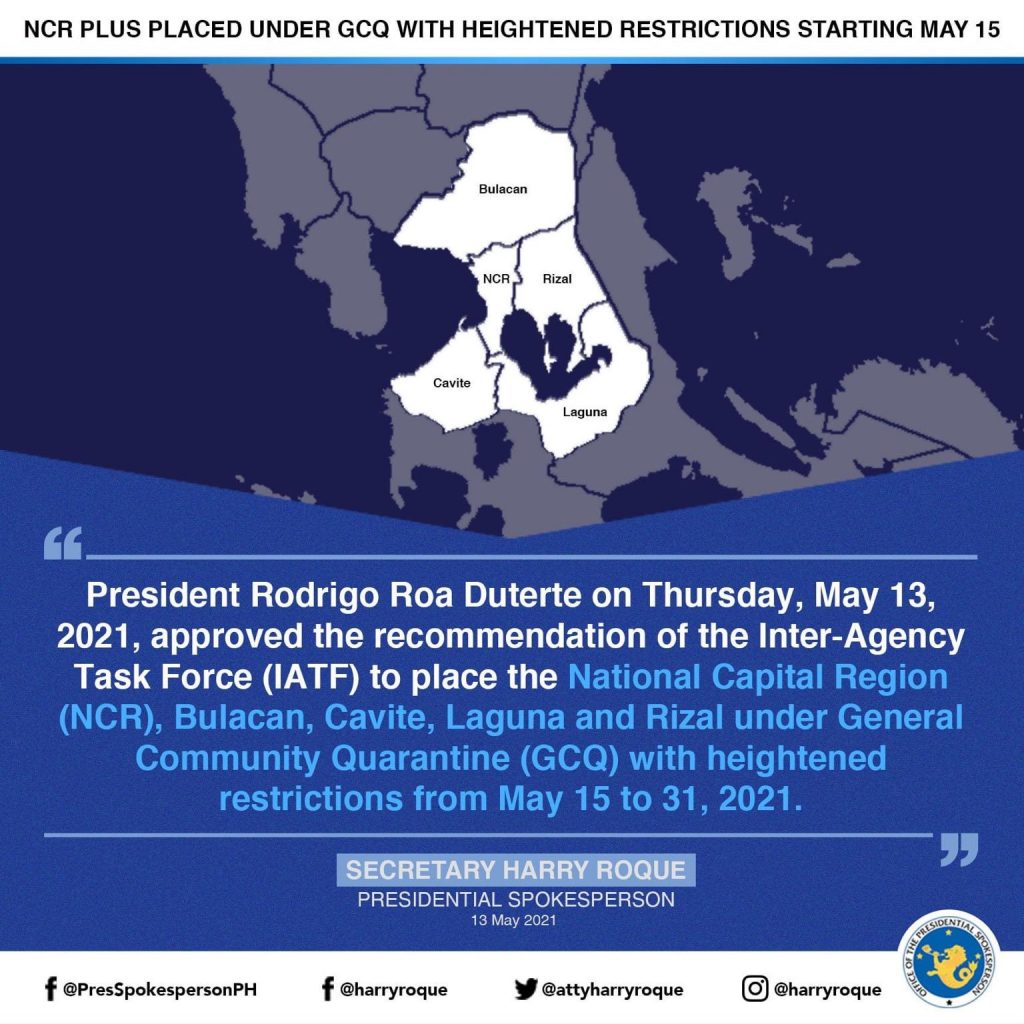 Here are some of the guidelines on the areas under GCQ with Heightened restrictions.
– Only essential travel into and out of the NCR Plus shall be allowed.

– Public transportation shall remail operational in accordance with DOTr guidelines

– Indoor dining services at 20% capacity, al fresco will be at 50%.

– Outdoor tourist attraction inside the NCR Plus area may be opened at 30% capacity with strict adherence to minimum public health standards.

– Religious gatherings, wakes, necrological services, inurment and funerals at 10% venue capacity.

– None-contact sports, games, scrimmages held outdoors will be allowed with 30% Capacity
– Salon, parlors, beauty clinics and other personal services not requiring the removal of face mask will be allowed at 30% capacity.
– individuals 18-65 yrs old can leave places of residence.

– Entertainment venues such as bars, concert halls, theaters will remain closed.

– Recreational venues such as internet cafes, billiard halls, arcades, amusement parks, fairs, playgrounds, kiddie rides, indoor sports courts and venues, indoor tourist attractions, venues for meetings, conferences and exhibitions shall not be allowed.
– Interzonal travel fron GCQ areas, except those conducted by Authorized Person Outside Residence (APORs), shall remain prohibited.
The government urges the public to continue following the minimum health standards protocols such as wearing of face mask and face shield.
Source : Malacañang via Spokesperson Harry Roque