Monster Energy Yamaha MotoGP Enter European GP with Potentially Altered Rider Line-Up
Date posted on November 6, 2020
Share this
Monster Energy Yamaha MotoGP's Maverick Viñales is known to like the Valencia track a lot and he is ready to go all out again at the upcoming two GPs at the Ricardo Tormo track. Valentino Rossi is hopeful to make his eagerly awaited return to MotoGP this weekend. However, should he be unable to meet the requirement of two negative PCR test results needed for him to be allowed to take part in the European GP, the Italian will be replaced by Garrett Gerloff.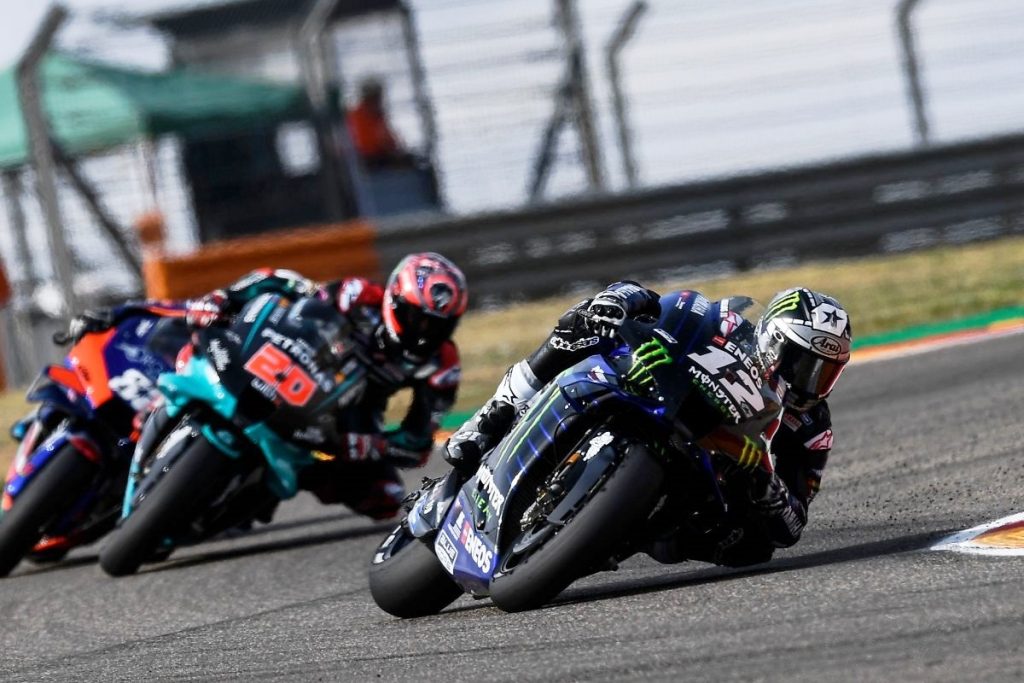 This week, Maverick Viñales is one of the home heroes in Valencia determined to shine on home soil. The Ricardo Tormo track is a circuit that he adores, and the Spaniard is ready to work hard to hit the ground running this Friday.
Valentino Rossi is hoping to join him inside the Monster Energy Yamaha MotoGP pit box again this week after sitting out the two GPs in Aragon. However, as a precaution, the team designated GRT Yamaha WorldSBK rider Garrett Gerloff as a standby replacement rider in Valencia for this weekend.
The American will fill in for Rossi should the Italian not be able to meet the requirement of the two consecutive negative PCR test results he needs to be allowed to take part in the upcoming Gran Premio de Europa.
Viñales is keen on ending the season on a high note. He plans on doing so by scoring top results in the final triple-header, starting with this weekend's European GP. Though the Spaniard admits Ricardo Tormo is not one of the strongest tracks for him in MotoGP, he is feeling positive that he can be on the pace.
Top Gun stood on the podium twice before in Valencia. He secured a victory in his first Valencian 125cc race in 2011, and he graced the top step once more in 2013 when he claimed the Moto3 World Championship Title. His best MotoGP finish was a fifth place in 2016. Currently he is 19 points removed from the top of the overall standings and just 5 points from second, with still a maximum of 75 points to play for in the final three rounds.
Rossi's ability to take part in this weekend's GP is still uncertain. In order to be allowed to compete in this weekend's Gran Premio de Europa round, he needs negative test results from two PCR tests conducted 48 hours apart, as per FIM rules.
Rossi has taken a PCR test on Tuesday 3rd November, which came back positive. Nevertheless, today (Wednesday 4th November) he will undergo a new test. Should the Italian test negative, he will still have enough time to complete the required second PCR test and fly to Valencia.
The 4.0 km Circuito de la Comunitat Valenciana – Ricardo Tormo was built in 1999 and was immediately added to the MotoGP calendar. The circuit is often described as quite challenging. Its lay-out includes nine left corners, five right ones, an 876m longest straight, and is ran anti-clockwise. Despite its tricky nature, the Valencian GP is known as a solid fan favourite, especially when it became the traditional closing round of the MotoGP championship. This year, for the first time since 2001, Valencia isn't the final race venue. But with the chase for the title still ongoing, the upcoming two races in Valencia are must-watch events.
Maverick Viñales: "It's true that the last race wasn't the most positive, but it's important that we don't let that affect us in these final three rounds. We need to work hard, focus, and keep a positive mindset and get the best results possible in every single session. Valencia is usually a bit tricky for us, but I personally really like this track. For sure, it's not going to be an easy weekend but, as always, we will give our maximum."
Valentino Rossi: "This virus is very complicated and serious. I felt bad for two days, then in a few days I came back to being fully fit, at my 100%. I self-isolated at home all the time and I followed the medical advice closely. It's a very sad and difficult situation, but that's the way it is. Unfortunately, yesterday (Tuesday 3rd November), I had another test and it came back positive again, like all previous ones. Luckily I still have two more chances to be back on track on Friday or Saturday. I am very sad because I am feeling well, and I can't wait to be back aboard my M1 and be reunited with my team. I really hope the next PCR test result will be negative, because missing two races was already two too many."
Garrett Gerloff (MEYM Standby Replacement Rider): "I'm so honoured that Yamaha has considered me for this opportunity. This year has already been quite the adventure, and this would be the cherry on top. It's been a dream of mine to ride the Yamaha YZR-M1 MotoGP bike since I started racing so many years ago, and to potentially have it happen is really exciting. But I am just sorry to get this opportunity under these unfortunate circumstances for Valentino. I feel really bad for him and I hope that he recovers soon, we all miss the number 46 on track! All the best to him. If I do end up riding this weekend, it will be an uphill battle not knowing the bike, tyres, brakes, etc. Also, I have never been to the Valencia track before. But I'm confident in myself and ready for the challenge! Thanks to all at Yamaha. Bring it on!"
Massimo Meregalli (Team Director: "Unfortunately, despite our hopes, we are entering the final triple header with some uncertainty about our rider line-up. Whilst Valentino has been feeling better, we can't be sure that he will be able to ride in Valencia this weekend until he has passed the two PCR test with negative results for Covid-19. These are strange circumstances: we don't know for certain who will be riding the bike this weekend, apart from Maverick. But this is a situation that's beyond our control, so all we can do is make sure we are prepared for every eventuality. In any case, we are thankful to Garrett Gerloff that he is willing to take on the challenge of riding the YZR-M1. It's never an easy task to step in for Vale, these are big shoes to fill, and it's especially challenging for Gerloff, having had so little preparation and without any prior MotoGP experience. But that will make the learning experience all the more valuable for him. Of course, the team will do anything they can to support him, should he have to replace Valentino this weekend. But naturally we are all still hoping that Valentino will be able to ride, so we can finish his final season with the Factory Yamaha team in the best way possible."
credit: yamaha-racing.com
Thank you for visiting insideracing.com.ph. You may express your thought below through the comment section. You may also follow us on Facebook, on Instagram @Insideracingnation or on our YouTube channel.