'NCR Plus' checkpoints for curfew, health protocols check
Date posted on March 23, 2021
Share this
From the Philippine News Agency
The Philippine National Police (PNP) on Tuesday said checkpoints within the National Capital Region and the neighboring provinces of Bulacan, Cavite, Laguna, and Rizal known as 'NCR Plus' will remain only for the enforcement of curfew and health protocols.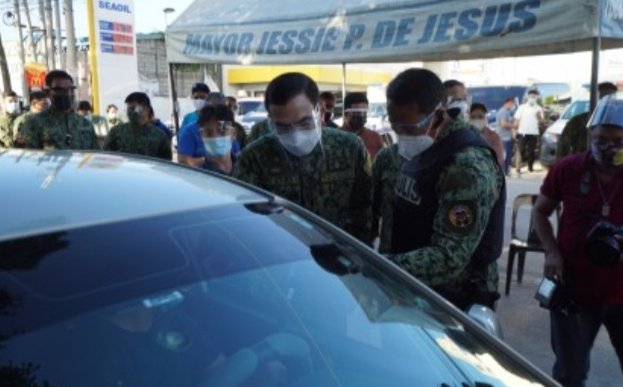 "Checkpoints within the bubble are still necessary, particularly during curfew hours. Beyond curfew period, they can observe, caution, or accost those flagrantly violating health protocols but will no longer check motorists for movement restriction. Checkpoints are critical and important police interventions in case of dragnet operations if ever there are emergencies and hot pursuit operations," PNP officer in charge Lt. Gen. Guillermo Eleazar said in a statement.
This came after motorists crossing boundaries within the 'NCR Plus' were stuck in a traffic jam in checkpoints in these areas that have been placed under general community quarantine from March 22 to April 4 as the country grapples with a surge in coronavirus disease 2019 (Covid-19) cases.
According to the Inter-Agency Task Force for the Management of Emerging Infectious Diseases (IATF-EID) Resolution No. 104, a uniform curfew from 10 p.m. to 5 a.m. will be in effect in the 'NCR Plus' area.
"There should be less restrictions for people inside the bubble because they are considered as one big area. This is to ensure smooth access because workers of Metro Manila for instance live in these four adjacent provinces," he said.
Meanwhile, Eleazar ordered all chiefs of police of towns and cities to tighten checkpoints at the boundary of the four provinces adjacent to Metro Manila, including those set up in smaller access roads.
"These access roads leading to and out of the NCR Plus bubble should also be watched. Our strict implementation to achieve the real intent of this bubble in the major thoroughfares will not be maximized if there are other access roads that would be unguarded," Eleazar said.
On Monday, Eleazar and Lt. Gen. Cesar Hawthorne Binag, deputy chief for operations and concurrent commander of the Joint Task Force Covid Shield, inspected different quarantine control points (QCPs) to check on the progress of implementation of the NCR Plus bubble.
During the inspections, Eleazar instructed the policemen manning and supervising QCPs to make sure that only Authorized Persons Outside Residence (APORs), including essential workers and those delivering essential goods, would be allowed to come inside and go out of the NCR Plus.
Binag instructed the local police to ensure that minimum health safety standard protocols such as wearing of face masks and physical distancing are observed, especially those going inside the 'NCR Plus'.
QCPs were already set up in major thoroughfares at the boundaries of Bulacan and Nueva Ecija, boundaries of Rizal and Quezon province, boundaries of Laguna, Batangas, and Quezon provinces, and the boundaries of Cavite and Batangas. 
Source PNA11