Netizen Urges Compassion for Grab Rider
Date posted on May 28, 2020
Share this
Motorcycle delivery riders have increased in number since the pandemic resulted into community quarantines. It is one of the sources of livelihood of many Filipinos nowadays and delivery riders are considered frontliners, providing the staying home public basic necessities such as food and other essentials. Not opting to just wait for financial aid, these riders are striving and working hard using their two-wheel partner.

A heart-warming facebook post of a netizen gave us a glimpse of what motorcycle delivery riders experience for income. Netizen Clang Garcia narrated in a facebook post her experience with a Grab rider and her realization for these frontliners.
Garcia recalled when she placed a delivery service and the rider called her to plead of extra cash since her mode of payment is credit card and told her that it will take days for him to get his commission. At first, Garcia calmly replied that she automatically gives and there's no need to ask.

But after that, compassion was felt by the netizen. She realized that the rider called her and requested that because he really needs money. When the rider arrived and gave Garcia her order, she gave him water, biscuit and a good tip and thanked him. In sweat, the rider who has not yet eaten his lunch expressed gratitude for Garcia's kindness.

"It brought me to silent tears. We do not know the situations of these riders since they had no income in the beginning of the quarantine. Any form of compassion, respect and help goes a long way," wrote Garcia. She also urged for customers to patiently wait and do not cancel orders as the delivery riders will end up paying for it and show them compassion, respect and gratitude. She also mentioned the plight of these riders she dubbed as "uncelebrated heroes of their pandemic" who wait in line, go out in sweltering heat and expose themselves to high risk to provide the essentials of their customers. Garcia also said she will write a formal letter to Grab to consider the commission of delivery riders be given as soon as possible, remove cancellation option once order is placed and not charge it to the rider.

The post was met by positive reactions from netizens with comments expressing gratitude and salute to the delivery riders as well as support to the request of Garcia to Grab.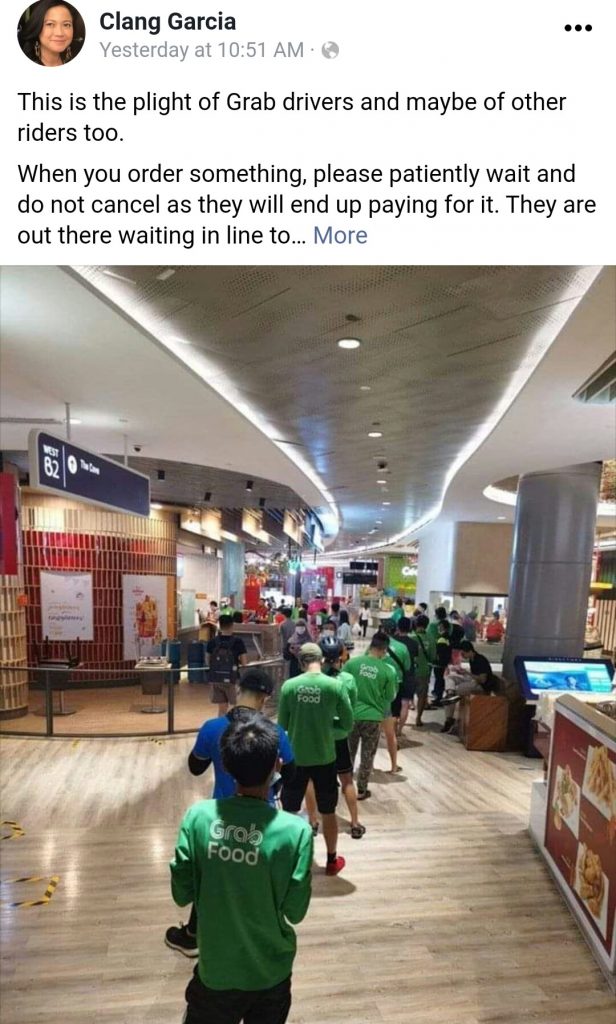 Motorcycle delivery riders are indeed heroes in these difficult times we are facing. While we safely stay home, they were out and their service is very important to the community. They also work diligently to survive so let us be compassionate to them and appreciate their efforts.
Thank you for visiting insideracing.com.ph. You may express your thought below through the comment section. You may also follow us on Facebook, on Instagram @Insideracingnation or on our YouTube channel.