New Bajaj Models Give Filipinos the Power to Earn More
Date posted on November 21, 2020
Share this
TriMotors and Bajaj believe that achieving success through diskarte is manageable and Filipinos just need a tool. Last November 18, TriMotors launched new Bajaj models in the Philippine market. The new Maxima models and a special edition Bajaj RE are for the "Madiskarteng Entrepreneurs", a new generation of smart and practical individuals who aspire to start doing more and being more in life.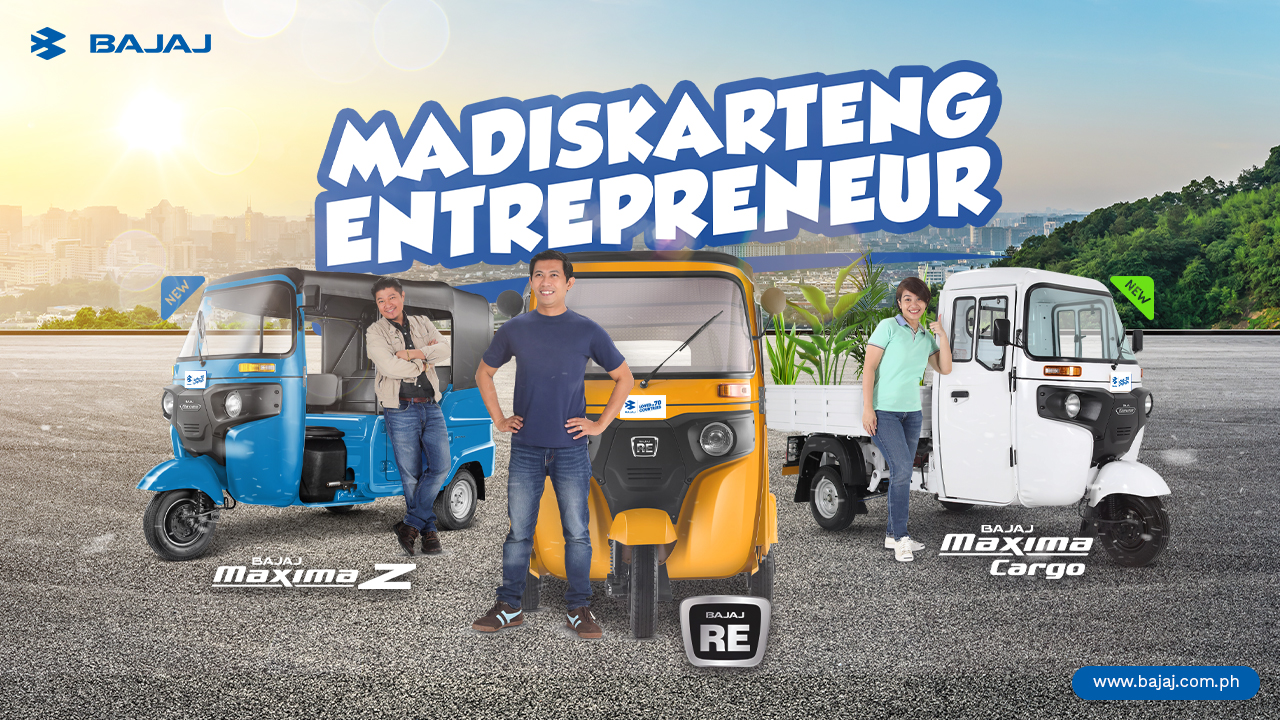 The Bajaj Maxima models are  "Ang multipurpose partner sa Negosyo". The Maxima Z which has a load capacity of 300 kilos has an SRP of  P209, 888 while the Maxima Cargo is priced at P204, 888 and has a load capacity of 487 kilos.
With almost 50,000 Bajaj RE units sold since 2015 and more than 900 branches in the country, TriMotors has indeed cemented their position in the Philippine three-wheeler market.  Bajaj is the number one three-wheeler not only in the country but also worldwide.
In these trying times because of the pandemic, TriMotors is doing its best to help Filipinos through their Bajaj models equipped with social distancing films that they donated to help frontliners.
"Bagong Diskarte" is what TriMotors and Bajaj offers and with the launch of their new models, they aim to give Filipinos  the power to earn more for a better life. Aside from their high quality models, Bajaj and TriMotors provide  great after sales support and spare parts availability.
Bajaj Maxima: Giving you the power to earn more
 With the emergence of new unconventional businesses, results have shown a positive shift in the number of small and medium enterprises (SMEs) in the Philippines. A survey by PwC Philippines saw an increasing demand and positive impact in the retail, essential goods, delivery service and logistics sector. With all these changes, Bajaj Philippines saw an opportunity for them to earn more through an effective diskarte in the form of the Bajaj Maxima models.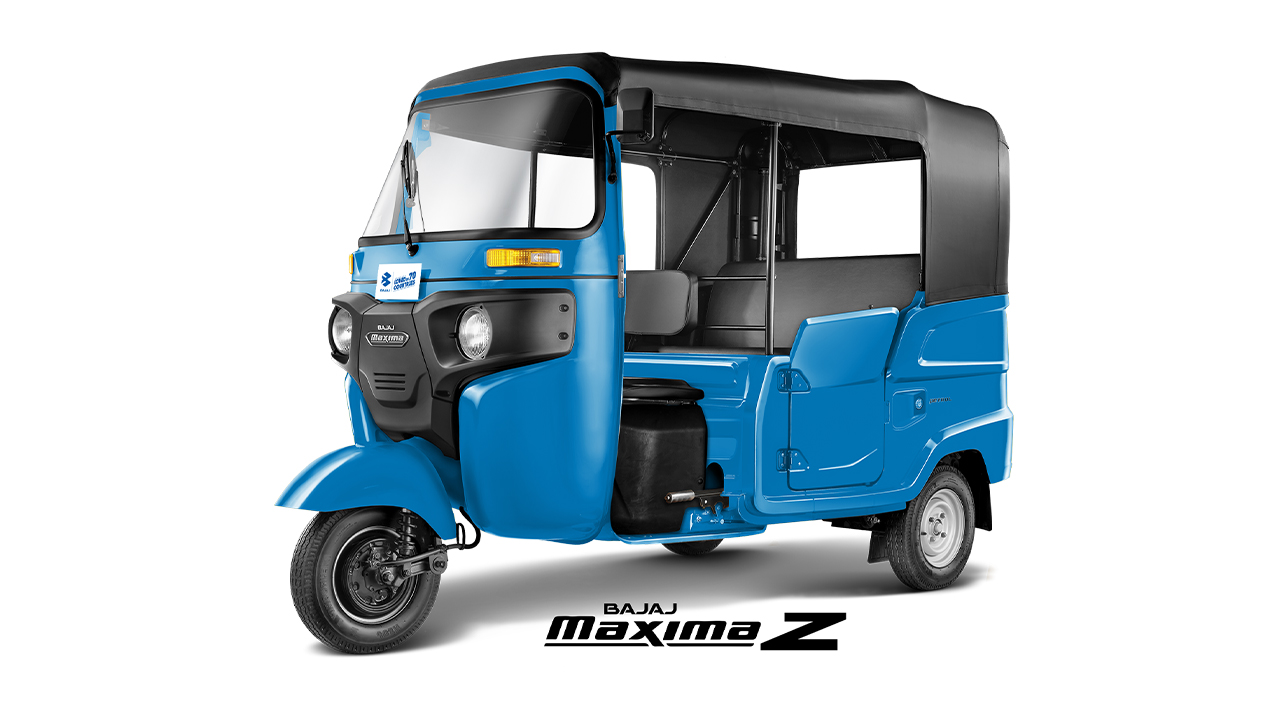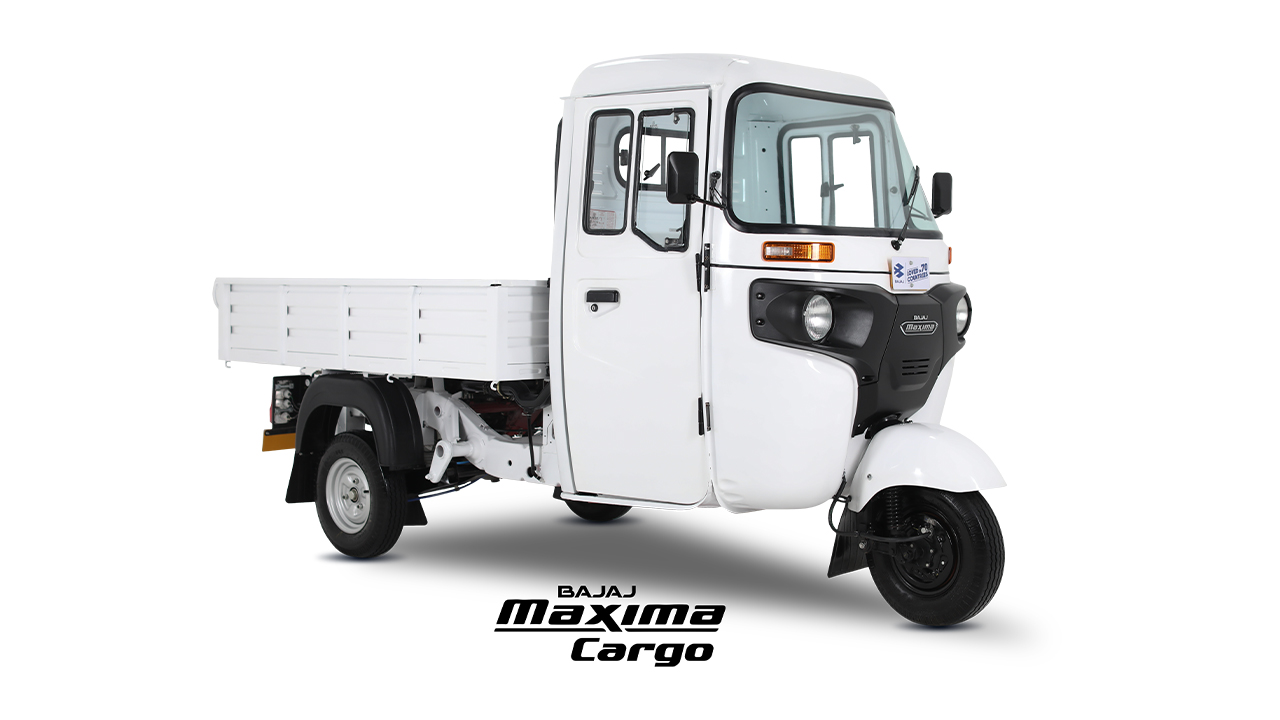 These new Bajaj Maxima three-wheelers: Bajaj Maxima Z and Bajaj Maxima Cargo will give you the power to generate more income through its bigger and better features. To start with, both models have a 236.2 CC DTS-i engine that gives your vehicle extra power to do more trips and carry bigger loads, also Fuel Injected (FI) for superior power production with better fuel saving. With a bigger engine comes a bigger body, that provides a roomier and spacious compartment in delivery, a heavy duty CV Shaft that can carry heavy loads thru difficult terrain and a dual front fork suspension to continuously absorb shock and harsh motion.
Here are the difference between the two models: The new Bajaj Maxima Z – "Ang multi-purpose partner sa Negosyo" is a three-wheeler that provides bigger performance and a multi-purpose way to cater both your transporting and delivery requirements. It is convertible into cargo with up to 800 liter of cabin space.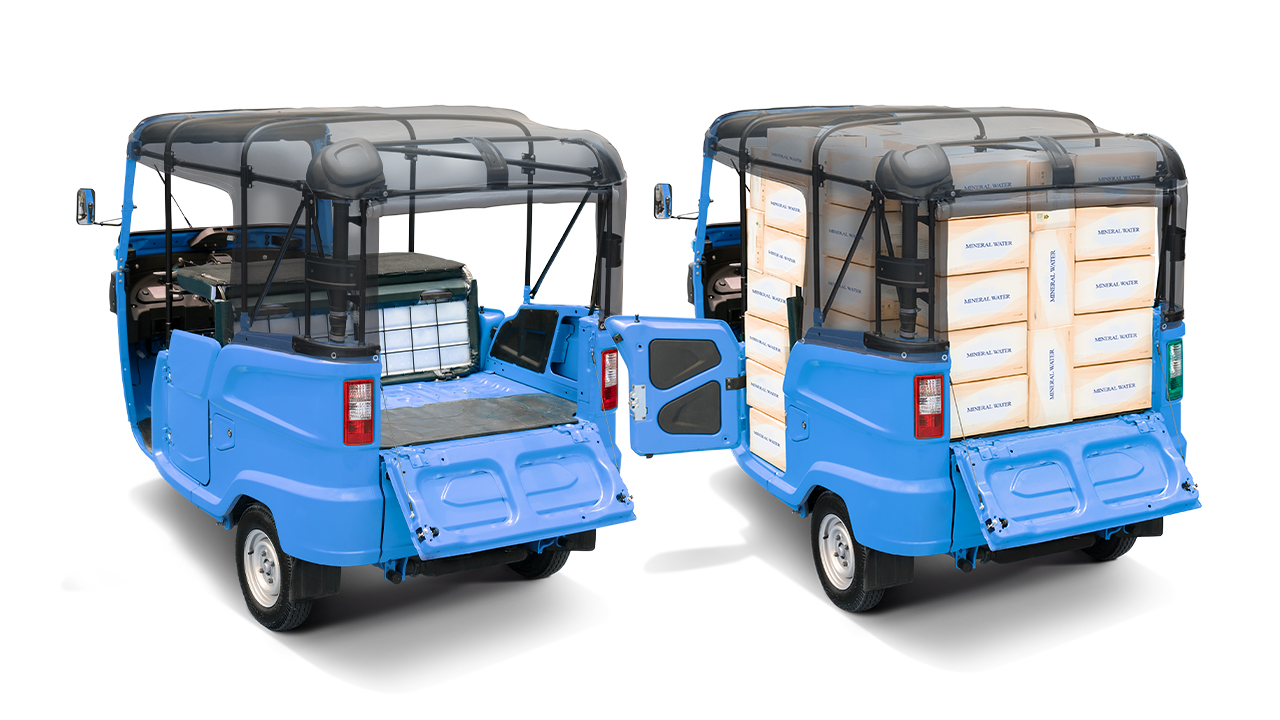 Bajaj Maxima Cargo enables your business through efficiently delivering loads and limitlessly actualizing your unique business ideas. It is best for hauling and delivering goods giving you a better earning capacity.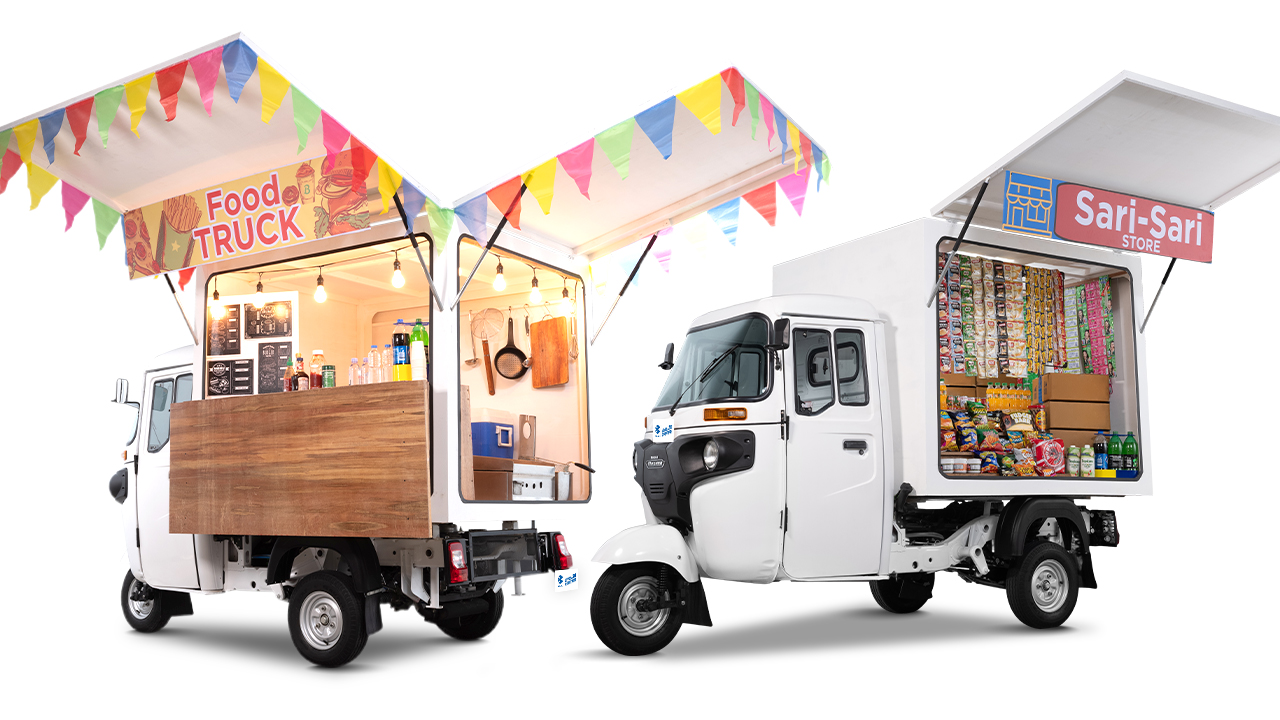 These models will be the next business enablers for the new generation of individuals who wanted to take a leap of diskarte in life. A tool that offers limitless possibilities for every Filipinos' business needs and ideas. Check out the Bajaj Maxima models thru fb.com/BajajPhilippines or www.bajaj.com.ph.
Bajaj RE: Ang No. 1 Three-wheeler
Within a span of five (5) years in the Philippines, Bajaj RE has been fondly called many names by Pinoys like Bao-bao in Mindanao areas, Bukyu in Tagaytay, and many more. And through those years of selling nearly 50,000 units, it made certain that Bajaj RE is the number 1 three-wheeler here in the country.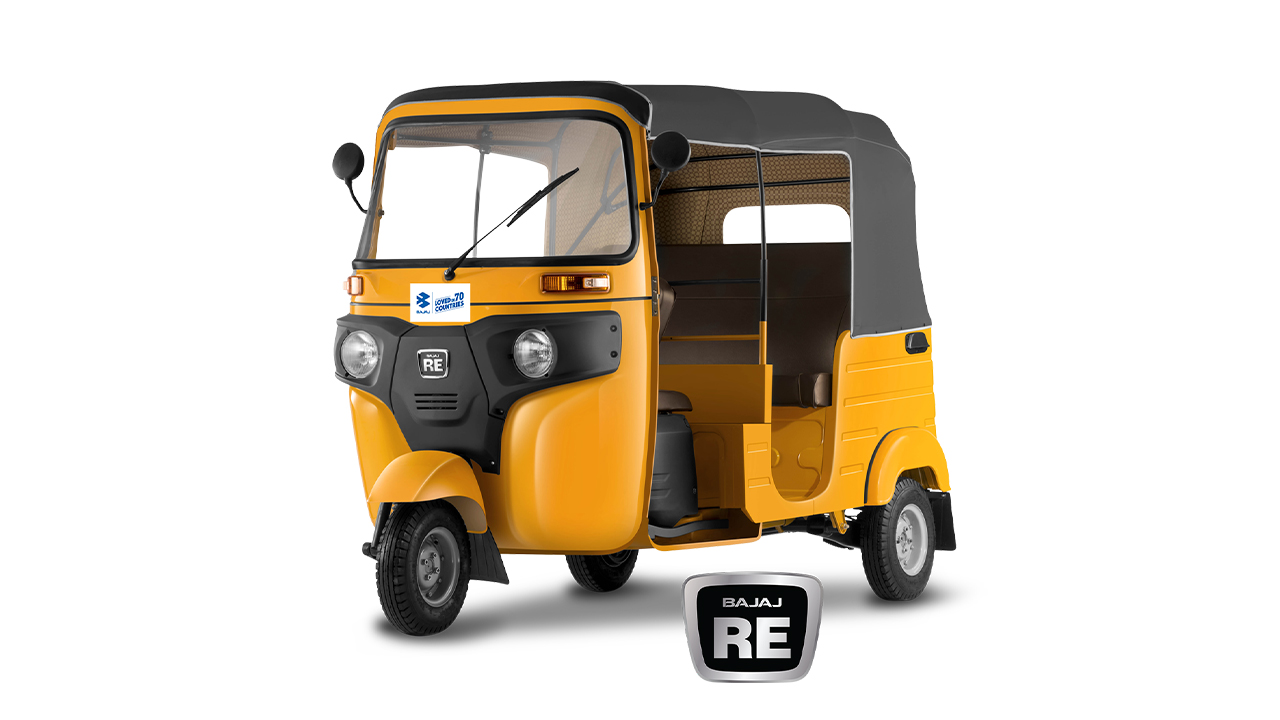 Since 2015, Bajaj RE has always been providing Filipino families with relevant and innovative mode of transportation and we will continue to do so. It truly gained the trust of the Filipino by continuously making improvements to provide the best product quality and service to them. In fact, Bajaj RE has partnered with seventeen (17) of the biggest dealership networks with over 900 Authorized stores nationwide with aftersales network of 700+ accredited parts and service shops that sells Bajaj RE Genuine Spare parts and trained mechanics. It is also the first three-wheeler in the country that is proud of its Rear Engine with no overheating, reverse gear, factory-built all-weather vehicle, and engineered chassis framework for safer travels and assured durability. This will be your pinaka-magandang diskarte with its powerful 198.88 CC DTS-i engine that provides more pulling capacity while maintaining a lower running cost with its Fuel Injection (FI) system for better fuel saving at a very reasonable price.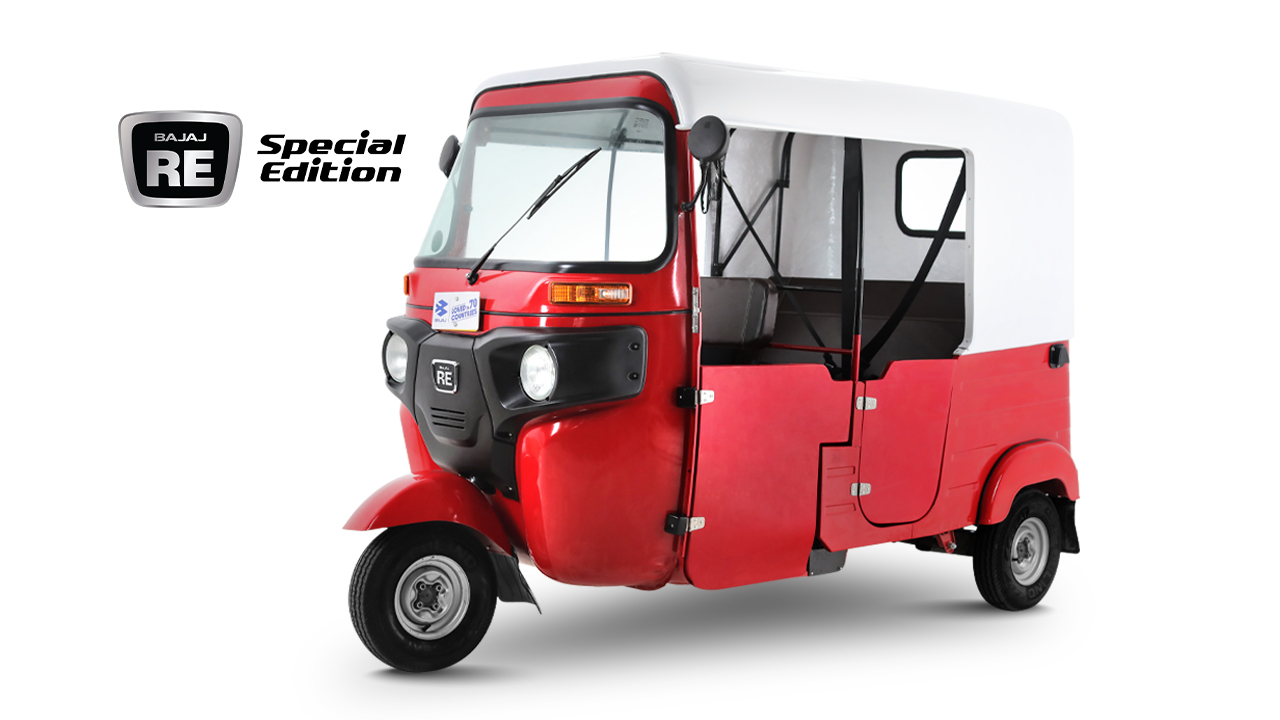 Speaking of diskarte, many Pinoy RE owners were spotted to have expressed their creativity and uniqueness in customizing their Bajaj RE, like that of the Pinoy jeepneys and colorful Tuktuk's or RE's abroad. Apart from the different paint and decors, lot of them even spend to hire local fabricators to modify their RE's by installing windows, doors, and hard top carriers creating a whole new level of personalized, stylish, yet functional three-wheelers. We, at Bajaj Philippines, saw this trend and inspired us to bring you the Bajaj RE Special Edition – an addition to Bajaj RE's product line. It is made for the customers' most wanted modifications exhilarating with unique and cool style. With the Bajaj RE Special Edition, your RE's are made available as factory modified, furnished with an enhanced solid roof made of resin material giving a better roof support and quality, additional front and rear hard resin doors to provide added security and comfort for both the driver and passenger – a classy design upgrade suited for personal and stylish usage.
Standing out not only in quantity but also in quality and style: that's Bajaj RE, Ang No. 1 Three-wheeler. The best tool that will enable the diskarte of the new generation of Filipinos who wanted to do more and be more in life. To learn more about Bajaj RE, find us at fb.com/BajajPhilippines or www.bajaj.com.ph.
It takes Diskarte to Endure
The pandemic's impact is beyond expectation. Every country is affected including the Philippines which leads to nearly 3.5 million job losses and numerous businesses closing down as one of the tolls in our fight against Covid-19. Nonetheless, Filipinos are able to manage this difficult situation because of resiliency and ingenuity, commonly known as "DISKARTE".
There are many kinds of diskarte, but the most prominent this time is the diskarte for survival. This explains the discovery of different skills applied in business to cope with the changes in order to make a living, pay monthly bills, and get meals served for their families daily. And providing Pinoys the Tamang Diskarte is Bajaj Philippines' way to help them get through this tough time. Just like the Filipino persona Juan dela Cruz, Bajaj Philippines created its modern Filipino personas we can relate to. Like the simple tricycle driver "Kuya Ricky" who lost half of his daily income when a halt in transportation happened, "Manoy Oli" an ex OFW who after working for a long time wanted to settle in the country just to be with his family when the lockdown started, and the single mom "Tita Prima" who got laid off due to retrenchment, these Filipino representations took the chance to take a leap of diskarte towards changing their lives.
So, what's their diskarte? To achieve the best diskarte, a perfect tool will be needed. This is how Kuya Ricky discovered his Magandang Diskarte of Pabili or Pasabuy sideline through Bajaj RE – "Ang No. 1 Three-wheeler" , a Bagong Diskarte with Bajaj Maxima Z – "Ang multipurpose partner sa Negosyo" for the transport and delivery of Manoy Oli's new grocery store and an Effective Diskarte for Tita Prima's online plant selling with Bajaj Maxima Cargo. These three personas are the Madiskarteng EntrepREneurs, the new generation of smart and practical individuals who aspire to start doing more and being more in life. Achieving success through diskarte is manageable, Filipinos just need a tool to enable each through Bajaj Philippines.
For more stories and updates about the Madiskarteng EntrepREneurs, visit us on fb.com/BajajPhilippines or www.bajaj.com.ph.
credit: Bajaj Philippines
Thank you for visiting insideracing.com.ph. You may express your thought below through the comment section. You may also follow us on Facebook, on Instagram @Insideracingnation or on our YouTube channel.